Ketchup inflation pushes up the price of BBQ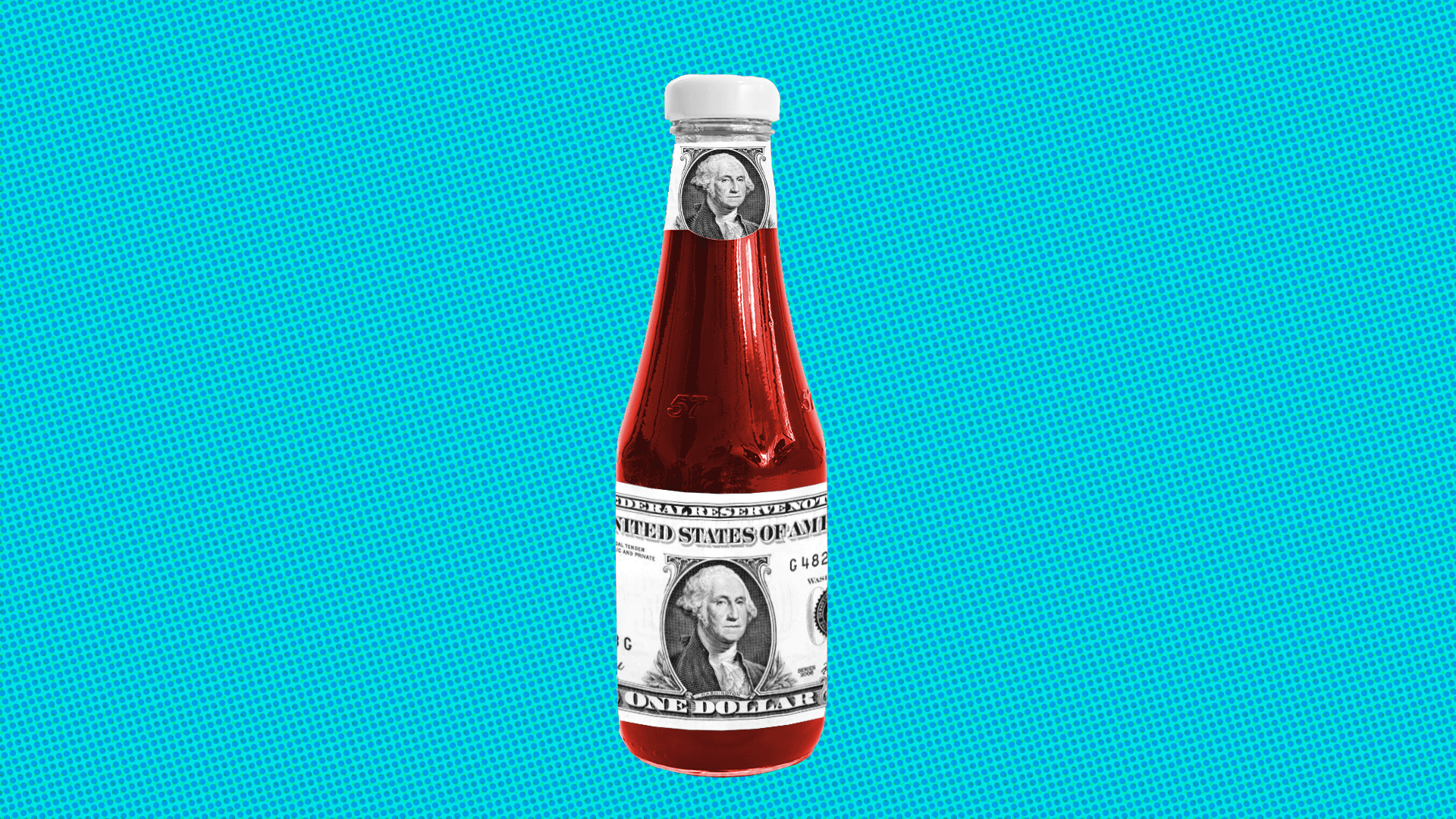 With inflation still sizzling, most of the fixings for your Memorial Day weekend barbecue will cost more, especially condiments.
Why it matters: Inflation is not rising as rapidly as this time last year, but food prices are still pinching pocketbooks.
The big picture: While the latest consumer price index found food prices were up 7.7% in the 12 months through April, prices for classic barbecue staples like ketchup and mustard have had much larger increases, research firm Datasembly told Axios.
A Memorial Day basket of seven barbecue essentials cost $27.32 this year, compared to $25.07 the same time last year, a nearly 9% increase, per Datasembly's analysis.
Zoom in: A 32-ounce bottle of ketchup had the biggest increase at 27.9%, followed by a 20-ounce bottle of mustard that went up 13%. Relish was up 12.3%.
The only item among the barbecue essentials with a slight price decline was a pack of 80% lean fresh ground beef burgers, which dropped 3 cents.
Hot dogs went up almost 3%, Datasembly found, similar to what the April CPI showed.
Hamburger and hot dog buns were each up about 7.4%, which is in line with rising flour and bakery product costs.
Zoom out: National CPI data shows meat prices by region. Here in the West we've got the priciest ground beef, averaging $5.48 per pound in April, which was down from a record high of $5.78 in April 2022.
That's $0.56 more than the Northeast, $0.83 higher than the Midwest and $0.99 higher than in the South.
For this data, our region includes Oregon, Alaska, Arizona, California, Colorado, Hawaii, Idaho, Montana, Nevada, New Mexico, Utah, Washington and Wyoming.
Of note: The government does not break down CPI data specifically for Oregon or Portland.
Quick take: A glance at local prices for grill items reminds us that tofu comes in consistently cheaper than meat, around $3–4 for a 12-ounce package of extra firm tofu vs. $9–10 per pound of lean ground beef. But plant-based burgers rival and often exceed beef in price.
Here in Portland, a 20-ounce bottle of Heinz ketchup is hovering under $5.
The bottom line: Honor condiments at your holiday barbecue by learning the history of Beaver Mustard, a national brand that started almost 100 years ago with homemade horseradish in a Beaverton farmhouse.
Check out more locally made ketchup, mustard and barbecue sauce from Portlandia Foods. Prices start at $6 for a 14-ounce bottle.
More Portland stories
No stories could be found
Get a free daily digest of the most important news in your backyard with Axios Portland.