Philly lags PA cities in releasing bodycam footage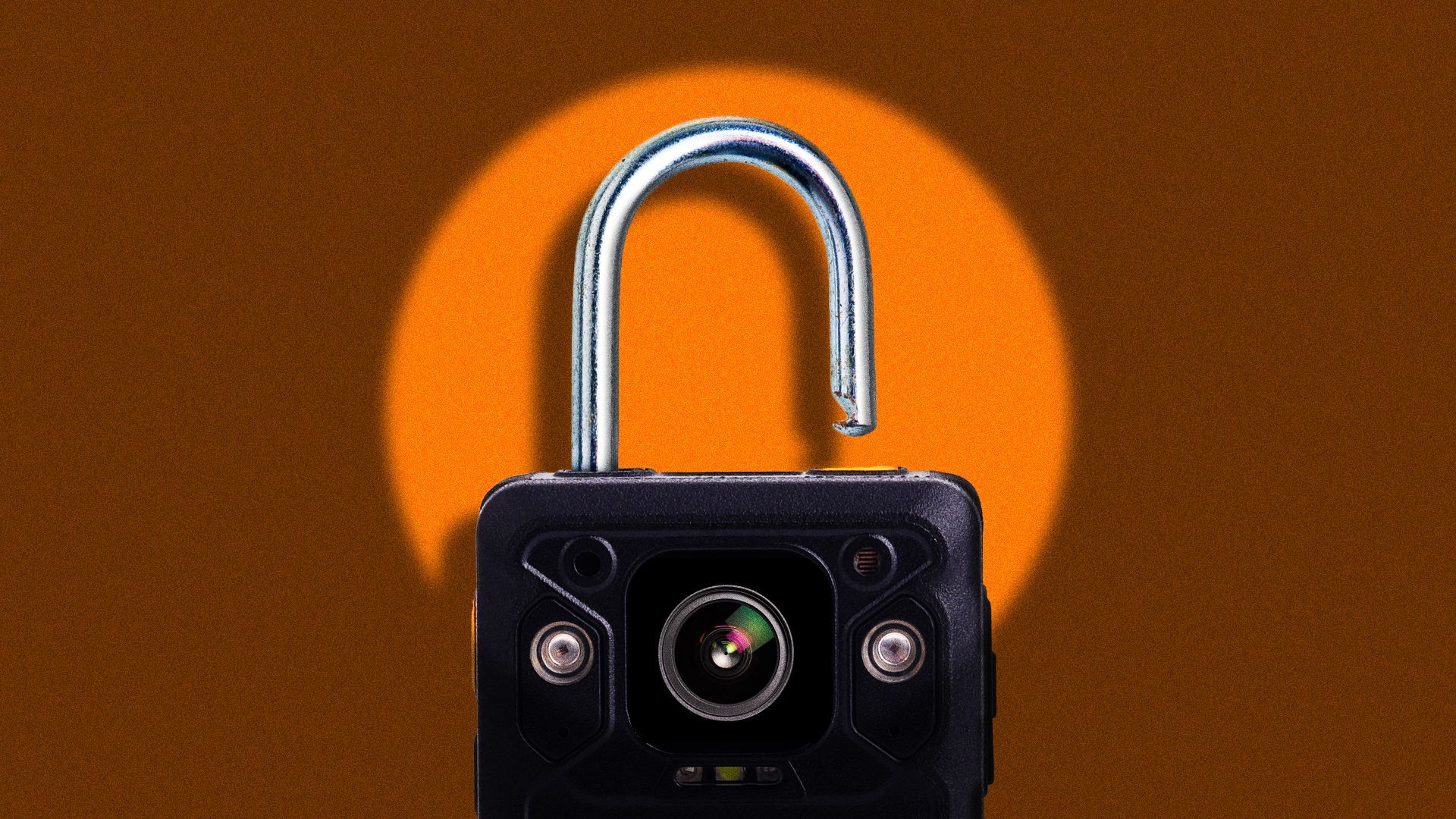 An Axios analysis shows Philadelphia is rated among the lowest of several of Pennsylvania's major cities that provided data on how often officials make bodycam footage available to the public.
Why it matters: The city has spent more than $20 million on a bodycam program that experts say hasn't lived up to a promise of promoting transparency and accountability within the police department.
Context: Meanwhile, in cases across the country, bodycam footage has been instrumental for prosecutors in bringing criminal charges against officers caught using excessive force and violating police department policies.
The big picture: Our analysis reveals that of the 10 cities from which we requested data, not all tracked the number of bodycam requests they received between 2017-2023 or the outcomes in those cases.
Of the handful of cities that do track requests, they released footage in about a quarter of cases.
By the numbers: Philadelphia — the nation's fourth-largest police department and the largest in the state with more than 5,000 officers — is one of the worst at releasing footage.
One city refused to release any bodycam data despite repeated requests for the information.
Only two of the 10 cities we analyzed release body camera footage on a regular basis.
Driving the news: Philadelphia has faced significant scrutiny and pressure in recent months to make police bodycam footage available. However, officials have only released video six times over the past six years, according to our analysis.
On two occasions, the city released the footage only after demonstrations and civil unrest followed, as with the fatal police shootings of Eddie Irizarry in August and Walter Wallace Jr. in 2020.
Other releases involved people seeking bodycam footage of their own interactions with police after criminal investigations had ended, city spokesperson Ava Schwemler tells Axios.
Of note: Irizarry's family pressed prosecutors for weeks before they finally released unredacted footage of the encounter. It came at the same time prosecutors announced the filing of murder charges against former Philadelphia police officer Mark Dial.
State of play: Legal experts say the Irizarry case is an example of how public pressure can sway the release of footage in high-profile cases, though we found other examples where prosecutors refused to release bodycam footage despite an outpouring of community interest.
Experts say a 2017 state law undercut a Pennsylvania Supreme Court decision that made police videos easily accessible under the Right-to-Know Law.
Known as Act 22, the law has deterred more people from asking for bodycam footage of police encounters, experts say.
How it works: After Irizarry's death — and another fatal shooting, this time of an 18-year-old killed by state police in June on Philly's I-95 — Axios sought to better understand how police departments across the state handle bodycam footage requests.
We filed public records requests in 10 cities throughout the commonwealth, including Pittsburgh and the state capital of Harrisburg, seeking data on:
The number of public records requests police departments received for bodycam footage between 2017-2023.
And how often footage was released in response to those requests.
Details: Philadelphia, Bethlehem, Erie and Allentown provided records showing they released footage 44 times out of 178 requests over the last six years, a compliance rate of 25%.
Pittsburgh provided incomplete data showing only that they received more than three dozen requests for footage over the same period. Officials couldn't say how often they released footage.
Scranton only had data on requests made between 2021-2023 while officials in Lancaster denied the request, saying they didn't have those records.
Harrisburg also didn't provide data, which Axios requested on Aug. 23. Its records officer, Lauren Keim, didn't respond to a letter from Axios' lawyer urging her to release information that she had promised to supply by Oct. 6.
State College hasn't released any footage over the last six years.
And Altoona says it hasn't received a single request for bodycam footage of a police encounter.
The other side: Erie and Allentown were the bright spots, releasing footage in more than half of a combined 62 requests.
Zoom in: To obtain footage under Act 22, you must submit a written request describing why you want the video. The request must be made in person or by certified mail within 60 days of an encounter with police.
If the encounter was inside someone's home, you must identify the names of everyone involved.
Police departments may deny requests for footage that could be used as evidence, relates to investigations, or those made outside the 60-day window.
What they're saying: Attorney Paula Knudsen Burke, now with the Reporters Committee for Freedom of the Press, worked as a lobbyist for the Pennsylvania NewsMedia Association when lawmakers were considering Act 22.
She called it "a police-wish-list law" that has created headaches for everyone seeking bodycam footage.
"The promise of body cameras hasn't been realized in Pennsylvania," says Burke, who helped reporters obtain footage in a few cases that settled out of court.
Between the lines: Because the law gives prosecutors some discretion over whether to release footage, this has resulted in some cities releasing more than others without any state oversight, Burke says.
That was true in Pittsburgh, which received more than a half-dozen requests for bodycam footage of the drunken-driving arrest of former West Virginia head basketball coach Bob Huggins.
City officials told Axios that all requests for footage are reviewed by the Allegheny County District Attorney's Office.
First assistant district attorney Rebecca Spangler estimated that her office denies "less than 10%" of bodycam footage requests.
Yes, but: The footage of Huggins' arrest, and another involving former University of Pittsburgh basketball player Ithiel Horton, were never released pursuant to Act 22.
"That's the insular nature of Pennsylvania politics," Burke says. "You have pressures that come to bear in Philadelphia that may not play the same way in Allegheny County."
Zoom out: Neighboring states do a better job of making bodycam footage accessible to the public, legal experts say.
In New Jersey, police departments can't shield footage from being released by claiming it's an investigatory record, says CJ Griffin, one of New Jersey's foremost public records attorneys.
The release of footage has exposed officer misconduct at some New Jersey police departments.
"There's a real movement in so many other states … that transparency actually does benefit police," Griffin says. "It's sad that Pennsylvania's not doing that."
The bottom line: Without regular access to bodycam footage, more police officers who commit misconduct are going unnoticed and undisciplined, says Seth Stoughton of the University of South Carolina's Excellence in Policing & Public Safety Program.
"No agency should want to be in the position of looking like they're trying to hide things," he says.
More Philadelphia stories
No stories could be found
Get a free daily digest of the most important news in your backyard with Axios Philadelphia.