Live Christmas trees may be harder to come by this year due to low inventory.
Driving the news: The Christmas tree-growing industry has been plagued by challenges in recent years.
Parade floats will take over the Ben Franklin Parkway once again on Thanksgiving Day.
State of play: 6ABC Dunkin' Donuts Thanksgiving Day Parade gets underway at 9am on Thursday.
Philadelphia International Airport (PHL) flies in the middle of the pack when it comes to the nation's busiest airports.
Yes, but: Customer satisfaction is in a tailspin.
Why it matters: We'd guess that the user experience at PHL is going to be top of mind for many of you over the next month and a half.
What's happening: The Wall Street Journal ranked the 20 busiest U.S. airports this year on 19 factors, including on-time performance, ticket prices and J.D. Power's customer-satisfaction scores. PHL ranked 13th overall, besting Chicago's O'Hare (14th) and Orlando (15th).
The best: San Francisco
The worst: Newark
Of note: Airline reliability carried the most weight in the ranking.
By the numbers: PHL's on-time arrival and departure rates are 78% and 80% respectively, per the Journal.
Delays average 15 minutes for arrivals and 14 minutes for departures.
The average ticket cost for a domestic flight is $334.
Zoom in: Philly ranked almost at the bottom — 19th — on its customer satisfaction score.
What they're saying: High rankings don't mean the perfect flying experience, the WSJ's Dawn Gilbertson wrote.
"It says a lot about the complexity of air travel that airports at the top or bottom of our rankings didn't shine or stink in every area," she said, noting that San Francisco had among the highest domestic ticket prices in the country.
Heather Redfern, a spokesperson for PHL, told Axios that the airport is investing in improving passengers' experience, such as renovating bathrooms and testing new seating in certain terminals.
💭Mike's thought bubble: I'm thankful that I'm traveling via car this Thanksgiving.
🧠 Be smart: Check out these travel tips for PHL during the busy holiday season.
SEPTA will soon begin using an artificial intelligence system that can detect people getting on trains and buses with guns.
Why it matters: There's been a dramatic spike in violent crime aboard the public transit system.
Robberies and aggravated assault were up 80% from 2019 to 2021, and the agency's longtime police chief retired suddenly early this year amid ongoing scrutiny over safety.
Driving the news: SEPTA is the U.S.'s first major transit system to test out the AI technology, known as ZeroEyes. It's been deployed by the Pentagon as well as public schools, universities and Fortune 500 companies in more than 30 states, according to a SEPTA statement.
How it works: The company behind ZeroEyes was founded by former Navy SEALs who used hundreds of thousands of images and videos to train the AI system. It helps identify people carrying guns within three to five seconds.
Company staffers monitor and relay that information to police.
The technology doesn't use facial recognition nor does it "receive, record, store or share videos or images of any person," SEPTA said in the statement.
Zoom in: ZeroEyes will first be deployed at subway platforms on the Market-Frankford and Broad Street lines.
A shooting this month killed a 21-year-old man on a Broad Street line train near Fairmount Station.
What's next: SEPTA expect to have ZeroEyes up and running in the next two months. If successful, the agency plans to expand the technology to other locations.
Next year's Philadelphia Flower Show will be held indoors for the first time since 2020 — and the theme is "The Garden Electric."
Why it matters: We hardly need to say, do we? Before the pandemic, some 250,000 of us (and plenty of out-of-towners) would hit the nine-day exhibition every year.
What's happening: The Pennsylvania Horticultural Society shared renderings for the show — to take place at the Pennsylvania Convention Center, its longtime home, March 4-12 — during a news conference Friday.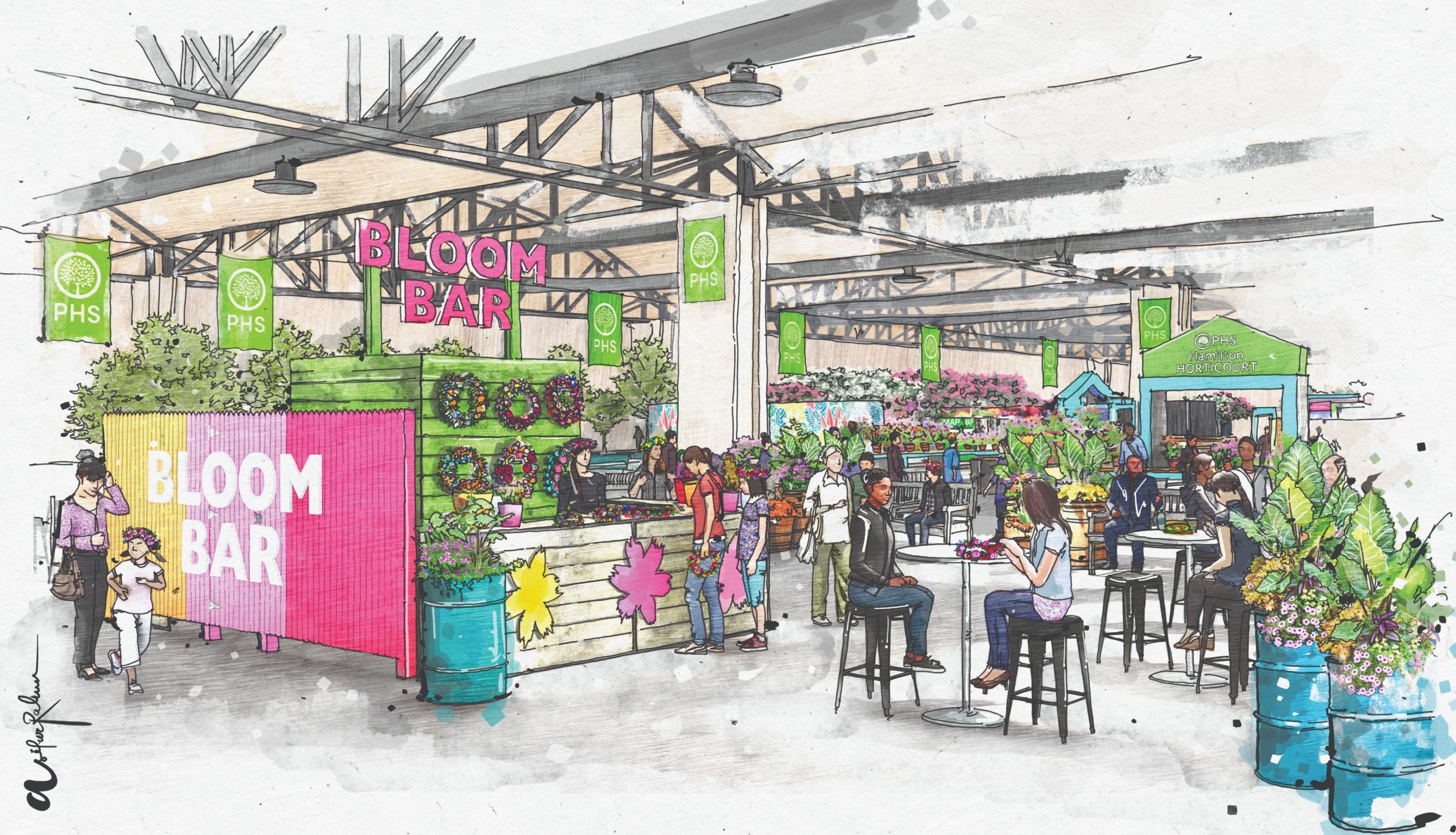 New activities this year include:
Live music from the Philly brass band SNACKTIME
A "design and dine" event where you can craft your own floral arrangement ($40, separate from admission)
Activities for children inside the "Kids Cocoon"
Plus: The return of "Fido Friday," when guests can bring their dogs, and "Artisan Row," a hub for creating floral and gardening crafts alongside makers.
Of note: The show will incorporate elements of the last two years' outdoor events, like the arrangement of the gardens.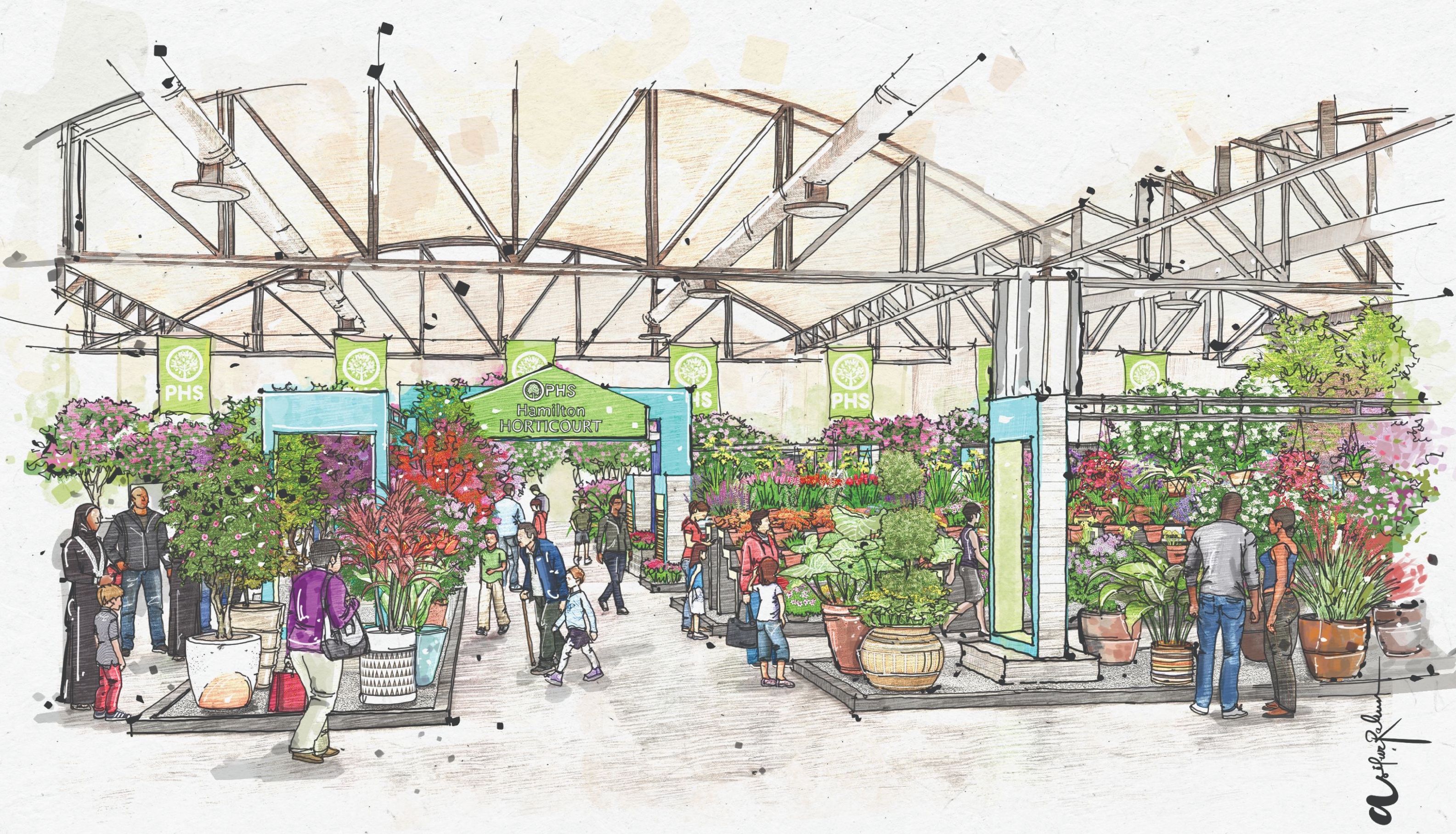 What they're saying: Seth Pearsoll, the show's creative director, told Axios he wants the event to feel bold, daring and full of unexpected color combinations.
It's "going to focus on exciting, celebratory aspects of flowers and gardens," he said.
Be smart: Get tickets now on the society's website: $20 for children ages 5-17, $38.50 for adults.
"Just go for it." That's the advice Marc Giges gave his three daughters growing up.
Driving the news: Naomi Giges Downey, Katy Ingulli and Melissa Giges are honoring their father's words by participating — in their own ways — in this weekend's Philadelphia Marathon.
Philadelphia International Airport is going to be stuffed as Turkey Day nears.
By the numbers: About 867,000 people are expected to pass through from today through Nov. 29, airport officials tell Axios.
Many of the asylum seekers who arrived in Philadelphia on a bus from Texas on Wednesday morning were headed to other states, while several may stay, according to city officials and local reports.
Driving the news: Philadelphia welcomed 28 migrants after what Mayor Jim Kenney called an "irresponsible and callous" political stunt by Texas Gov. Greg Abbott to ship them to sanctuary cities across the country.
Get a free daily digest of the most important news in your backyard with Axios Philadelphia.
🌱
Support local journalism by becoming a member.
Learn more