Philadelphia Police body camera footage remains largely unreviewed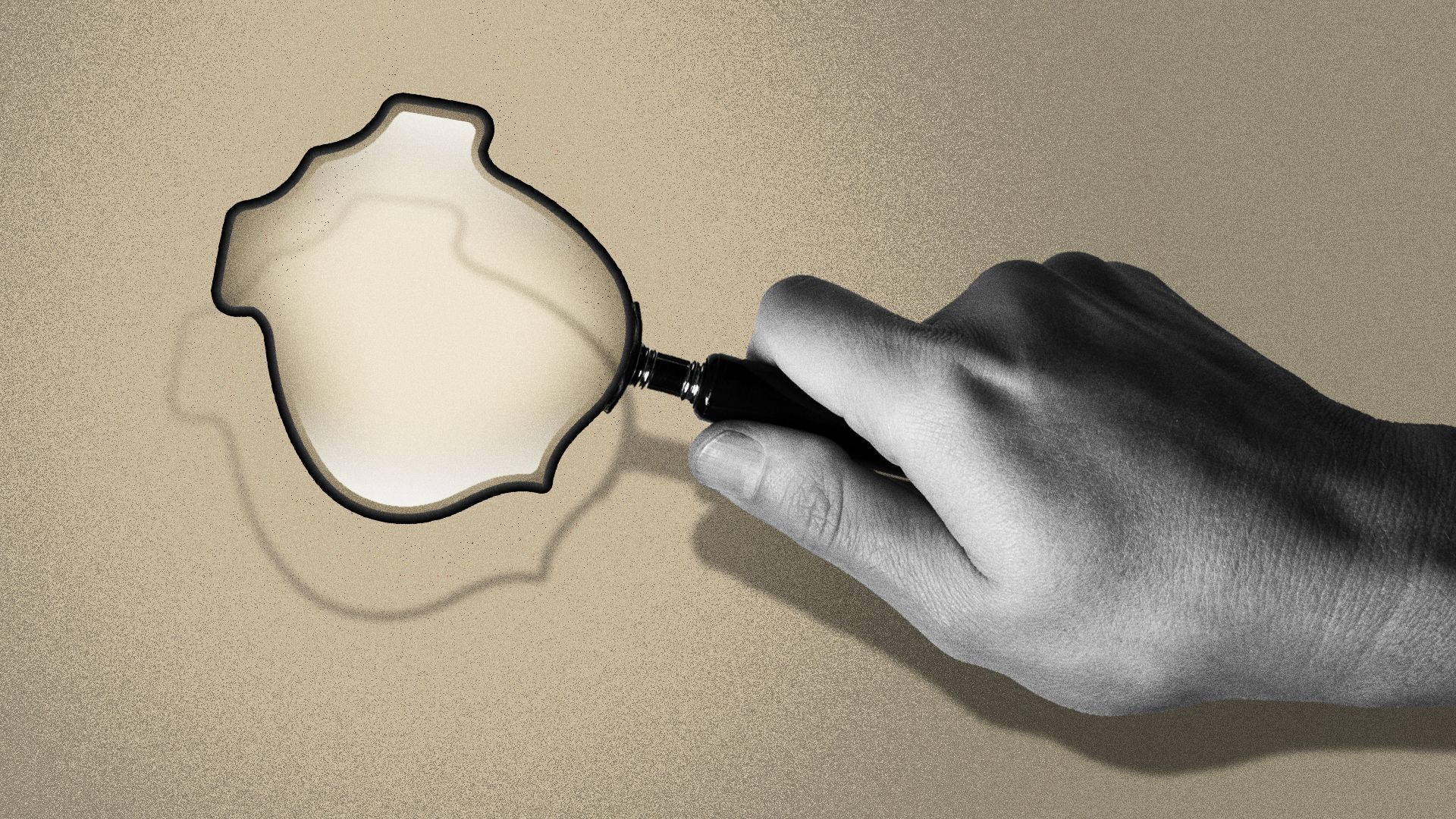 Over the past decade, the Philadelphia Police Department has spent more than $20 million on its body camera program, an initiative it launched to offer transparency and accountability to city residents. But an analysis by Axios found that thousands of officers violated bodycam policies, most for not turning on their cameras.
Why it matters: Philadelphia launched body cameras in 2014, during a period when high-profile police killings led many departments across the country to outfit their officers with recording devices.
In 2017, Mayor Jim Kenney praised a deal to more widely equip officers with the cameras, saying they'd "prove to be an important tool" in improving community relations and rebuilding public confidence in a department where officers had been involved in dozens of allegations of misconduct.
What's happening: An Axios analysis — and multiple interviews with criminal justice experts — shows the program faces challenges in the quest for greater transparency, including:
More than 1,000 officers have failed to turn on the cameras or otherwise violated department body cam policies, meaning there are untold hours of uncaptured encounters with the public.
More than 3,000 officers have logged hundreds of thousands of hours of footage that has largely not been reviewed.
And department policies prohibit supervisors from reviewing footage or conducting audits solely to find wrongdoing.
Zoom out: Snowden Becker, an audiovisual archivist, told Axios that body camera footage is what drives "meaningful reform" that'll improve policing and protect police and residents from false accusations. Videos can also become vital evidence in internal affairs investigations and for prosecutors and defense attorneys in criminal cases.
In 2021, for example, researchers analyzed use of force complaints made by civilians against Chicago Police officers and found body camera footage increased the likelihood that officers were disciplined after internal affairs investigations and reduced racial disparities in how complaints were handled.
And a growing number of police departments use a new AI system that analyzes officers' body cam footage and flags problematic encounters, writes Axios' Jennifer Kingston.
Philly was approached in recent months by a company offering similar technology, but police spokesman Sgt. Eric Gripp said the department currently doesn't plan to adopt it.
The big picture: Without that type of technology to increase accountability, experts told Axios that for the nation's fourth-largest department, the "gold standard" is for supervisors to audit at least 10% of body camera footage.
However, Philadelphia Police couldn't tell Axios exactly how many of 560,000 hours of body cam footage collected since 2015 were reviewed in cases when there weren't specific complaints made against officers.
The department destroyed 845,000 videos not flagged for review over the same period.
It changed its retention policy following civil unrest in 2020 to keep every hour of footage recorded.
Before, footage that went unflagged for further review or as evidence was kept for a minimum of 30 days from when it was recorded, per the directive.
Flashback: Beyond the costs to buy the body cameras, Philadelphia spends an additional $1.5 million each year on data storage and equipment upkeep, city officials told Axios.
About two-thirds of the department — 3,750 of roughly 5,700 officers — are now equipped with the cameras.
The city plans to issue 450 additional cameras to officers in the 15th district and in special units by fall 2023, city officials told Axios.
How it works: The department directive states that officers must have their body cameras turned on when responding to crimes, during protests, while initiating arrests and conducting vehicle or pedestrian investigations, among other tasks.
At the end of their shifts, officers place the cameras on a docking system that uploads footage to a cloud system.
They're required to bookmark and tag "points of interest" collected during their shifts to make it easier for supervisors to locate and review critical footage.
Audits are mostly conducted to ensure officers follow the directive and not specifically intended to identify and eliminate troubled cops from the force, per the directive.
Supervisors cannot examine footage as part of disciplinary fishing expeditions. Plus, they must have permission from higher-ups and "good cause" in order to review footage of specific officers.
Instances of good cause include internal affairs or citizen complaints, vehicle pursuits and crashes, and situations when officers face resistance or people are injured by police.
There's a team of 14 staff inspectors and officers performing random and targeted audits of body camera footage.
Yes, but: The department couldn't tell Axios exactly how many times officers have been caught on body cameras engaged in serious misconduct.
What they're saying: The enormous amount of footage going unreviewed every year is troubling, Seth Stoughton, a University of South Carolina law professor and body camera expert, told Axios.
"For every complicated problem, there is a solution that is simple, elegant and wrong," says Stoughton, who added that many wrongly assumed that body cameras would be a "panacea" in policing. Instead, footage too often sits collecting "digital dust" in storage.
And that's when it's captured, as Axios found that more than 1,000 officers failed to turn on their body cameras during public encounters or otherwise violated the department's directives between 2018 and 2022.
Of these officers, 61 resigned while their violations were pending, 372 were trained and counseled, 262 were found guilty of violations and 331 are still awaiting hearings, according to city data.
First-time offenders usually face less serious penalties, ranging from reprimand to suspension, while repeat offenders face tougher consequences, including potential dismissal.
The city wouldn't provide names of the 61 officers who resigned, but their disciplinary cases must be resolved if they ever attempt to rejoin the department.
Five of the 61 previously had charges against them sustained by internal affairs for domestic violence, excessive force and illegally stopping a pedestrian, Gripp told Axios.
The rest only had the body camera violation open when they resigned, and Gripp cautioned about inferring that's why those officers left.
"How many were scheduled to retire, how many of them something better came along, how many of them were, 'Yeah, this is the last straw. I'm not going to deal with this.' For us to say that would be a leap," he said.
Zoom in: Michael Mellon from the Public Defender Association of Philadelphia told Axios his office complained for years to city officials about officers not turning on body cameras while making arrests, sometimes intentionally, but only recently saw the problem being addressed.
The issues were centered in the 24th district — covering Kensington, Port Richmond and Juniata Park — where a review of 60 cases from 2018 and 2019 found only six recordings of detained persons before they were handcuffed. In only one of those cases did all six officers present have their cameras on.
When footage was available, there were often discrepancies in how officers presented accounts in reports compared with what was captured on camera, Mellon says, and they often failed to document when they detained individuals, as required by a 2011 consent decree.
In 2021, 13 Philly Police officers were pulled from the streets after body camera footage revealed discrepancies during an audit of more than 300 cases involving gun arrests, per the Inquirer.
What we're watching: Hans Menos, former executive director of the Philadelphia Police Advisory Commission, now with the Center for Policing Equity, said it's not just a matter of finding a few "bad apples" for a department that has "systemic" issues. He criticized the department's infrequent release of footage to the public.
State law makes it nearly impossible for the public to obtain body camera footage unless it's voluntarily provided by departments.
The Philadelphia Police confirmed it's only done that once — when Walter Wallace Jr. was fatally shot by officers in 2020.
Otherwise, state law requires those asking for footage to submit requests in person or through certified mail within two months of an incident.
Requestors must also explain their "relationship" to the incident and, for ones that occurred in homes, provide a list of names for everyone present during the incident.
Menos also said a department policy that allows officers to watch video before writing reports and testifying was ripe for potential abuse as it could allow officers to alter their statements about incidents.
The other side: City spokesperson Sarah Peterson told Axios that it's in the "best interest of the public" for officers to be allowed to watch footage before writing reports and testifying.
However, officers involved in shootings, in-custody deaths and instances in which someone is killed or seriously hurt are no longer allowed to watch footage before talking to internal affairs investigators.
The Fraternal Order of Police declined to comment on the city's body camera program.
Editor's note: Axios' Keldy Ortiz contributed to this story.
Go deeper