Why The Lumineers' Wesley Schultz says new music should drive you mad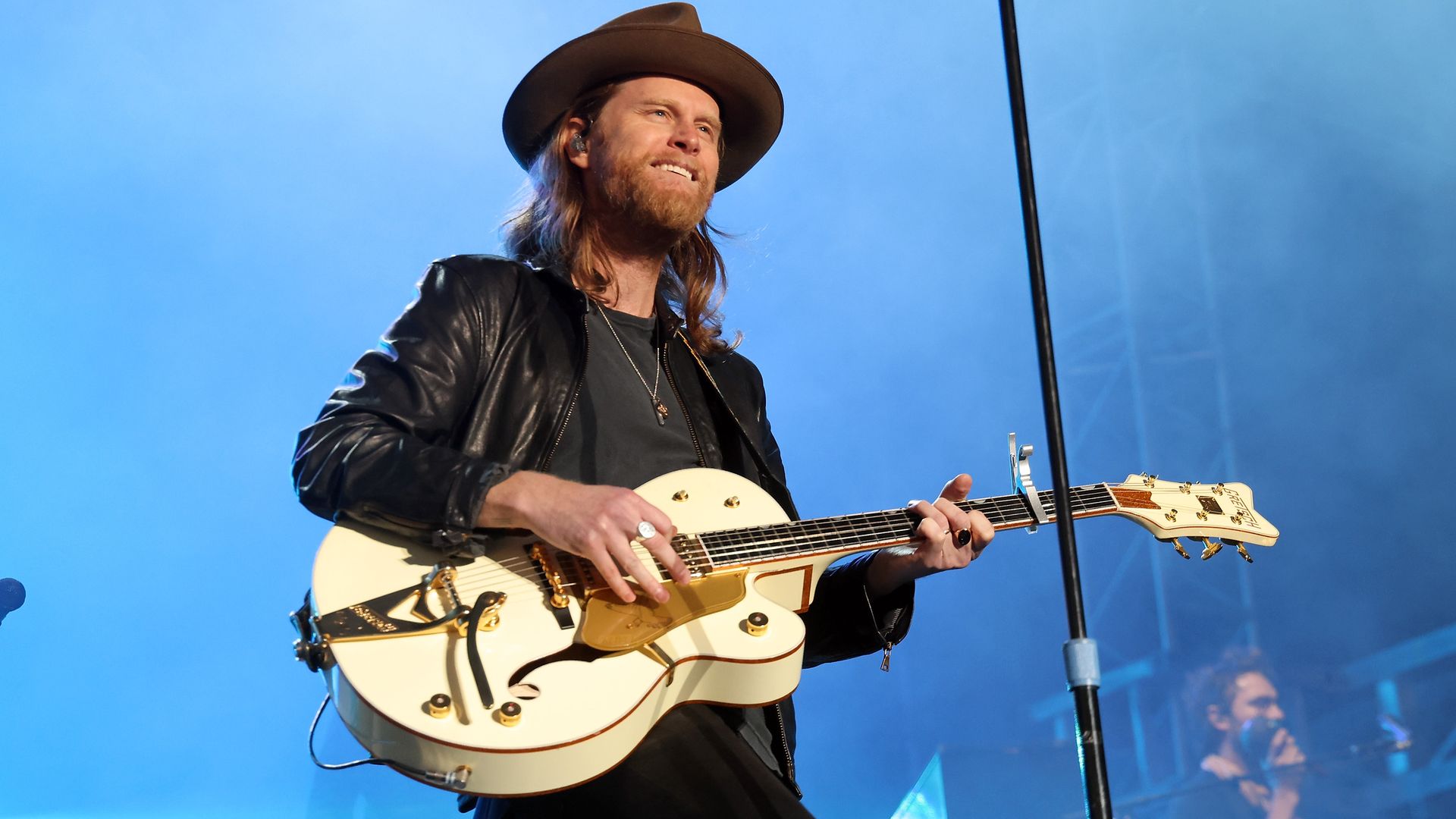 In the two decades since The Lumineers' Wesley Schultz and Jeremiah Fraites began writing together, the band has grown from performing in sweaty back rooms to expansive arenas. But no matter how big (or sweaty) the venue happens to be, they're still seeking something raw every show.
"You can never do the same thing twice," Schultz tells Axios. "It's a gift if you write something that is rooted in some real emotion. What a bad fate it would be to write vapid hollow things and then try to make meaning."
Driving the news: The Lumineers land on the Shell Gentilly Stage at the New Orleans Jazz & Heritage Festival on Saturday, May 6. The stop is part of a lengthy tour that started last year supporting the band's 2022 release of its fourth album, "Brightside."
Full tour schedule below.
About the album: Like others released in the past few years, the "Brightside" album touches on the extraordinary yet common experience brought on by the coronavirus pandemic.
It would be easy to see how revisiting that period, night after night, could feel like gluing yourself in one place. But that's not the case for The Lumineers, Schultz says.
"There are songs where I wrote them, I didn't [have kids] at the time, and performing them now can be even more emotional," he tells Axios. "As a singer you don't ever want to be up there pretending. You want to be tapping into something authentic to you."
Background: Schultz thinks often about his father, a psychologist who died in 2007, and the ways he taught him to be comfortable with emotion.
Schultiz initially thought he might follow in his father's professional footsteps, but discovered he could provide a similar support system through music.
You see that with "really talented writers like Phoebe Bridgers," Schultz says, "someone who's good at getting specific but it feels like your story. It only works if you're revealingly honest."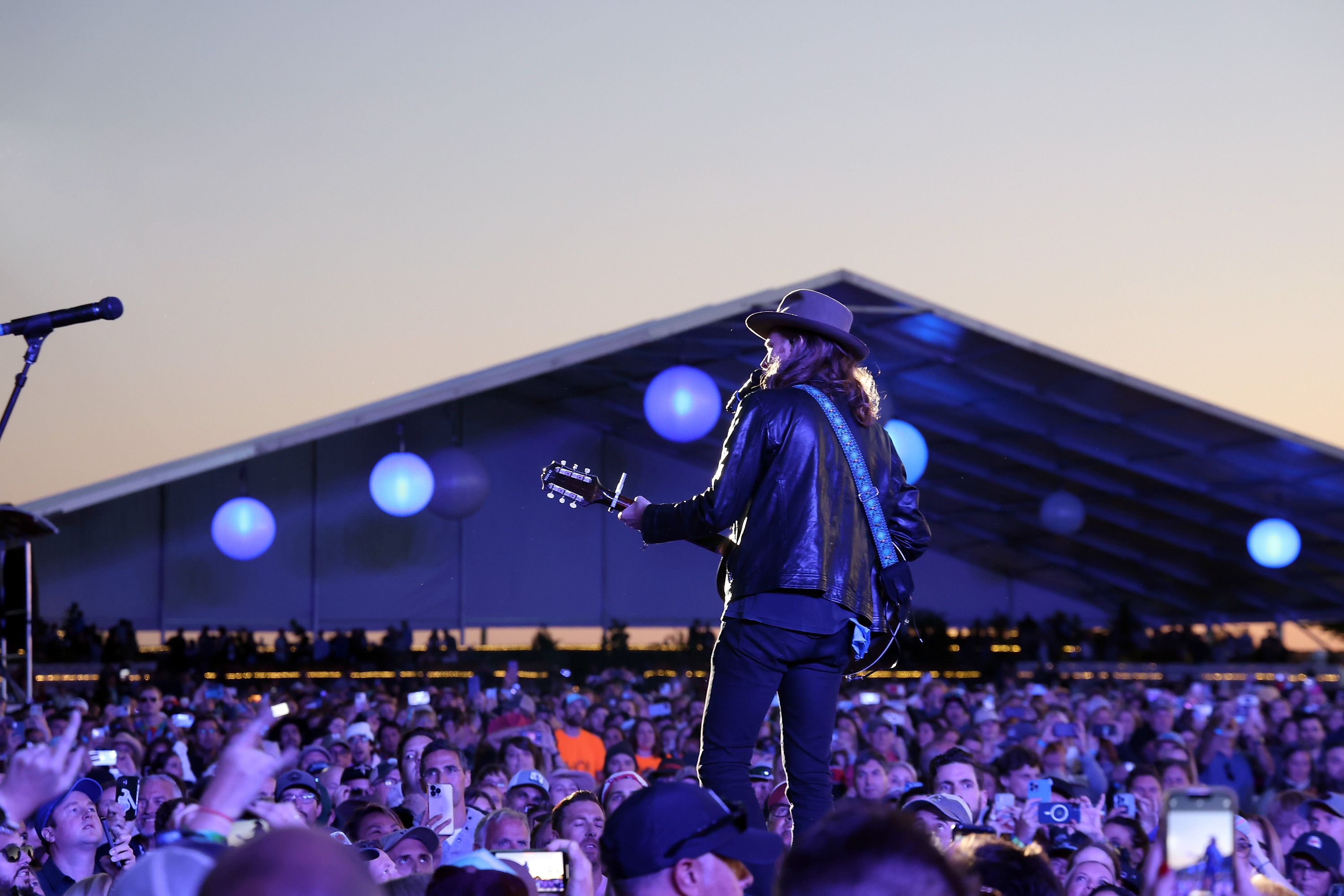 How it happened: In producing "Brightside," Schultz and Fraites recorded more quickly than they ever had previously, finishing a week earlier than planned, a manifestation not only of their comfort together but also of knowing when they'd nailed a take.
"The biggest change for us was having, I guess, a faith," he says. "You don't know, but you have this instinct that it's a good idea, a song that works. I don't have to beat this to death, and that can take away the momentum of a song because it becomes tired because you're overwriting."
But onstage, mistakes still happen. A mic comes loose, something weird happens out in the crowd — you just never know.
"Sometimes the best moments in the show are when something unexpected happens, and to be able to go with that gracefully and enjoy it in the moment and make it something the crowd can enjoy with you, it takes time to develop that," Schultz says.
Some of it comes from trial by fire, Schultz says, remembering the band's early years when they had to handle everything together: "Load in, load out, pack the merch, greet the fans, borrow instruments."
In a 2012 performance at The Circle Bar, for example, Schultz remembers their then-tour manager who lasted just two shows, including that May night: "I can remember being so sweaty it was like I jumped in a pool. … She worked that one gig in New Orleans and she was gone within a day or two."
"There's something about making people put their back against the wall that gives a certain attitude to the music," he says.
What's next: The Lumineers still have plenty of touring left on their schedule, but the next time they sit down to make music, the goal then will be the same as it's always been.
"It should make you uncomfortable. It should drive you a little mad," Schultz says.
His heroes are the performers whose newest work means as much to them as their oldest work.
"Staying innocent in that wonderment and trying to find that path where you … still don't quite know what you're doing is the way to stay in love with it," he says.
Full tour: Here are all upcoming U.S. dates for the Lumineers' tour.
May 5 — Memphis' Beale Street Music Festival.
May 6 — New Orleans' Jazz Fest.
May 7 — Atlanta's Shaky Knees Festival.
May 27 — Boston Calling Music Festival.
Aug. 16 — Bangor, Maine.
Aug. 18 — Wantagh, New York.
Aug. 19 — Catbird Music Festival in Bethel, New York.
Aug. 22 — Darien Center, New York.
Aug. 23 — Philadelphia.
Aug. 25 — Detroit.
Aug. 26 — Milwaukee.
Aug. 29 — Somerset, Wisconsin.
Sept. 1 — Aspen, Colorado.
Sept. 3 — Salt Lake City, Utah.
Sept. 5-6 — Bonner, Montana.
Sept. 8 — George, Washington.
Sept. 9-10 — Bend, Oregon.
Sept. 12-13 — Santa Barbara, California.
Sept. 15 — Los Angeles.
Sept. 23 — Franklin, Tennessee.
Oct. 1 — Ocean City, Maryland.
Related Axios guides: Biggest events and festivals in New Orleans, Atlanta, Boston, Philly, Detroit, Salt Lake City and more from our 30 free local newsletters
More New Orleans stories
No stories could be found
Get a free daily digest of the most important news in your backyard with Axios New Orleans.