Paxton impeachment trial rife with possible conflicts of interest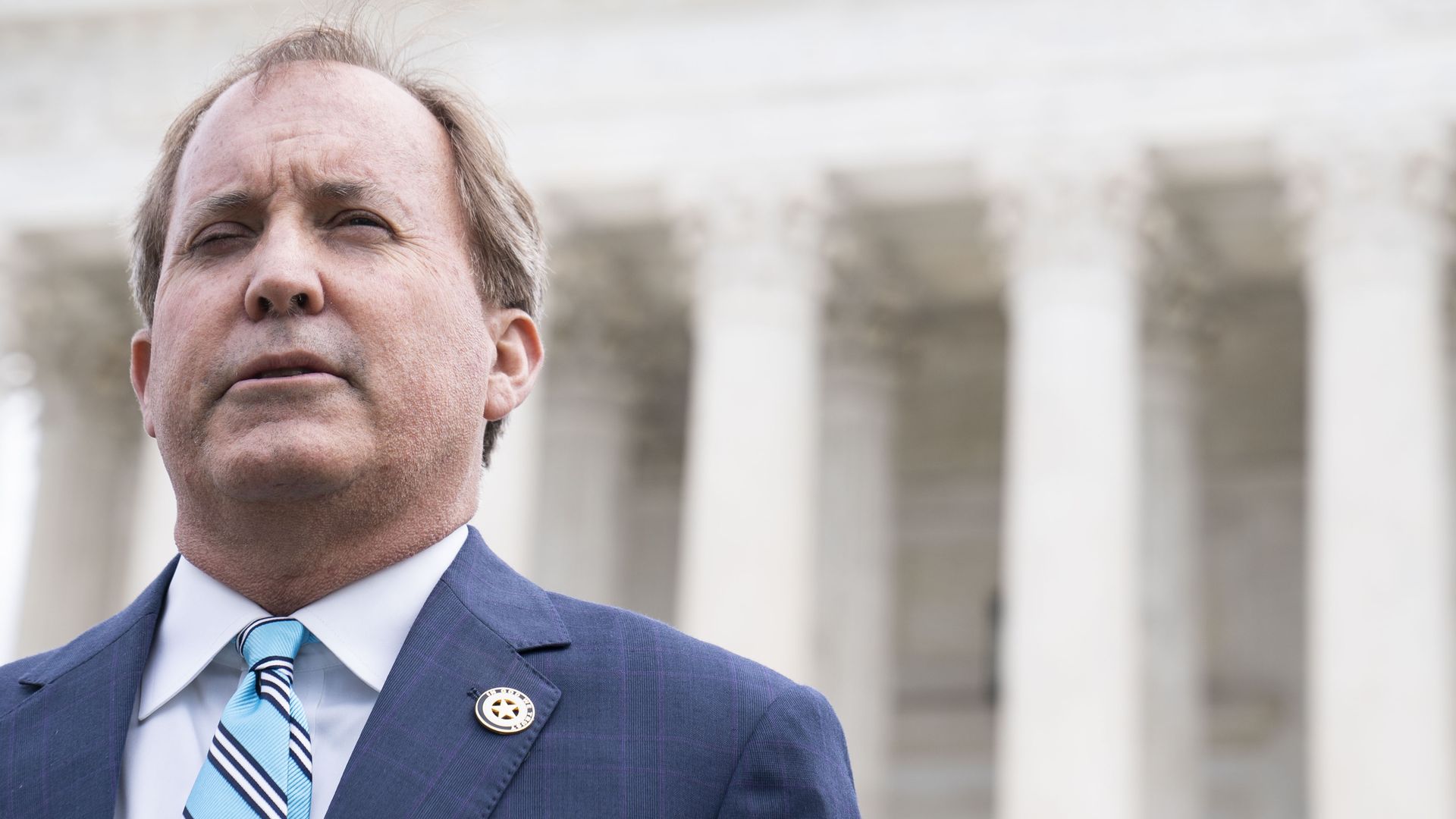 Lt. Gov. Dan Patrick has promised that Texas Attorney General Ken Paxton will be treated fairly in his upcoming impeachment trial — which Patrick will oversee — but the state Senate, where the trial will be held, has become a tangled web of potential conflicts of interest.
The latest: The Senate convened this week to discuss the rules for the trial, during which senators will determine whether Paxton is permanently removed from office.
Why it matters: Paxton owes $125,000 in outstanding campaign loans to Patrick, according to the Houston Chronicle, and at least three senators could have conflicts of interest.
Flashback: The GOP-dominated Texas House voted 121-23 to impeach Paxton last month, a historic decision that immediately removed him from office.
Context: There are 19 Republicans and 12 Democrats in the Senate. At least two-thirds of voting senators would need to convict to remove Paxton.
What's happening: The attorney general's wife, Sen. Angela Paxton, a Collin County Republican who chairs the Republican caucus, released a statement Monday saying, "I will carry out my duties," but she hasn't commented on whether she will recuse herself.
Angela Paxton also owes $600,000 to her husband's campaign, per the Chronicle.
Ken Paxton is accused of recruiting Sen. Bryan Hughes, a Mineola Republican, to unwittingly request a legal opinion from the AG's office that would benefit Paxton's friend and political donor Nate Paul, an Austin real estate investor.
The articles of impeachment also allege that Paxton benefited when Paul employed a woman with whom Paxton was having an affair. That woman is a former Senate aide — entangling yet another, unnamed, senator, per the Texas Tribune.
State of play: Most senators have refrained from commenting publicly on the allegations against Paxton. Patrick has compared himself to a judge in a traditional courtroom, telling WFAA, "We will all be responsible as any juror would be."
What they're saying: Jeremi Suri, a professor of public affairs and history at the University of Texas at Austin, told the Chronicle that Paxton owing Patrick money "is a conflict, and it would not be acceptable in a normal judicial proceeding, but an impeachment is abnormal."
The other side: Paxton has denied all wrongdoing, though earlier this year he agreed to a $3.3 million settlement with four whistleblowers, former lieutenants in his office.
Between the lines: A new Texas Politics Project Poll found that 50% of Texans believe Paxton's impeachment was justified, while 17% said it wasn't. The rest said they don't have an opinion.
What we're watching: The impeachment trial is expected to start in August.
More Dallas stories
No stories could be found
Get a free daily digest of the most important news in your backyard with Axios Dallas.