Texas AG Paxton agrees to $3.3 million settlement with ex-employees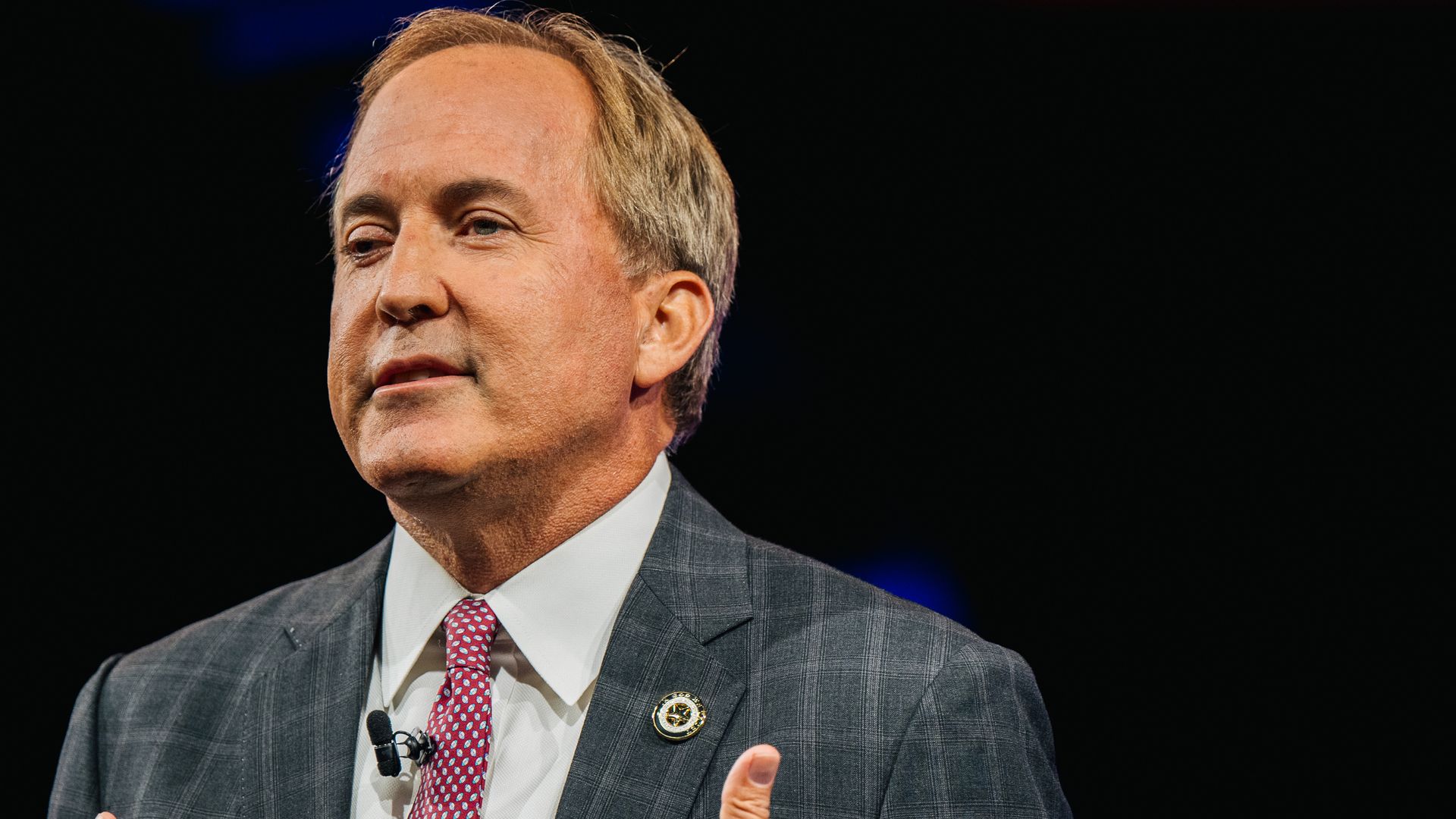 Texas Attorney General Ken Paxton (R) agreed Friday to pay $3.3 million in a settlement with four former employees who said they were fired after accusing him of bribery and corruption.
Driving the news: Paxton also agreed to give a statement in which he "accepts that plaintiffs acted in a manner that they thought was right and apologizes for referring to them as 'rogue employees,'" the settlement agreement states.
The Texas attorney general will also take down a press release with similar language that referred to the whistleblowers as rogue employees, the agreement states.
Of note: The mediated settlement states that the Office of the Attorney General will pay the multimillion-dollar settlement.
The agreement is contingent "upon all necessary approvals for funding," which means the Texas Legislature will have to approve using taxpayer funds to pay the settlement.
The Texas Whistleblower Act holds that such a lawsuit must be brought against a government employer — in this case, the Office of the Attorney General, which employed these whistleblowers and fired them within a few weeks of them making a report to the FBI and the Texas Rangers, per attorney Tom Nesbitt, who is representing James Blake Brickman, one of the ex-employees.
Background: The four former aides filed the lawsuit two years ago, claiming the Texas attorney general was retaliating against them after they accused him of bribery and abuse of office.
A total of eight employees accused Paxton of abusing his office to "improperly interfere in the civil disputes and criminal matters" of an Austin real estate investor who was "his donor, friend and personal benefactor," per court documents.
All of the employees were either fired or resigned, per The Hill.
Context: Although the settlement, once finalized, will end the lawsuit, Paxton is still the subject of a federal investigation over the allegations. However, no charges have been filed.
The big picture: The case is one of several legal battles for the Texas attorney general, who used his office to attempt to overturn 2020 election results in battleground states that former President Trump lost.
He's also facing a separate criminal indictment in a 2015 securities fraud case.
What they're saying: "After over two years of litigating with four ex-staffers who accused me in October 2020 of 'potential' wrongdoing, I have reached a settlement agreement to put this issue to rest," Paxton said in a statement.
"I have chosen this path to save taxpayer dollars and ensure my third term as Attorney General is unburdened by unnecessary distractions," he added. "I look forward to serving the People of Texas for the next four years free from this unfortunate sideshow."
"The whistleblowers acted bravely in the interest of all Texans," Nesbitt said.
"This outcome gives proof to our state's solemn commitment to protect public servants who risk their jobs and reputations to cooperate with law enforcement," he added.
Go deeper