Springfield under pressure to wrap up spring session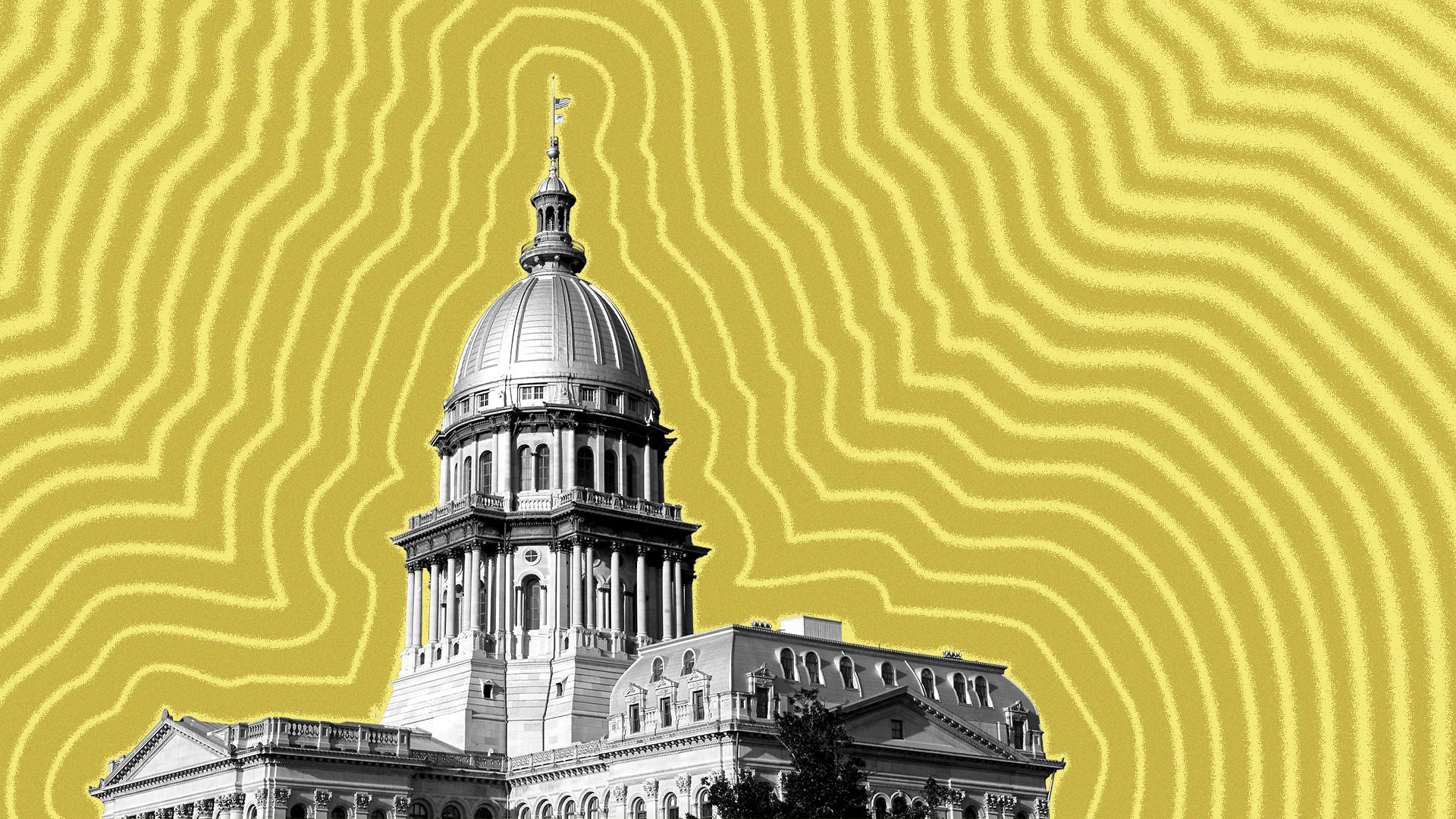 Friday is the last scheduled day of the Illinois General Assembly's spring session.
Why it matters: Legislators will spend the next 48 hours passing a flurry of bills that could reshape Illinois law.
Also, per state law, they must approve the governor's 2023-24 budget by June 1.
Here are three big items that could be passed by the end of session:
Funding pensions
Pension funding had been the biggest fight in Springfield year after year, until the pandemic came around.
But pensions are front and center once again, with controversial bills to get taxpayers to help pay for both Chicago firefighter and Cook County pension benefit shortages.
Context: The bill is intended to force the state to comply with federal guidelines on how much pensions should be funded. But to do so, the state would rely on taxpayer dollars.
The Tribune estimates it could cost taxpayers up to $3 billion over the next three decades.
The intrigue: The Civic Federation, a nonpartisan financial watchdog group in Chicago, has been critical of this move, asking the state to study what impact funding Tier 2 pensions would have on the state's finances.
The federation argues one-off changes like these are "inefficient."
Yes, but: The criticism didn't stop the Illinois House from passing a firefighter pension bill 88-24.
New ride-share rules
You may have seen various Uber ads urging you to call your state legislator over the so-called "Common Carrier" bill, claiming it will make rides more expensive and hurt Chicago during next year's Democratic National Convention.
Reality check: The bill is intended to expand Illinois' existing law to include ride-share companies when it comes to liability over passenger injuries.
That law already covers cabs and other transit.
Yes, but: Uber argues that their drivers are already liable and this will just open the door for civil lawyers to sue the company for more.
What's next: Different versions of the bill have passed both the House and the Senate and are being reconciled before they go to the governor.
Watering down privacy
Some lawmakers want to weaken a privacy law that's been used to sue tech giants like Google, Facebook and TikTok.
What's happening: A new bill is looking to water down Illinois's existing Biometric Information Privacy Act (BIPA), which has forced several social media companies to pay up in class-action settlements.
Between the lines: Though it may be unpopular to alter this law, advocates say Illinois' bill goes further than other states by letting individuals file lawsuits, as opposed to the states' attorneys general. That's what lawmakers are looking to change.
What we're watching: Leaders in both chambers could keep legislators around next week if they can't wrap it all by Friday. They have until June 1.
Lawmakers can also try to revive bills that didn't pass in the fall veto session, but they'd need three-fifths of the vote.
More Chicago stories
No stories could be found
Get a free daily digest of the most important news in your backyard with Axios Chicago.