Artists honor late Chicago DJ Lin Brehmer with poetry, songs and art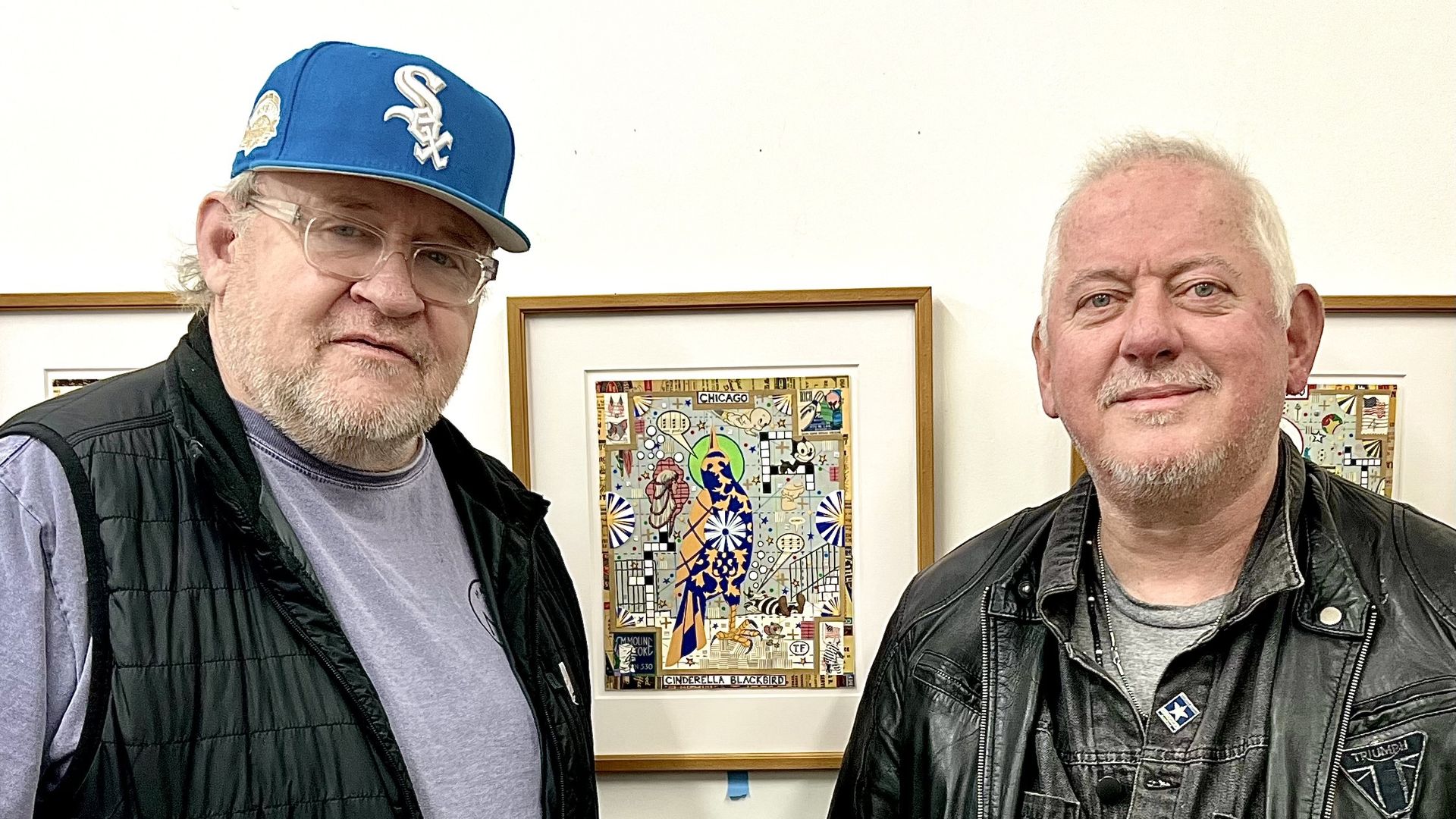 Legendary Chicago DJ Lin Brehmer died in January, but his influence endures in many ways, including shows this week by artists Tony Fitzpatrick and Jon Langford at The Hideout.
The backstory: Years ago, Fitzpatrick recalls, he quoted a line from Wallace Stevens' "13 Ways of Looking at a Blackbird" to Brehmer, who then recited the rest of the poem by heart.
Fitzpatrick confided to Brehmer that he'd long tried to write an answer to Stevens' existential verse, and in their conversation that night, "Lin gave me the key to writing that answer," he tells Axios.
What's happening: Fitzpatrick and Langford are presenting a song cycle based on that answer poem, called "Cinderella Blackbird," as a tribute to Brehmer at The Hideout this week.
The three shows sold out almost immediately, but for those of you who won't be attending, here's a taste.
The show: Poetry and songs based on the poem, but also stories about Brehmer, "because the poem isn't about Lin per se, it's because of Lin," Fitzpatrick says.
"It's kind of a meditation on the city he, Langford and I love, a city Lin's voice hovered over every single day for a very long time."
Fitzpatrick sent Axios a working copy of "Cinderella Blackbird," which we've excerpted:
Over Logan Square
night is another country
of proven poisons
and lost keys,
to be searched for
by drawn
and stumbling
men.
What's more: The show will feature projections of artwork by both Langford and Fitzpatrick, including Fitzpatrick's "Cinderella Blackbird" collage drawings.
What they're saying: "Tony and I have been talking about doing something for years bringing our art and music and poetry together," Langford tells Axios.
"I think Lin's passing just kind of kicked us in the a--, really, and filled it with a sense of urgency."
What we're watching: Fitzpatrick's "Cinderella Blackbird" art will be part of a larger show and book of poetry "down the line," he says.
Langford, best known for his bands The Mekons and Waco Brothers, is also a talented and prolific painter. A collection of work blending themes of death and country music was unveiled last week at The Beer Temple in Avondale.
More Chicago stories
No stories could be found
Get a free daily digest of the most important news in your backyard with Axios Chicago.