Jane Byrne Interchange is a hot spot for graffiti
Jane Byrne Interchange construction is finally over, but the graffiti that exploded along big sections of highway during the yearslong project keeps reappearing.
What's happening: Axios readers have written in asking why this spot attracts so much graffiti and what is being done.
To find out, we talked to state officials and to folks who've been part of the graffiti world.
Why it matters: Tagging in this high-traffic area can be dangerous.
Plus, it costs taxpayers "hundreds of thousands of dollars a year" to clean it, Illinois Department of Transportation spokesperson Maria Castaneda tells Axios.
State of play: The agency is working hard to address the ongoing graffiti problem in the area, Castaneda says.
"Unfortunately, we have seen that shortly after graffiti is removed, it almost immediately returns. In some instances, the graffiti is back up the same night."
IDOT prioritizes zapping graffiti that covers highway signs or contains offensive language "as quickly as possible," Castaneda says.
Zoom in: For other graffiti, the department typically schedules removal for warmer months.
Castaneda says that construction sometimes makes it tough to get crews in to do removal.
Plus, she notes, some graffiti visible from the highway is not technically the state's responsibility, because it's on private property.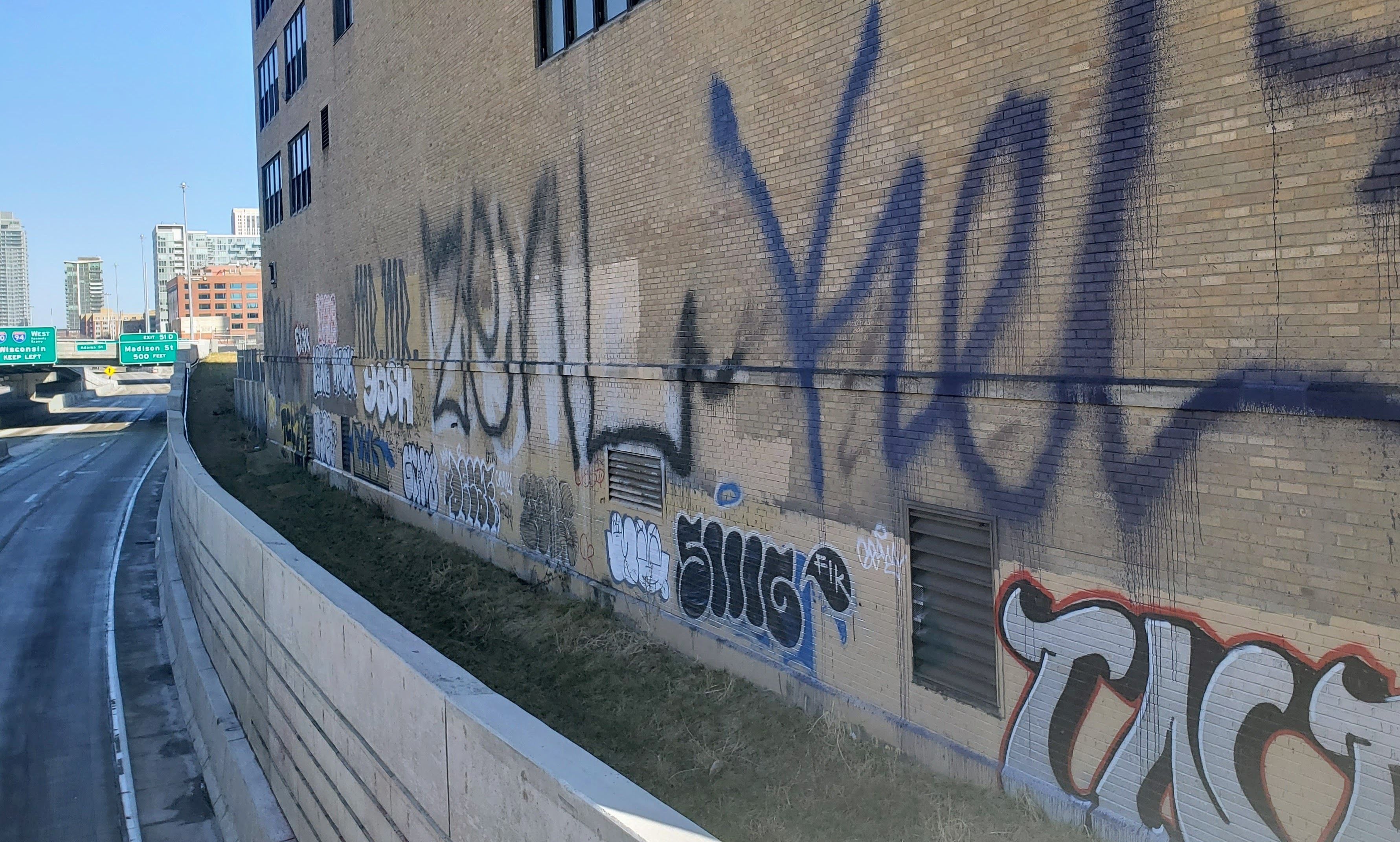 Between the lines: Axios reached out to a couple of former graffiti writers to understand why this area was such a magnet. They asked to remain anonymous out of fear of repercussions in their current jobs. They told us the area was a hot spot for several reasons:
The construction sites offered easy access to the walls.
They offer high visibility for the work with a lesser likelihood of getting caught, given that most passersby are driving around 55 mph.
And, ultimately, once the first person tagged the spot it piqued others' competitive instincts.
The remedy: Our sources were torn on this question but offered two main suggestions to reduce graffiti:
Install cameras near the most-tagged sites.
Punish the practice with escalating tickets rather than arrests.
What they're saying: One source told us they've been arrested several times, but that it never resulted in any fines.
"If I had to start paying $250 tickets, I would have been mad and thought twice about doing it again — or at least getting caught."
More Chicago stories
No stories could be found
Get a free daily digest of the most important news in your backyard with Axios Chicago.