Recipe: Ina Pinkney's Heavenly Hots Pancakes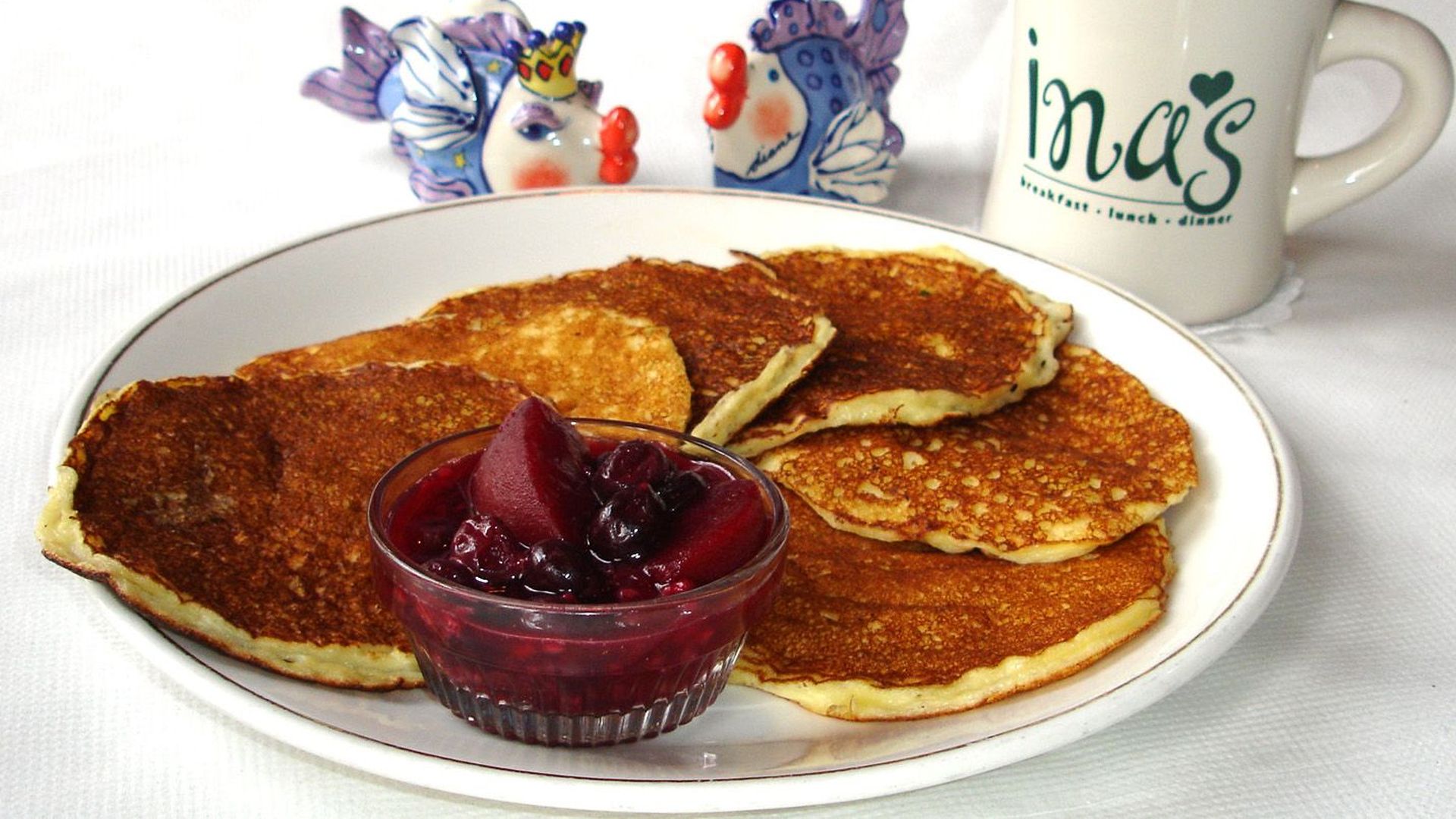 Chicago's Breakfast Queen, Ina Pinkney, turns 80 years young this year, and the chef community is putting on a shindig on April 26 to celebrate.
The birthday bash will raise funds for Green City Market and Pilot Light educational programs.
What's happening: We thought this would be a great time to ask the woman who fed Chicago breakfast at Ina's for 22 years to share a recipe.
Morning meal meditation: "Breakfast is a siren song," Pinkney tells Axios. "Sunny side up eggs fried in excellent olive oil with frizzled edges, a baked frittata with pasta and cheeses, huevos rancheros, fresh bread with soft sweet butter and coffee — dishes that swirl and set off longings."
The recipe: Ina's Heavenly Hots Pancakes, a staple at her legendary erstwhile restaurant.
Backstory: "I saw the recipe in 'The Breakfast Book' by Marion Cunningham, and the first time I made them, it was revelatory!"
When Pinkney asked Cunningham if she could tweak the recipe and use the name, "her response was, 'Have at it, my good woman!' Be still, my heart!"
Today this good woman shares the recipe for these light and tender pancakes with us. You can find more in her Ina's Kitchen cookbook.
Heavenly Hots Pancakes
Ingredients:
4 large eggs
2 cups sour cream (not Daisy Brand, which is delish but too thin)
1/4 cup cake flour
2 tbsp. potato starch
3 tbsp. sugar
1/2 tsp. baking soda
1/2 tsp. salt
The batter: In a mixing bowl, beat the eggs. Add the remaining ingredients, and blend until smooth.
Make the batter the day before, and store in a closed container in the refrigerator.
The cooking: Heat a griddle or fry pan on medium high heat. Coat with a thin film of oil. Carefully "place" a large spoonful of batter in the pan to make a 3-4 inch pancake. When a few bubbles appear, turn them over very carefully, and cook until lightly browned.
Of note: The pancakes want to tear, because they are so delicate, so use the thinnest pancake turner you have. Do a few tests first, and eat them before anyone sees.
To serve: We offered them with peach, raspberry, blueberry compote, but you can use any fruit you have or maple syrup.
More Chicago stories
No stories could be found
Get a free daily digest of the most important news in your backyard with Axios Chicago.