How Brandon Johnson won the Chicago mayoral election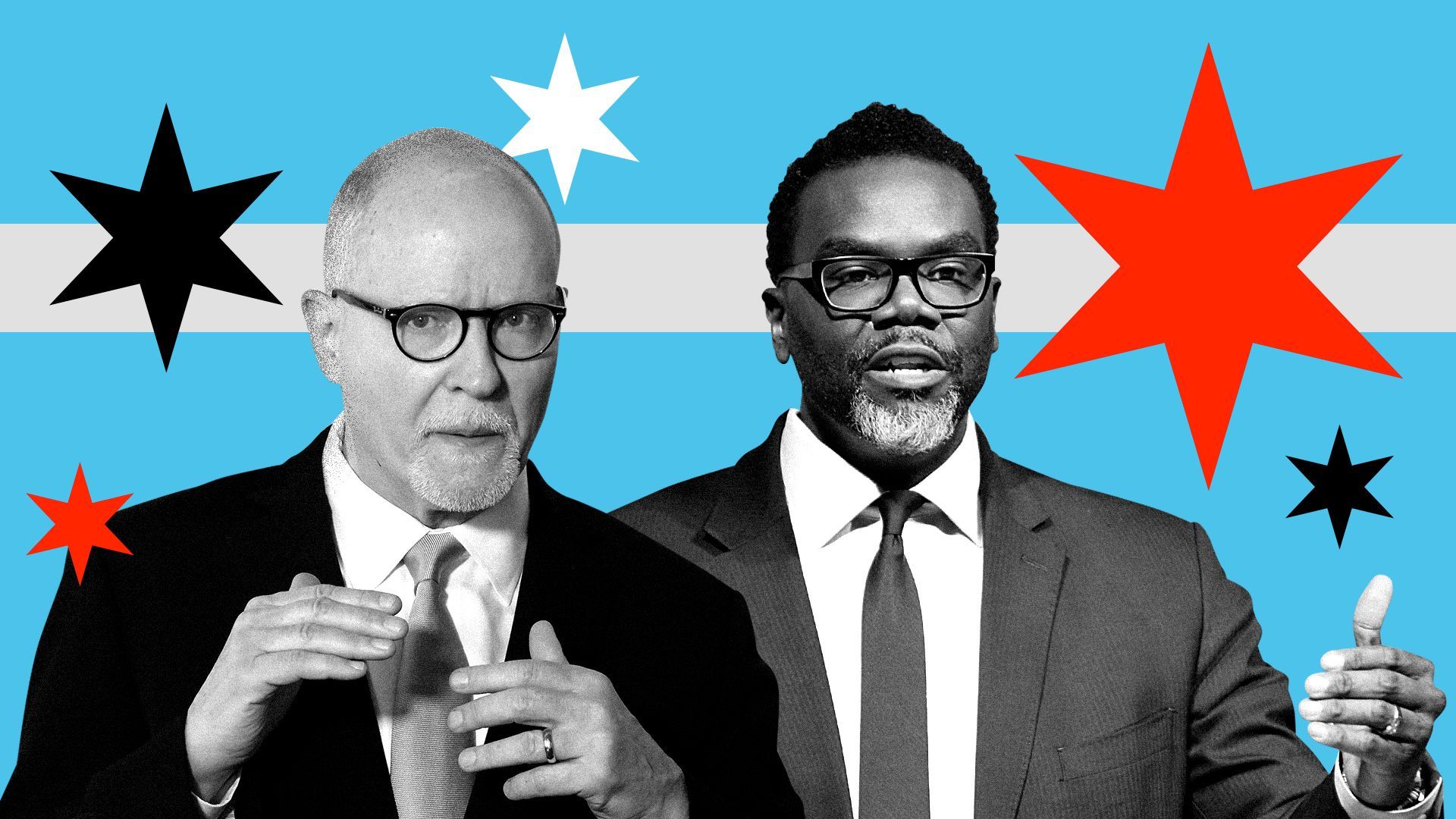 Brandon Johnson's narrow victory in Chicago's mayoral election Tuesday night caught many by surprise, but new data reveal key insights into how the progressive won the election and what comes next.
Key votes: Anyone who wanted to take the mayor's office had to pick up voters who had gone for other candidates in February or inspire new ones to come out. Johnson did both, and here's how:
The millennial factor: Voters ages 18 to 24 made up less than 4% of this week's vote, but millennials (folks roughly 26 to 44) cast 176,442 votes by election night, raising their February numbers by nearly 25,000.
South and West Sides: While Johnson saw strong turnout on the North Side, he got his biggest vote margins in West and South Side wards that had gone for Lori Lightfoot and Willie Wilson in the February election.
That's despite failing to get endorsements from either of them.
Instead he barnstormed the areas with multiple events every day.
The intrigue: As WBEZ's Natalie Moore noted in a Wednesday opinion column, Vallas was backed by key Black alderpersons, but it didn't matter.
Folks like Emma Mitts, Michelle Harris, Roderick Sawyer and Anthony Beale "used their political capital to vouch for Vallas' politics," Moore wrote, but their constituents ignored them, handing Johnson 80% of the vote in those wards.
"What will it mean if Black voters cast ballots for Johnson, while their council representatives backed the loser and are seen as out of touch?" she asked.
Remapping the Lakefront: WBEZ's mapping of the mayoral vote shows that the famous strip of "lakefront liberal" wards that helped elect Harold Washington and Lori Lightfoot stopped at Diversey this year.
That delivered Lincoln Park and downtown wards largely to Vallas.
Did voters in these wealthy neighborhoods take issue with Johnson's talk of raising taxes on the rich?
What we're watching: Chicago Board of Elections spokesman Max Bever says 13,668 mail-in ballots have been delivered since Monday. Officials will count and post the results of those and any other eligible ballots on a rolling basis.
Bever says 76,641 other ballots remain unreturned but he does not expect that many to arrive before the April 18 deadline.
Be smart: The board won't call the race "until after the official proclamation of results, currently scheduled for April 25, but it will likely happen a little sooner," Bever tells Axios.
Between the lines: Some readers asked Axios how officials, the Associated Press or Vallas' campaign decided it was time to declare a winner in the race.
The AP explains its process on its website. Vallas officials didn't respond to Axios' request for comment.
Bever says he can't speak on behalf of either, "but I think it's clear that both organizations felt strongly the remaining math did not work out in the [Vallas] campaign's favor."
What's next: The inauguration of the new mayor, clerk, treasurer, and alderpeople will take place May 15.
New Police District Council members will be inaugurated May 2.
More Chicago stories
No stories could be found
Get a free daily digest of the most important news in your backyard with Axios Chicago.