Locals name Chicago's best music venue: Metro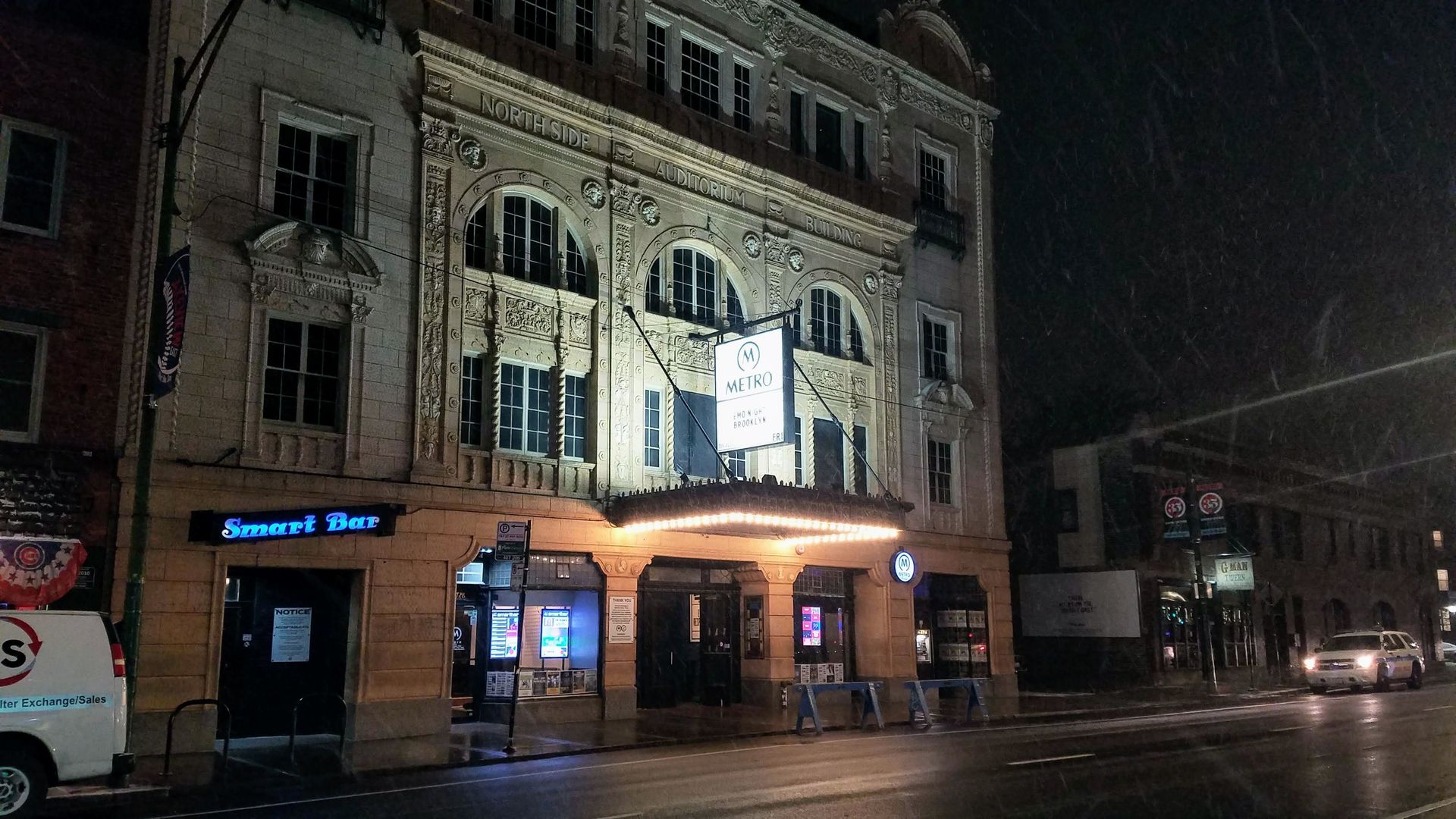 We started the week with 16 venerable venues, and today you have helped us crown a champion: Wrigleyville's Metro.
Backstory: Founded in 1982 by promoter Joe Shanahan, the club was an early local showcase for R.E.M., The Replacements, Sonic Youth, New Order and Nirvana.
In addition to the main auditorium, Metro features the dance-friendly SmartBar in the basement and a lesser-known fourth-floor auditorium for special events — the spot where The Victory Gardens Theater began in 1974.
Metro remains on the cutting edge of new music while celebrating veterans like Patti Smith, who performed there last year for a 40th anniversary show.
What they're saying: "This is very humbling," Shanahan tells Axios. "The goal was always to provide a community hub for music and the arts in the city, and as I, the staff, the fans, and the artists, can all admit, we are very excited to continue this mission in 2023 and beyond."
"Thank you all for voting and supporting. Because of you, there is a Metro, there are music venues, and Chicago is home to a vibrant collective of music, arts, and more that continues to grow."
The intrigue: When the Spanish Baroque Revival building was designed by architects Michaelsen & Rognstad in 1927, it featured two lodge halls, a kitchen, dining room, eight storefronts and an arcade running through from Clark to Racine.
You can still see its name, "Northside Auditorium Building," on thefacade.
💭 Justin's thought bubble: This was so much fun. Your passion for both the venues in our tournament and the ones that didn't make the cut prove that Chicago is the best live music town in the country.
Bonnie E.: "I was glad to see the Metro get to the finals. I always wondered what the green rooms for the bands looked like and got my chance on a New Year's Eve about 10 years ago."
"The Smoking Popes were playing, and they are my brother's friends, so I got to stand on the side of the stage and look out at the audience from their view. After that, I got it. To see an entire hall singing your songs back to you and jumping up and down to your music is a high like no other! But the green room was still some little dingy thing."
Alicia B.: "Where's Park West?!"
John S.: "Kingston Mines, Green Mill, SubT, Old Town, Bottom Lounge, Jazz Showcase, Waystation, Carol's Pub, the Golden Dagger, and so many more. I salute your support of Chicago Music, but I would have run with, at the very least, the ability to write-in venues."
More Chicago stories
No stories could be found
Get a free daily digest of the most important news in your backyard with Axios Chicago.