Scoop: Austin warned Gallant about Israeli military actions in Lebanon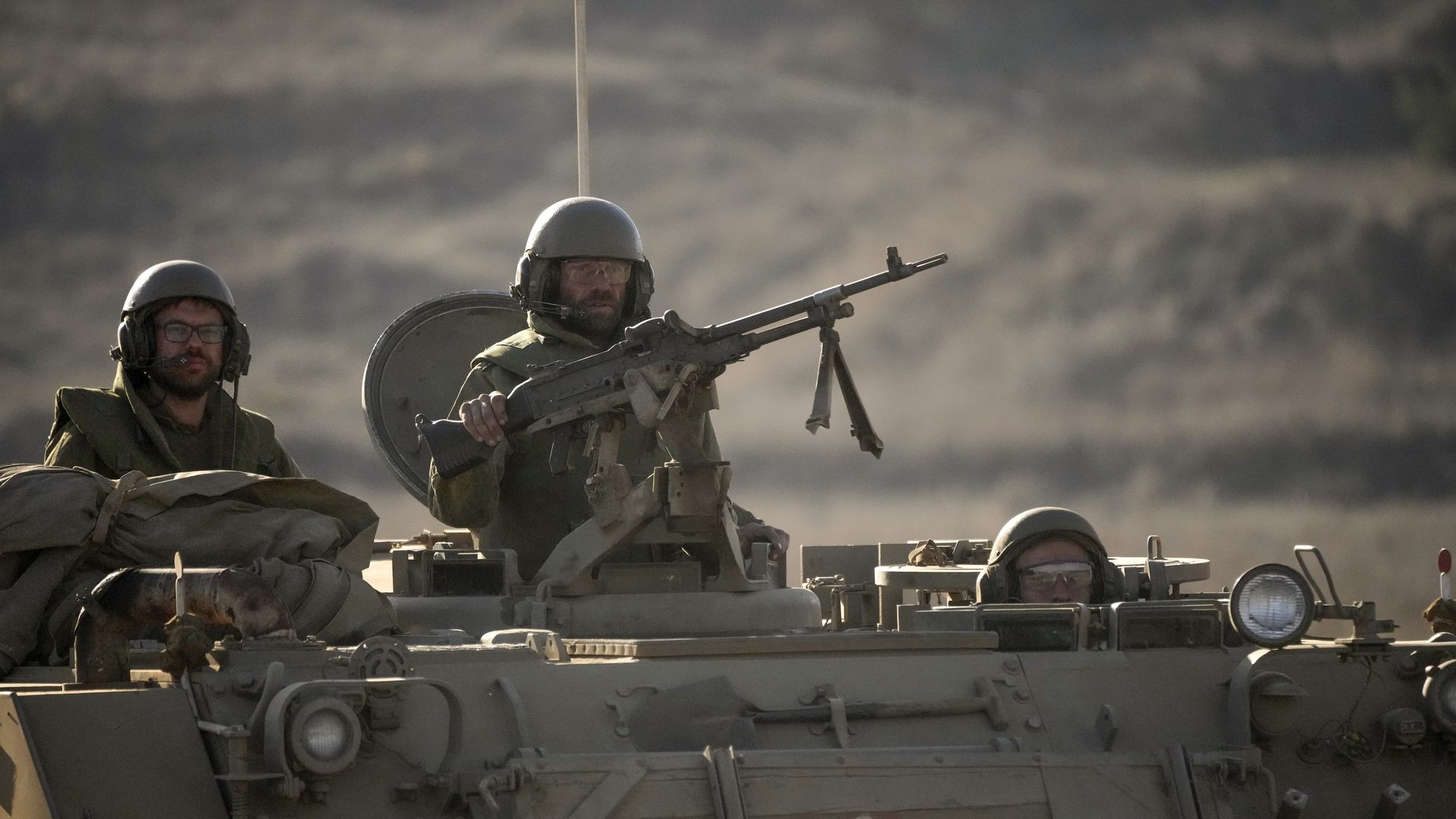 U.S. Secretary of Defense Lloyd Austin expressed concern to his Israeli counterpart Yoav Gallant in a call on Saturday about Israel's role in escalating tensions along the border between Israel and Lebanon, according to three Israeli and U.S. sources briefed on the call.
Why it matters: Austin's message to Gallant reflected growing anxiety in the White House that Israeli military action in Lebanon is exacerbating tensions along the border, which could lead to a regional war.
Some in the Biden administration are concerned Israel is trying to provoke Hezbollah and create a pretext for a wider war in Lebanon that could draw the U.S. and other countries further into the conflict, according to sources briefed on the issue. Israeli officials flatly deny it.
Driving the news: Since the beginning of the war in Gaza, there have been daily skirmishes on the Israel-Lebanon border.
Hezbollah has fired anti-tank missiles at Israeli outposts along the border, Israel has conducted air strikes on Hezbollah positions and Hezbollah rockets have been fired from Lebanon at towns in northern Israel
Ten Israeli soldiers and civilians have been killed and more than 60 Hezbollah operatives and several Lebanese civilians have been killed.
Israel has evacuated tens of thousands of civilians from Israeli villages and towns close to the border as a precaution for a possible attack by Hezbollah like the one Hamas conducted on Oct. 7.
Behind the scenes: One U.S. source said the White House asked Austin to express concern to Gallant about escalating Israeli military action in Lebanon.
In the public readout of the call, the Pentagon said Austin "emphasized the need to contain the conflict to Gaza and avoid regional escalation" without specifically mentioning Lebanon.
But, two U.S. and Israeli sources with knowledge of the call said it was a very direct and frank conversation and Austin specifically mentioned concerns about Israeli military action in Lebanon.
An Israeli source said Austin asked Gallant for clarification about Israeli air strikes in Lebanon and asked that Israel avoids steps that could lead to an all out war between Israel and Hezbollah.
Gallant told Austin Israeli policy is not to open a second front in Lebanon and stressed he doesn't think such a scenario is going to happen, the Israeli source said.
Gallant also told Austin Hezbollah is escalating its attacks, including a drone attack from Syria on the city of Eilat 350 miles away. "Hezbollah is playing with fire," Gallant told Austin.
The Pentagon didn't immediately respond to questions about the Austin-Gallant call. The Israeli Ministry of Defense declined to comment.
The big picture: The Biden administration has been pressing the Lebanese government and other regional powers to do what they can to prevent Hezbollah from joining the war.
President Biden's senior adviser Amos Hochstein travelled to Lebanon last week and delivered a strong warning to Hezbollah through Lebanon's Speaker of Parliament, Nabih Berri, and other Lebanese officials not to escalate the situation, a source with direct knowledge of the issue said.
During the visit, Hochstein "reiterated that the United States does not want to see the conflict in Gaza spread to Lebanon and that restoring calm along [the] Israel-Lebanon border must be the highest priority for both Lebanon and Israel," a spokesperson for the National Security Council told Axios.
The impression the Biden administration got during and after Hochstein's visit was the Lebanese government and public as well as Hezbollah are not interested in a war with Israel, two sources with knowledge of the situation said.
Biden administration officials are satisfied that Hezbollah's leader Hasan Nasrallah's speeches over the last week didn't include a call for further escalation and saw that as a sign that their messages were being heard, one source said.
Where it stands: The Biden administration was alarmed by two incidents with a high potential of pushing Hezbollah to respond in a way that could significantly widen the conflict with Israel, according to the Israeli source.
In one incident an Israeli airstrike hit a car in southern Lebanon and killed an elderly woman and three of her grandchildren. It took days for the Israeli military to acknowledge it.
The second incident happened on Saturday before the call between Austin and Gallant when the Israeli military conducted a drone strike about 25 miles north of the border. It was the longest range strike in Lebanon since the war started.
Biden administration officials are also concerned by Gallant's public threats against Hezbollah and think these threats only increase tensions, the Israeli source said.
Flashback: The Israeli press reported that several days after the war broke out Gallant and several senior IDF commanders wanted to conduct a wide pre-emptive strike against Hezbollah in Lebanon.
According to the reports, Prime Minister Netanyahu overruled Gallant.
Go deeper