Hezbollah leader warns Israel fighting on border could turn into all-out war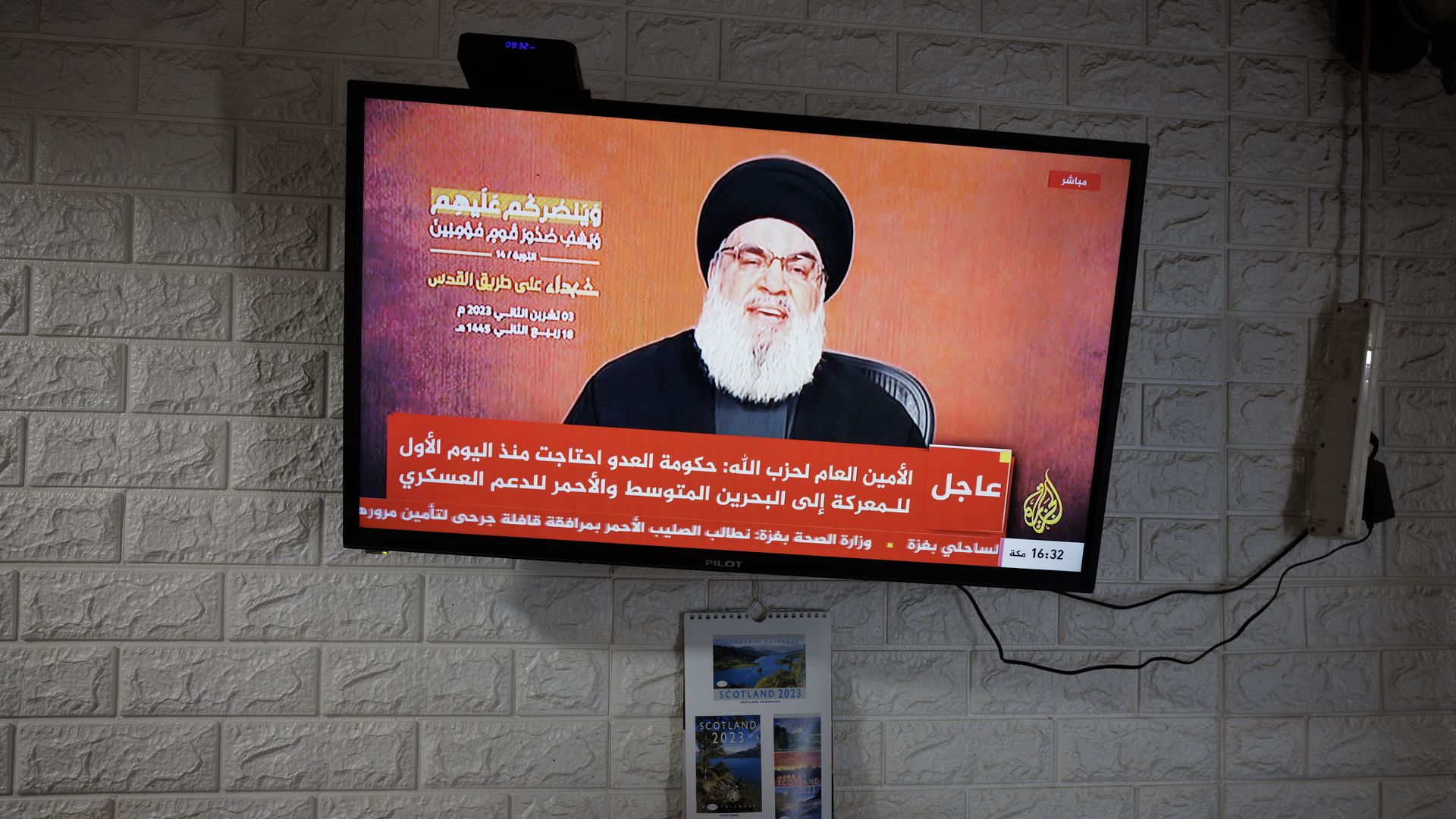 Hezbollah leader Hassan Nasrallah warned in a speech on Friday that there is a real possibility that the fighting on the Israeli-Lebanese border will escalate into an all-out war.
Why it matters: It was the first speech Nasrallah has given since the Hamas terrorist attack on Oct. 7. It also comes amid growing U.S. concerns that the Gaza conflict could turn into a regional war.
Driving the news: Hezbollah began conducting daily attacks against Israeli military outposts on the border between Israel and Lebanon shortly after the war broke out.
The level and intensity of the attacks haven't been seen along the border since the 2006 Lebanon war.
Hezbollah and several Palestinian factions have also launched several dozen rockets on Israeli towns close to the border.
The rocket launches, including those aimed at Israel's northern command headquarters, escalated on Thursday.
Israel responded by attacking Hezbollah outposts and bases. At least 57 Hezbollah fighters have been killed in the Israeli strikes, Nasrallah said. At least 10 Israelis, the majority of whom were soldiers, have been killed in Hezbollah's attacks, according to Israeli officials.
What they're saying: Nasrallah said Hamas kept the Oct. 7 attack secret and did not tell Hezbollah or other members of "the axis of resistance" like Iran. "This attack was 100% Palestinian and had nothing to do with regional issues," he said.
Nasrallah said victory for Gaza was the main goal of the war. Such a victory is in Lebanon's and the rest of the Arab world's national interest, he added.
Nasrallah also said that the fighting on the border with Israel is significant, stressing the daily skirmishes compelled Israel to send some of its forces from Gaza to the north.
"People in Lebanon say we are taking a dangerous risk. It's true but it's worth it," he said.
Nasrallah warned Israel against conducting a pre-emptive strike on Hezbollah's forces in Lebanon, saying it would be "the most foolish thing Israel could do."
He stressed that the fighting between Hezbollah and Israel could escalate into a full-scale war. But he said such an escalation would depend on what is going on in Gaza and Israel's actions against Lebanon.
"All the options are open and we might choose them. We need to be prepared for every option," he said.
The big picture: In recent weeks, the U.S. sent two aircraft carrier battle groups and dozens of fighter jets and air defense systems to the Middle East to prepare for a scenario of a wider conflict in the region.
Nasrallah said in his speech that U.S. threats and the U.S. aircraft carriers don't impress or threaten Hezbollah. "We prepared what is needed for them," he said.
The other side: Secretary of State Tony Blinken, who is visiting Israel, discussed this scenario in his talks with Israeli Prime Minister Benjamin Netanyahu and the Israeli war cabinet.
"We are determined that we don't want a second or third front opened," Blinken said in a press conference in Tel Aviv while Nasrallah was giving his speech.
"We backed it up with the deployment of aircraft carriers to the region and action we took against missiles from Yemen and strikes we took in response to attacks on our forces in the region," he added. "We are committed to deter aggression from any party and we will take action to do it."
Netanyahu, who spoke shortly after Nasrallah, said that when it comes to the northern front with Lebanon "any mistake by our enemies will cost them a price they can't imagine."
Go deeper