U.S. ramps up efforts to de-escalate growing Israel-Hezbollah tensions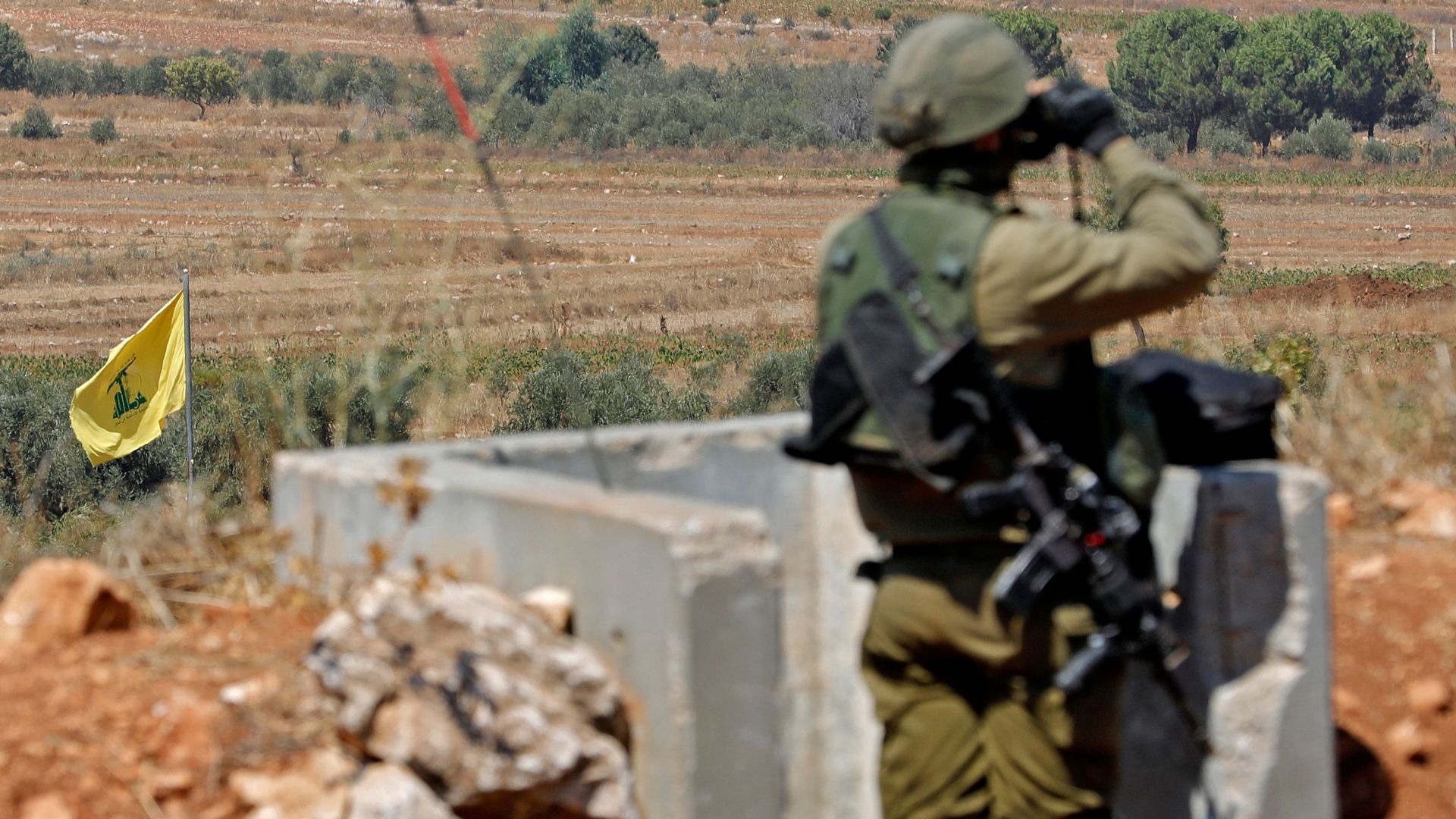 The Biden administration is increasing its efforts to try to de-escalate the growing tensions between Israel and Hezbollah and prevent a breakout of hostilities on the Israel-Lebanon border, according to Israeli and U.S. sources briefed on the issue.
Why it matters: Any small border incident between Israel and Hezbollah could quickly turn into a much bigger conflict in Lebanon that would likely have wider regional implications.
Catch up quick: Tensions between Israel and Hezbollah have been escalating for months over an outpost established by the Lebanese militant group 100 feet south of the border in an area recognized by the UN as Israeli territory.
The Lebanese government claims the area belongs to Lebanon.
What's happening: Amos Hochstein, President Biden's senior adviser for energy and infrastructure, will arrive in Beirut on Wednesday for talks with senior Lebanese officials, according to U.S. and Israeli sources.
One U.S. source familiar with the issue said Hochstein will work on calming tensions on the border.
Brett McGurk, Biden's senior Middle East adviser, and Barbara Leaf, the State Department's top Middle East diplomat, met Israeli Defense Minister Yoav Gallant in New York on Tuesday and discussed the tensions on the Israeli-Lebanese border, Israeli officials said.
The big picture: The U.S. has for months pressed the Lebanese government and military to take steps to dismantle the Hezbollah outpost.
Part of the outpost has since been taken down, but tensions remain high with both sides exchanging public threats, especially in the last week.
What they're saying: Gallant said in a statement that he met with UN Secretary-General António Guterres in New York on Monday and stressed "the urgent need for immediate UN intervention in de-escalating tensions by strengthening UN peacekeepers' authority in the region, ensuring their freedom of movement and implementing their mandate."
"Israel will not tolerate increasing threats to the security of its citizens, and will act as required in their defense," Gallant added.
The other side: Hezbollah leader Hassan Nasrallah on Monday said that any Israeli military action in Lebanon including the assassination of Lebanese, Palestinian or Iranian officials would drive his organization to retaliate.
Nasrallah was responding to a separate threat by Israeli Prime Minister Benjamin Netanyahu, which seemed to be directed at Hamas' deputy leader Saleh Arouri who resides in Lebanon.
"Hamas, and the other Iranian proxies, understand very well that we will fight with all means against their attempts to use terrorism against us. ... Whoever tries to hurt us, whoever finances and organizes, whoever dispatches terrorists against Israel – will pay the full price," Netanyahu said.
Between the lines: Hochstein's trip to Lebanon is also timed with the arrival of a natural gas drilling rig. Hochstein helped broker the deal between Israel and Lebanon on the maritime border last year.
The Biden administration believes the start of gas exploration in Lebanese waters could help restrain players like Hezbollah as the country seeks a way out of its devestating economic crisis, the U.S. source said. Israeli security officials agree with this assessment.
Elias Bou Saab, the deputy speaker of the Lebanese parliament, told Lebanon's MTV that Hochstein will focus on trying to solve the land border disputes between Lebanon and Israel at several different points along the border. "We hope Hochstein can solve the land border dispute like he solved the maritime border dispute," Bou Saab said
What to watch: The UN Security Council will vote this week on the extension of the mandate of the UN Interim Force In Lebanon (UNIFIL).
The Lebanese government has been pushing to weaken UNIFIL's mandate, which was strengthened last year. Lebanon argues UNIFIL shouldn't conduct patrols that are not coordinated with the Lebanese military.
The U.S. and Israel, however, say UNIFIL access and movement in southern Lebanon shouldn't be limited.
Go deeper