Axios AI+ Summit: AI's surprises are just starting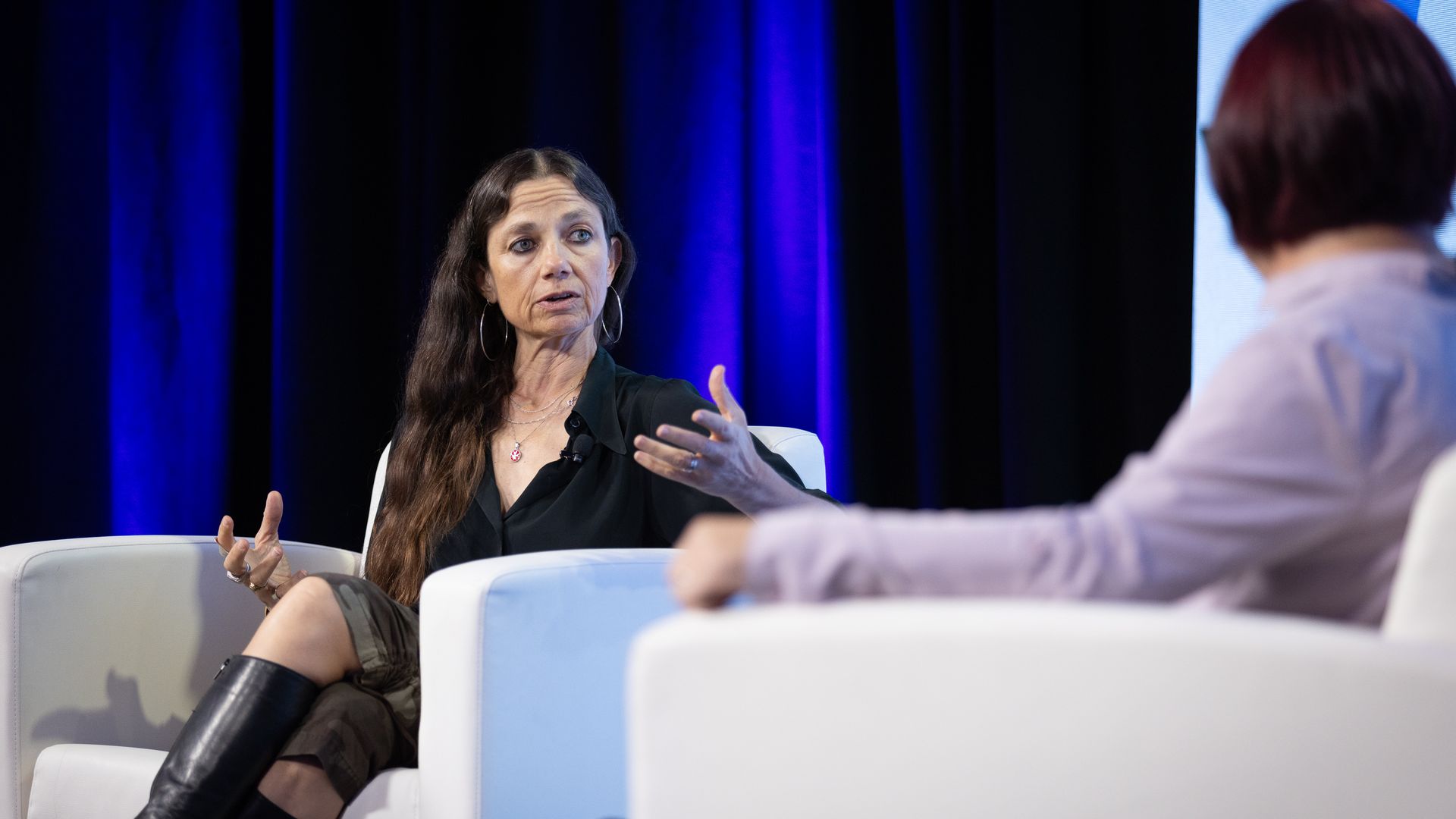 AI's story is still in its first chapter, and anything can happen. Business empires will emerge and topple, sharp fights will break out at the boundary between human and machine, and life with the tools we're building will just keep getting weirder.
Driving the news: Those were the only points on which leaders and critics of the AI revolution who spoke yesterday at Axios' first AI+ Summit in San Francisco seemed to agree.
The big picture: Tom Siebel, C3.ai CEO and four-decade veteran of Silicon Valley's enterprise business, warned the industry's current front-runners against complacency.
"It's generally assumed that Open AI or Microsoft or Facebook or Google is gonna win this battle. I don't think there's any reason to believe that at all," Siebel told Axios' Ryan Heath.
He pointed out that every time Silicon Valley has seen a major platform transition — as it did when the web arose in the '90s and the iPhone arrived in 2007 — it has also seen newcomers topple incumbents.
Yes, but: Those incumbents won't give in easily. They're investing billions and pumping out new products at breakneck speed.
Meta's head of generative AI, Ahmad Al-Dahle, gave Axios' Ina Fried a rundown of Instagram's latest AI-based filters and tools — part of Meta's larger effort to flood its social platforms with AI.
The next time you want to, say, separate a person's image from the background of your Instagram post, you should be able to just tell your device in words what you want done to your photo, and it will happen without further fuss.
Meta has pursued a path of releasing AI models like Llama-2 under partially open-source terms that are more permissive than those of its competitors.
But Al-Dahle said that Meta's researchers devoted 80% of their time working on "alignment" to make sure Llama is "responsible," spending "thousands of hours trying to expose vulnerabilities in the model, then iteratively refining it."
Meta's open model release is one part of what AI specialists at two of Silicon Valley's leading venture capital firms described as an unfolding "democratization" of the field.
Sonya Huang, a general partner at Sequoia Capital, gave Axios' Kia Kokalitcheva this run-down: "I think the specific thing that happens is that everyone has always talked about democratizing AI development — that was always a theory, because if you grab one of these models, you [used to] actually have to train them yourselves, and there were only so many people capable of training models," Huang said.
"Now that you can access a GPT ... just as an API, you've actually democratized AI development for developers — and so now the dream of democratizing AI is finally here."
The other side: One industry's dream can be another's nightmare, and those who believe AI's builders aren't playing fair have raised a chorus of protest.
News organizations are experimenting with using AI to improve efficiency even as they're negotiating with or suing AI providers for compensation.
Author and actor Justine Bateman, an adviser on AI issues to the SAG-AFTRA Hollywood actor's union, laid out an even tougher position: "No generative AI in the entertainment industry, period."
There's no shortage of human labor or talent in Hollywood, she argued, and the push there to use AI to supplant performers is "about money, it's about greed."
Soon after Bateman left the stage, news broke that the union, on strike since July, had reached a settlement with movie studios. The deal reportedly includes provisions governing AI use, but details haven't yet been disclosed.
Wherever Hollywood lands in this dispute, the broader rollout of AI chatbots in society will continue.
Rita Popova, chief product officer for Replika and Blush, sketched out a future in which AI-driven digital companions provide us with friendship, advice and even love.
While readily admitting the unsettling aspects of this vision, Popova offered a hopeful scenario in which people's conversations with their AI "Replikas" provide lessons in how to be more human.
Popova said that her experiments have evolved from providing companionship to offering dating advice — and the next step for the bot will be serving as a life coach.
The bottom line: AI pioneer and Stanford professor Fei-Fei Li reminded the summit that there's nothing "artificial" at all about artificial intelligence. It's just another technology made by humans for humans to use — and abuse.
Go deeper: Full event video.
Go deeper