Ivanka Trump testifies in New York civil fraud trial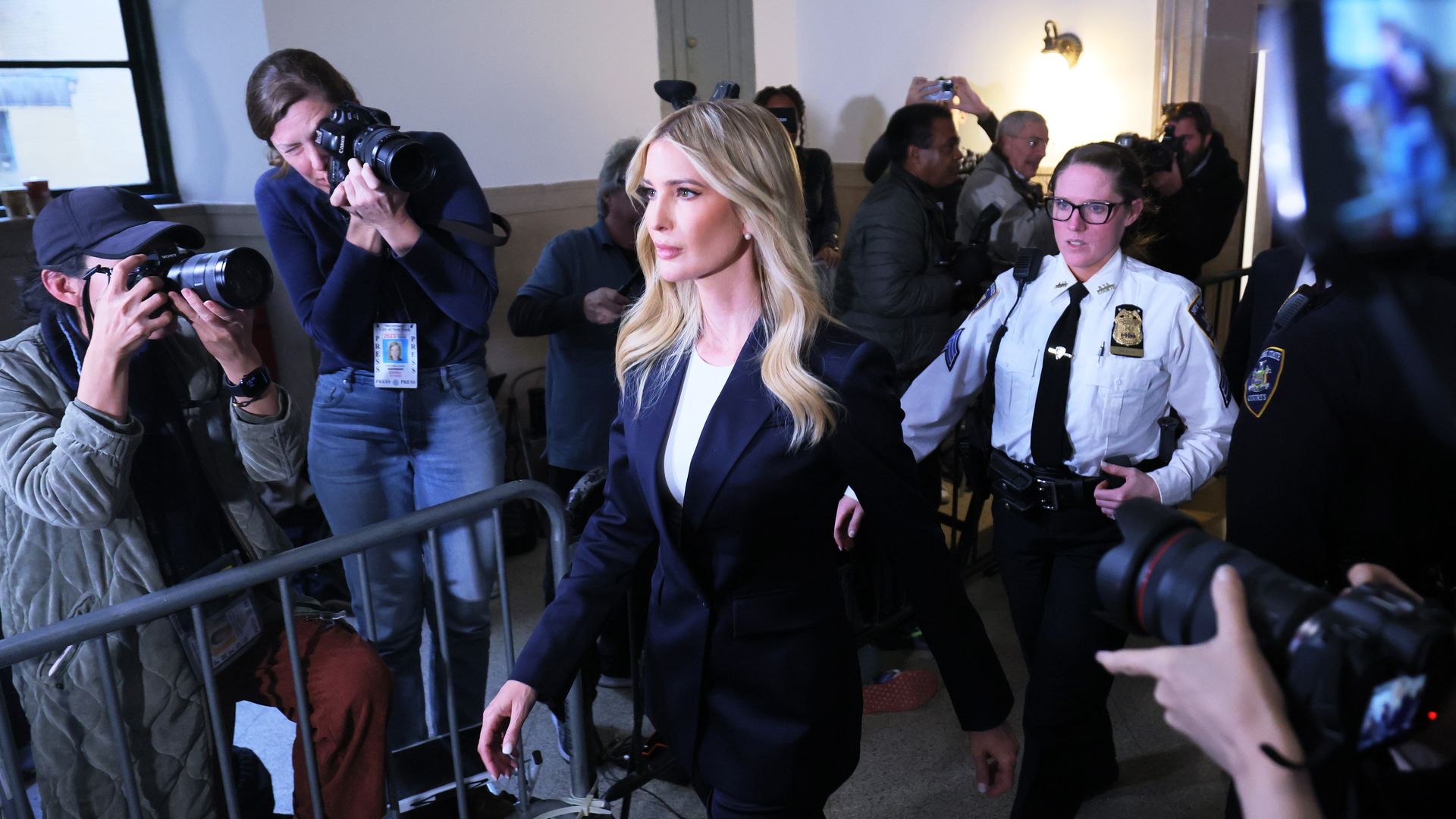 Former President Trump's daughter, Ivanka Trump, took the stand Wednesday in the ongoing New York civil fraud trial that threatens the family's business.
Why it matters: Ivanka Trump became the fourth member of Trump's family to give testimony, after the former president himself testified earlier this week.
Driving the news: Like her brothers, Ivanka Trump testified that she was not involved in preparing her father's financial statements, which are at the center of James' lawsuit.
"I would assume he would have personal financial statements for accountants but those were not statements I was privy to," Ivanka Trump testified, NBC News reported.
She also said that she was not involved in calculating her father's net worth. "I generally understood that there was a personal guarantee," she testified, Reuters reports.
"This level of granularity was not something that I can sit here today and say that I recall."
The big picture: Ivanka Trump was dismissed in June from the $250 million lawsuit brought by New York Attorney General Letitia James against Trump, his business associates and the Trump Organization.
James still sought Ivanka Trump's testimony in the case, arguing that "she indisputably has personal knowledge of facts relevant to the claims against the remaining individual and entity Defendants."
During her Wednesday testimony, Ivanka Trump faced questions about her role in securing a loan from Deutsche Bank for her father's Doral Golf Resort & Spa in Florida, CNN reported.
James alleges that Trump inflated his net worth in order to secure the loan. He was also required to submit annual financial statements as part of the loan agreement, per the New York Times.
She also faced questions about Deutsche Bank loans for other Trump properties.
State of play: Trump and his two eldest sons, Donald Trump Jr. and Eric Trump, who are also defendants in the case, have already taken the stand in the trial.
During his testimony on Monday, the former president sparred with New York judge Arthur Engoron.
Trump also acknowledged having some input in the financial statements that are central to the lawsuit.
What's next: The attorney general's office rested its case after Ivanka Trump's testimony.
Trump's attorneys are expected to begin presenting their defense on Monday, CNN reports.
Go deeper: Trump's unusual New York campout
Editor's note: This story was updated with additional developments.
Go deeper