Gaetz, Donalds stoke speculation on runs for Florida governor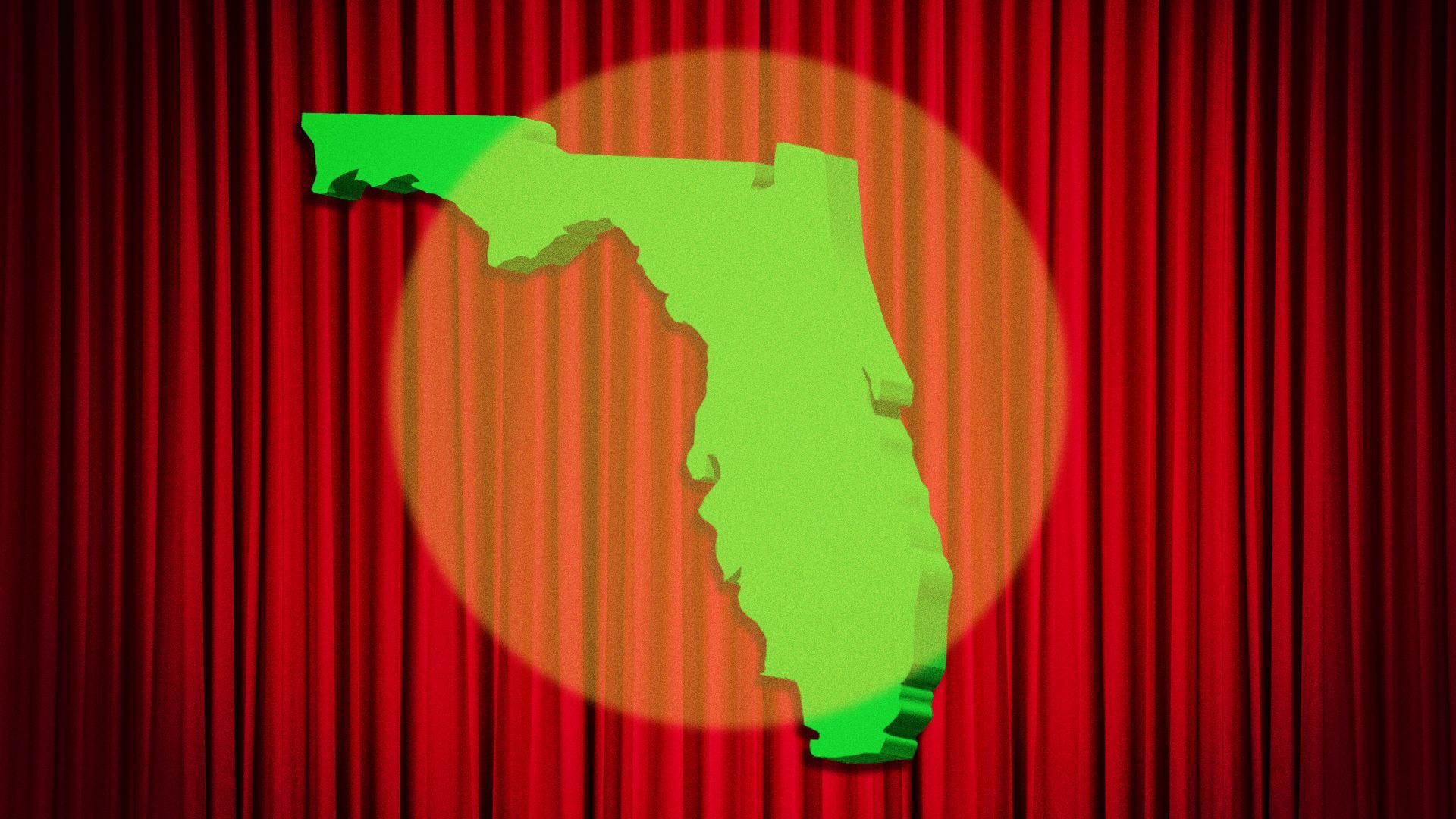 KISSIMMEE, Fla — Nearly all the GOP presidential contenders made their pitches to Florida Republicans this weekend, but the most intriguing showdown featured U.S. Reps. Matt Gaetz and Byron Donalds — two rising stars of MAGA world who've expressed interest in running for Florida governor.
Why it matters: The governor's election isn't until 2026, but the Florida GOP's Freedom Summit gave Gaetz and Donalds a chance to test their messaging before a 2024 campaign in which they're expected to be key allies of Donald Trump, the frontrunner for the party's presidential nomination.
What we're watching: Both Gaetz and Donalds were coy about their future plans, but they fueled speculation that they might face off in 2026.
"I'm just getting started," Gaetz told the crowd while taking a victory lap for leading the ouster of Rep. Kevin McCarthy (R-Calif.) — a move that drew heat from moderate Republicans in D.C. and froze business in the House amid two wars and a looming government shutdown.
"If you are willing to take some risk under criticism ... then come fight with me," Gaetz said.
NBC News reported in September that Gaetz is widely expected to run for governor.
Asked about his gubernatorial ambitions, Gaetz told Axios: "I'm exactly where I'm supposed to be." But last week, he reacted to news that Democratic state senator Shevrin Jones may run, posting on X, "He'd be an exciting candidate, indeed."
The intrigue: Donalds — an aggressive defender of Trump as the former president has faced a series of felony indictments — told Axios, "I love competition," when asked about speakers at the summit and their gubernatorial aspirations.
"That's up to everybody else!" Donalds told a constituent who asked him whether he'd run for governor in 2026.
Zoom in: Four elected state officials — Lt. Gov. Jeanette Nuñez, Attorney General Ashley Moody, Agriculture Commissioner Wilton Simpson and Florida Chief Financial Officer Jimmy Patronis — also took turns on stage, rattling off what they saw as their wins for the state.
Top officials and state legislators from both parties say they expect many, if not all, of the state officials with speaking slots at the summit to jump into the race to succeed Gov. Ron DeSantis, who spoke at the summit as a presidential candidate.
DeSantis is term-limited and cannot run for governor in 2026.
Other potential candidates for governor to watch include Rep. Mike Waltz (R-Fla.) and DeSantis' wife, Casey DeSantis, who gave a lengthy introduction for her husband on Saturday.
Flashback: Gaetz, now in his fourth term in Congress, spent six years in the Florida House, where he sponsored some of the most conservative bills in a conservative-dominated legislature, according to the Tampa Bay Times.
Donalds also served in Tallahassee, where as a state representative he sponsored a bill to lift Florida's felony theft threshold and supported a measure to require parental consent for minors seeking an abortion.
Be smart: Republican hopefuls are hedging their bets over whose endorsement will hold the most clout in the next governor's race — DeSantis or Trump.
"There was a time when it looked like whoever could get the governor's endorsement would have the inside track to the nomination," said Aubrey Jewett, a University of Central Florida political science professor.
"I don't know if that's so clear today."
The other side: Several Democrats have said they're considering a run, including incoming state Senate Minority Leader Jason Pizzo, Sen. Shevrin Jones and State House Minority Leader Fentrice Driskell.
"We have 3.7 million [non-affiliated voters] who I think will quickly find Matt Gaetz to be a little tacky and disingenuous," Pizzo told Axios, adding that he expects to enter the 2026 race.
Reality check: Florida voters haven't elected a Democratic governor in nearly three decades.
Republicans in Florida have a staggering lead in active voter registration and, in recent quarters, have raked in heaps more cash than Democrats. The party also dominated the state's midterm elections in a year in which the GOP had disappointing results elsewhere.
"If we're not winning over the vast majority of movable voters, we're not winning," Democratic strategist Evan Ross told Axios. "That's just our reality."
Go deeper