America splinters over the Israel-Hamas war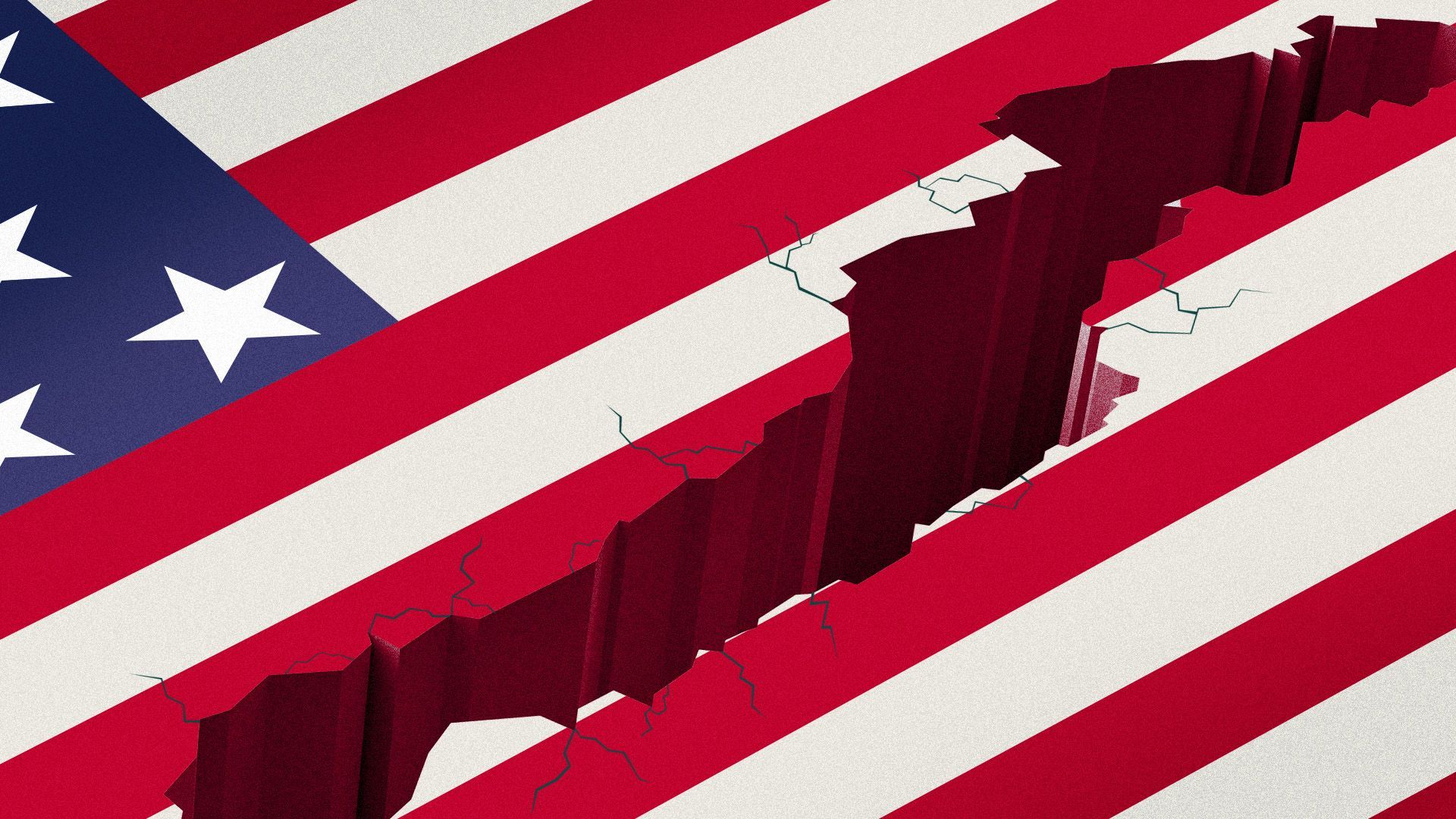 On college campuses, in workplaces, on city streets and inside the Capitol building and the White House, opinions around the Israel-Hamas war are starkly divided — and the chasm is growing.
Why it matters: The deep divisions are roiling American society, and they have the potential to reshape U.S. politics.
Zoom out: "Most foreign policy issues do not generate these kinds of strong feelings in the U.S.," says Guy Ziv, a professor at American University's School of International Service. "There has always been a disproportionate interest in this issue."
That's in part because of strong connections that Jewish and Christian communities in the U.S. have to Israel, as well as the historical alliance between the two countries.
There's also a larger media presence in Israel than other hotspots around the world, Ziv notes.
On top of that, social media platforms are catalyzing heated debates and provocations, he says. "Social media tends to shed more heat than light, and there's a lot of misinformation and disinformation on there."
Zoom in: Tensions are bubbling over in ugly ways across the country.
The Anti-Defamation League says it recorded 213 antisemitic incidents between Oct. 7 and Oct. 23, compared with 64 incidents during the same period last year.
The Council on American-Islamic Relations says it received 774 complaints about Islamophobic incidents between Oct. 7 and Oct. 24.
What's happening: Institutions are scrambling to respond.
Cornell University cancelled Friday classes after a 21-year-old student was arrested on campus for posting hate speech and antisemitic threats online.
Columbia University launched an antisemitism task force and a doxxing resource group for pro-Palestinian students this week. Students have seen job offers revoked for taking part in pro-Palestinian protests.
27 law firms signed a letter to university deans this week urging them to condemn antisemitism and Islamophobia on campus.
A number of high profile figures have fielded blowback or even lost from their jobs after expressing pro-Palestinian views.
Samira Nasr, editor-in-chief of Harper's Bazaar drew sharp criticism after expressing concern for Palestinians in Gaza when Israel initially cut off water supplies, and she issued a public apology, The Guardian reports.
Michael Eisen, the Jewish editor-in-chief of the science journal eLife, was dismissed from his post after retweeted a satirical article from "The Onion," which he said "call[ed] out indifference to the lives of Palestinian civilians."
Maha Dakhil, a top Hollywood agent whose clients include Tom Cruise and Anne Hathaway, apologized and stepped down from her leadership role at Creative Artists Agency after posting about the situation in Gaza on Instagram, the L.A. Times reports.
In Washington, congressional Democrats are growing increasingly vocal in their critcism of the war effort, Axios' Andrew Solender reports.
What to watch: Public opinion will continue to shift and divisions may continue to grow as the war unfolds.
Protests and counter-protests have turned into screaming matches, with neither side listening to the other, Amaney Jamal, the Palestinian dean of Princeton's public policy school and Keren Yarhi-Milo, the Israeli dean of Columbia's counterpart, write in a N.Y. Times op-ed.
"Nuance doesn't play well in a demonstration, and it certainly doesn't play well on social media," says Ziv.
The bottom line: Pay attention to this moment — and how leaders handle it. What politicians, university leaders and CEOs say and do has the power to make or break our trust in institutions.
Go deeper