White House preps for broader war as concerns rise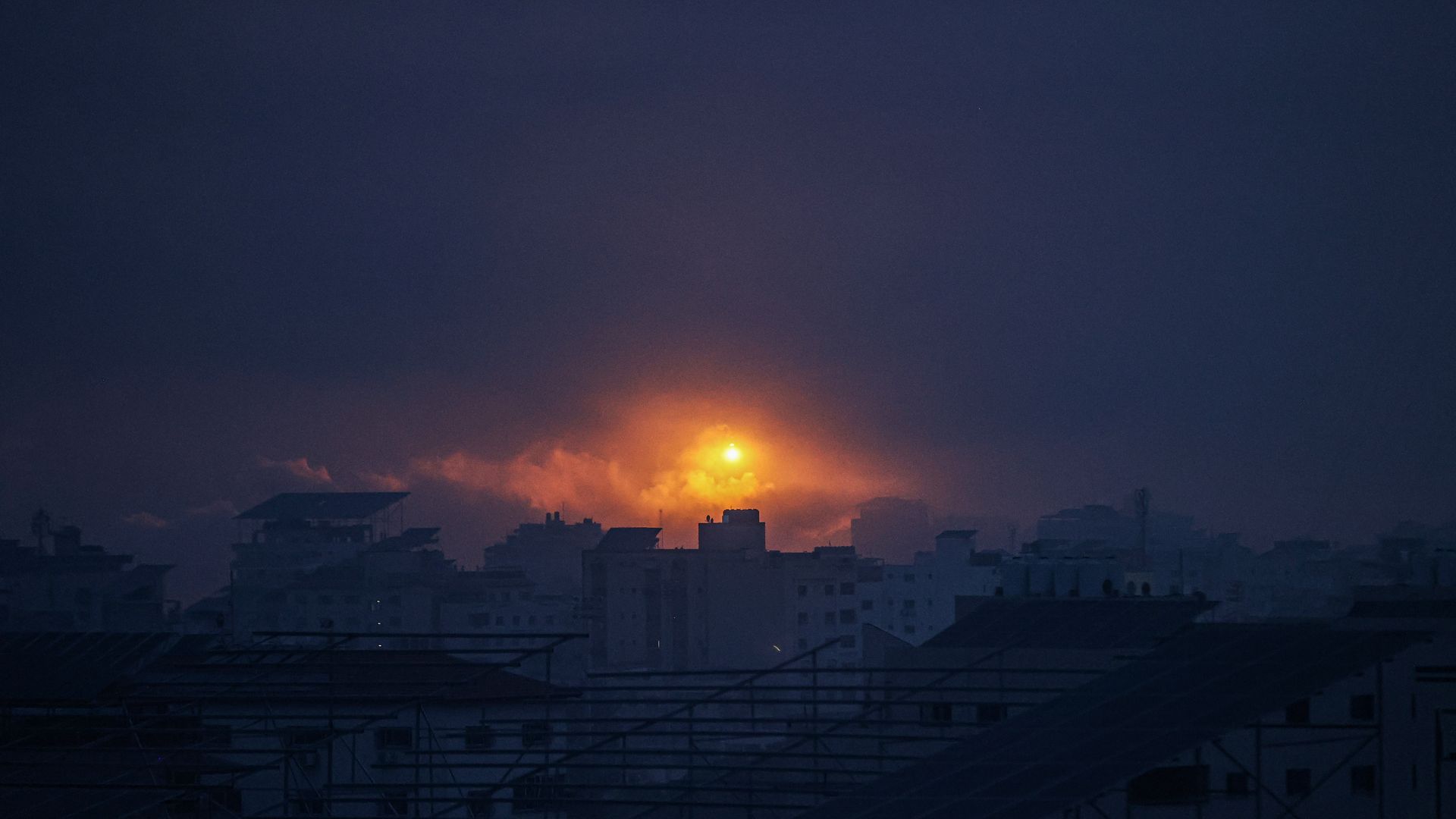 The Biden administration is preparing for the possibility the Israel-Hamas war will expand across the Middle East, and is focused on making sure U.S. forces in the region have adequate protection, U.S. and Israeli officials tell Axios.
Why it matters: The alarming prospect of regional escalation — fueled by a series of skirmishes beyond the fighting in Gaza — hangs over many of the internal and external conversations among top officials at the White House.
It was discussed by Defense Secretary Lloyd Austin and the Israeli Minister of Defense Yoav Gallant on a call Friday, several hours after the Israeli Defense Forces expanded operations in Gaza, a senior Israeli official said.
Saudi Defense Minister Khalid bin Salman (KBS) is expected to visit Washington on Monday for talks with senior Biden administration officials, Axios reported Saturday.
The visit was planned before Hamas ignited the war by attacking Israel on Oct. 7. But it comes just after Riyadh condemned Israel's ground operation — and as U.S. and Saudi officials share concerns about the conflict ballooning into a regional war.
Also increasing officials' concerns: Israeli intelligence services' belief that Hezbollah — which is based in Lebanon and backed by Iran — will increase the intensity of its attacks against Israel on its northern border because of Israel's ground operation in Gaza.
Israeli officials think Hezbollah will try to escalate without leading to an all-out war that could easily go out of control.
The discussions over the war's potential to expand come after U.S. forces conducted airstrikes on two facilities in eastern Syria used by groups linked to Iran's Islamic Revolutionary Guard Corps.
The Pentagon said the airstrikes Thursday were in response to a "series of ongoing and mostly unsuccessful attacks against U.S. personnel in Iraq and Syria" by Iran-backed groups that began on Oct. 17.
Driving the news: Israeli Prime Minister Benjamin Netanyahu announced Saturday that Israeli ground forces had entered Gaza, calling it "the second stage of the war," after persistent barrages of Israeli airstrikes on the enclave.
Netanyahu warned his country of a "long and difficult campaign," but he stopped short of calling the Israeli operation in Gaza an invasion.
The IDF didn't encounter much resistance in Gaza during the first day of the assault. But Israeli forces are still on the outskirts of urban areas, and expect the fighting to be much harder as they seek to root out Hamas militants, according to the senior Israeli official.
"We are moving carefully without going wild," a second senior Israeli official said. "There is no need to rush because it will take months anyway."
Behind the scenes: The plans and the timing for the ground incursion shifted during the past 10 days, the U.S. and Israeli officials say.
Netanyahu was skeptical about some of the strategy, and U.S. officials — who are concerned about huge numbers of deaths among Palestinian citizens — have urged Israel to conduct a gradual, calibrated incursion.
The operation also was delayed for several days because the U.S. wanted to get as many assets and defensive systems to the region, according to Israeli and U.S. officials.
The goal was to better defend against attacks on U.S. troops by pro-Iranian militias. More than 20 such attacks took place during the past week.
The big picture: Administration officials believe that the key to preventing the conflict from escalating is to send clear messages to Iran and Hezbollah to stay out of it.
President Biden took the rare step of sending a message directly to Iranian Supreme Leader Ayatollah Ali Khamenei, warning him not to target U.S. troops in the Middle East.
"There was a direct message relayed," White House spokesman John Kirby said Friday.
In the West Wing, officials know there's little margin for error and that events can quickly spin out of control.
A generation-defining war isn't a foregone conclusion. Some officials continue to believe that diplomacy — and Biden's experience — can still help prevent worst-case scenarios.
Go deeper