Scoop: Saudi defense minister to visit White House amid fears of regional war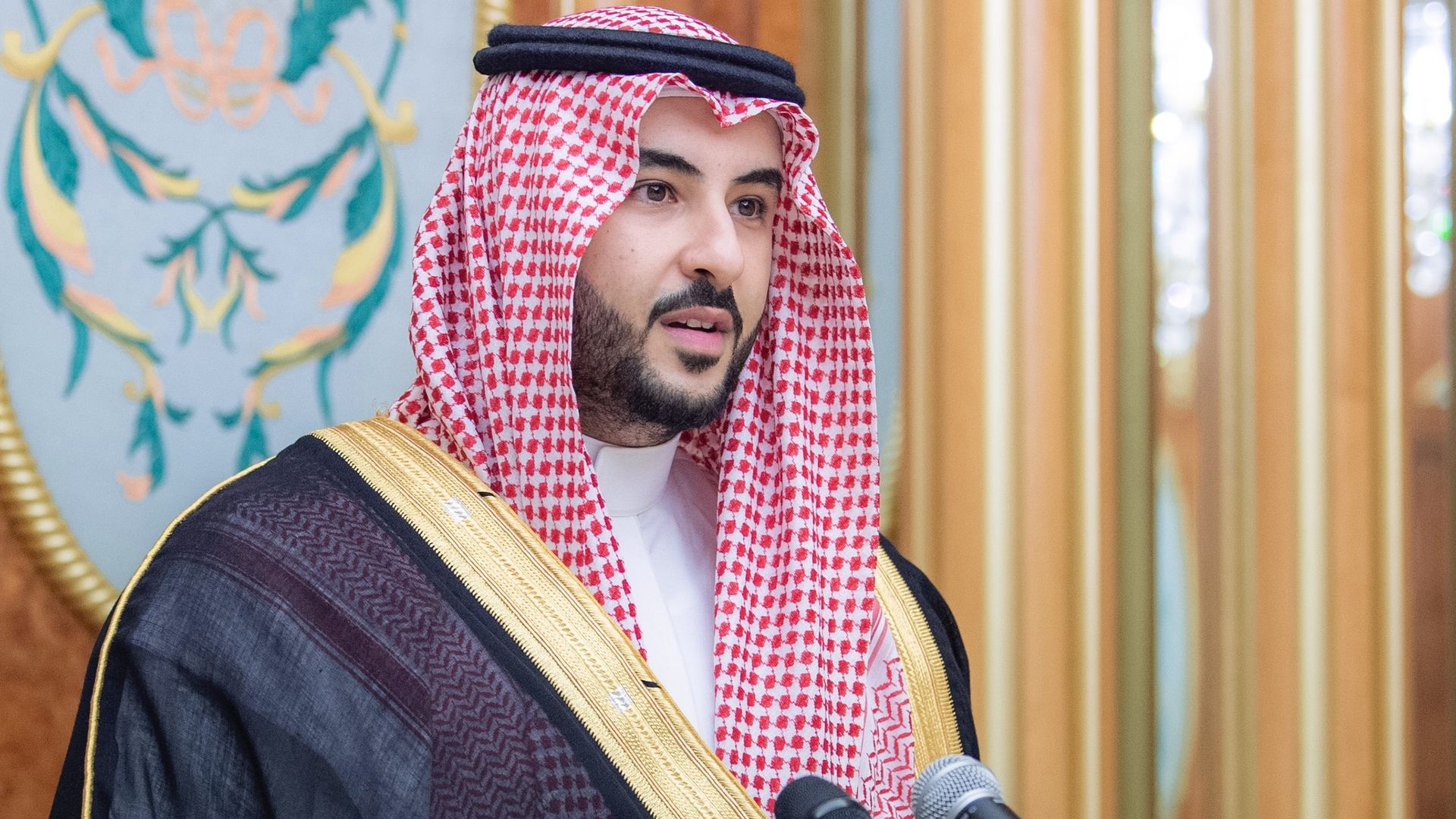 Saudi Defense Minister Khalid bin Salman (KBS) is expected to visit Washington on Monday for talks with senior Biden administration officials, three sources with knowledge of the trip told Axios.
What it matters: The visit has long been scheduled, the sources said, but it will take place just days after Israel expanded its ground operation in Gaza — an offensive Riyadh condemned on Saturday. It also comes as the U.S. and Saudi Arabia express concerns that the fighting between Israel and Hamas could widen into a regional war.
KBS, the brother of Saudi Crown Prince Mohammed bin Salman (MBS) and the former ambassador to the U.S., is the highest-ranking Saudi official to visit Washington since the Biden administration assumed office.
Driving the news: KBS is expected to meet with White House national security adviser Jake Sullivan, Secretary of Defense Lloyd Austin, Secretary of State Tony Blinken and several senators, the sources said.
The White House declined to comment. The Saudi Embassy in Washington didn't immediately reply to questions about the visit.
President Biden on Tuesday spoke to MBS about the U.S. diplomatic and military efforts to deter state and non-state actors in the region from joining the war, the White House said.
Biden stressed the U.S. "fully supports the defense of U.S. partners facing terrorist threats, whether from state or non-state actors," according to the White House.
What they're saying: The Saudi Foreign Ministry earlier Saturday issued another statement critical of Israel. It condemned and denounced the Israeli ground operation in Gaza.
"Any ground operation by Israel would threaten the lives of Palestinian civilians and result in inhumane dangers," the statement said.
The big picture: Before the Israel-Hamas war began, Biden sought to ease tensions in the Middle East by pushing for a mega-deal with Saudi Arabia that included a historic peace agreement between the kingdom and Israel.
The deal was expected to also include a Palestinian component.
Biden this week said he had "no proof" but his "instinct" tells him Hamas may have attacked Israel when it did to disrupt the progress being made on an Israel-Saudi deal.
"We need to work toward greater integration [in the region] for Israel — while insisting that the aspirations of the Palestinian people will be part of this future as well," Biden said.
What to watch: MBS and Biden in their call this week "affirmed the importance of working towards a sustainable peace between Israelis and Palestinians as soon as the crisis subsides," per the White House.
The Saudi royal court said MBS told Biden of the need to "restore the peace track to ensure that the Palestinian people obtain their legitimate rights and in order to achieve fair and comprehensive peace."
Go deeper