Updated Nov 3, 2023 -

World
How many U.S. citizens live in Israel, Gaza and the wider region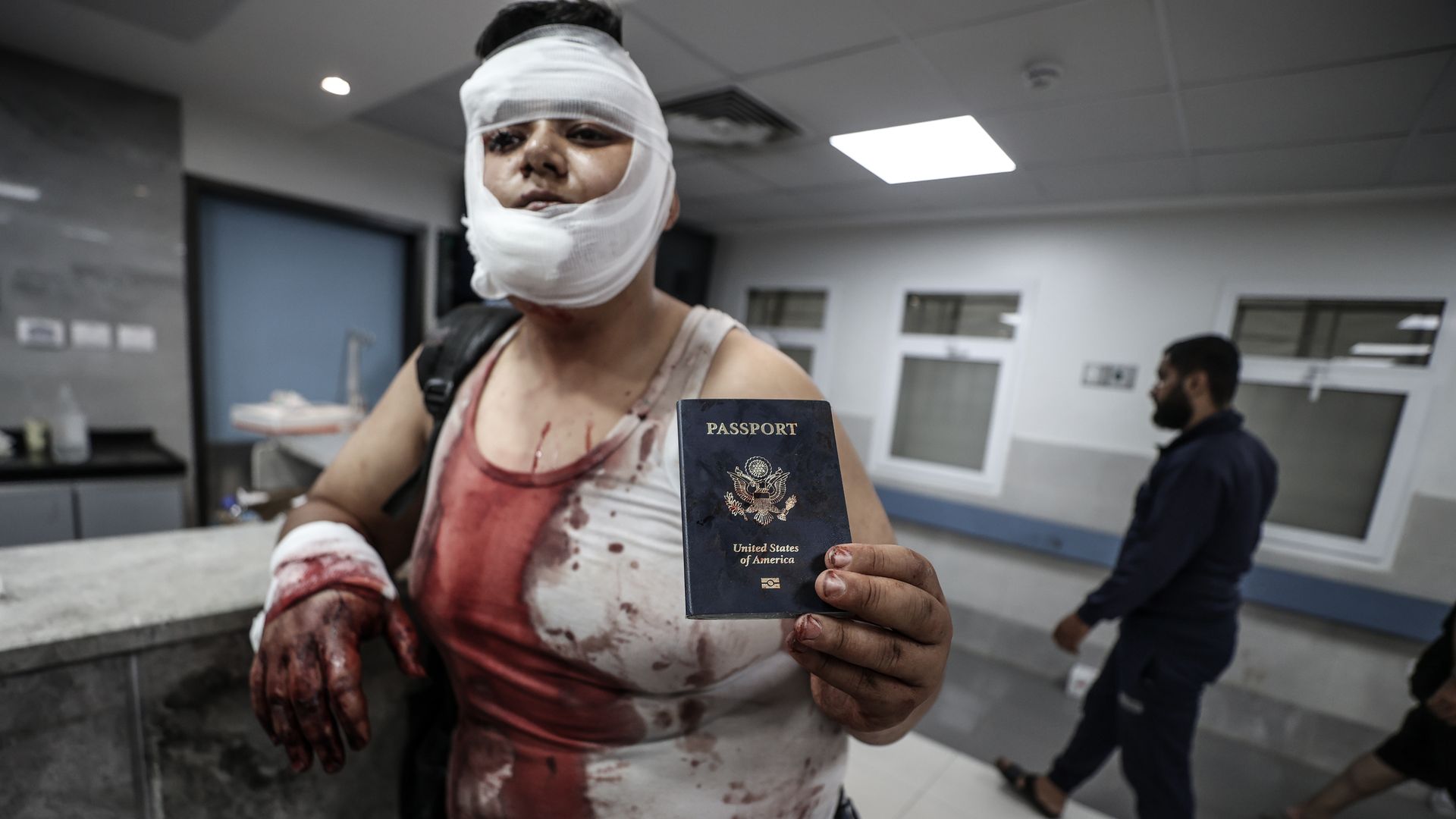 At least 33 Americans were killed in Hamas' Oct. 7 terrorist attack in Israel. Hundreds more remain trapped in the Gaza Strip as Israel expands its ground operation, though at least 79 U.S. citizens had been able to evacuate as of Thursday.
The big picture: Beyond those Americans living in or visiting areas that have already been impacted by the Israel-Hamas war, thousands more U.S. citizens across the region could be affected if the conflict widens.
The State Department issued an advisory last month, warning Americans abroad to "exercise increased caution" due to potential for terrorist attacks, demonstrations and violent actions against U.S. citizens.
U.S. government operations abroad have already been impacted. There have been pro-Palestinian demonstrations in front of the U.S. Embassy in Beirut and there have been increased attacks against U.S. forces in Iraq and Syria.
Many of the U.S. citizens in Israel, the Palestinian territories and neighboring countries hold U.S. passports but live primarily in those places. However, there were Americans on shorter-term visits caught up in both the Hamas attack and the mass displacement in Gaza.
Israel
An estimated 600,000 Americans were in Israel prior to Oct. 7, the Washington Post reported. Most are residents of the country.
Ten Americans remain unaccounted for after the attack, Secretary of State Tony Blinken said Sunday, adding that "at least some" of them are being held hostage.
Two U.S. citizens became the first hostages released by Hamas on Oct. 20.
The Biden administration announced last month that it would coordinate charter flights out of Israel for U.S. citizens and their immediate family members, due to the limited availability of commercial flights.
The State Department also raised its travel advisory for Israel last month, warning Americans to "reconsider travel" to the country.
"Terrorist groups, lone-actor terrorists and other violent extremists continue plotting possible attacks in Israel and the West Bank and Gaza," the State Department said.
Gaza
The U.S. had been in touch with 400 Americans in Gaza who wished to leave, with the number rising to about 1,000 when taking into account their family members, State Department spokesperson Matthew Miller said at a press briefing on Wednesday.
The Rafah Crossing between Gaza and Egypt was opened on Wednesday to allow some foreign nationals and wounded Palestinians to leave Gaza — the first time anyone has been allowed to leave the enclave since the war began.
American citizens in the enclave had been advised to move south towards the Rafah Crossing ahead of a possible reopening. Dozens have evacuated over the past few days, though many remain in Gaza.
U.S. officials had previously estimated that around 500 to 600 Palestinian Americans were living in Gaza. Multiple families who traveled to Gaza from the U.S. for short-term visits were also trapped, per the Washington Post.
The State Department has advised Americans not to travel to Gaza "due to terrorism, civil unrest, and armed conflict." Travel to Gaza is currently not possible regardless with the borders closed, save for the small number of evacuees permitted to leave and aid trucks permitted to enter.
West Bank
Roughly 45,000 to 60,000 Palestinian Americans live in the occupied West Bank, Reuters reports, citing a U.S. official.
An Israeli official put the estimate much lower, telling Reuters it was more like 15,000 to 20,000.
The State Department declined to provide Axios with estimates of the numbers of Americans living in the West Bank or Gaza.
State of play: There was already growing unrest in the West Bank prior to the outbreak of war. Now, there are rising fears that the Israel-Hamas conflict could spill over into the territory.
Israel conducted at least two air strikes and multiple raids targeting Hamas and other Palestinian militants in the West Bank in the first two weeks after the war began.
The State Department has warned Americans to "reconsider travel" to the West Bank "due to terrorism and civil unrest."
Lebanon
Approximately 86,000 Americans were believed to be in Lebanon at the time of the Hamas attacks, per the Washington Post.
Fears have been rife that a second front in the war could open on the Israel-Lebanon border, given the daily skirmishes there between Israeli forces and Hezbollah, the Iran-backed militant group in Lebanon.
The State Department has advised U.S. citizens in Lebanon to leave the country and has issued a level 4 travel advisory urging Americans not to travel there due to the "unpredictable security situation."
Egypt and Jordan
While both Egypt and Jordan border Israel and the Palestinian territories, there are not currently any indications that civilians in either country will be directly affected by the fighting.
About 60,000 American citizens reside permanently in Egypt and hundreds of thousands of Americans visit Egypt annually, according to the U.S. Embassy in Egypt.
Thousands of U.S. citizens also live in Jordan or visit as tourists each year, though the State Department did not provide Axios with an estimate as to how many.
The State Department has a level 3 travel advisory in place for Egypt, cautioning U.S. citizens to reconsider travel, and a level 2 advisory for Jordan. Neither advisory is linked to the Israel-Hamas war.
Worth noting: A State Department spokesperson told Axios they could not provide figures for how many U.S. citizens visit or live in particular countries.
"U.S. citizens are not required to register their travel to a foreign country with us, so we cannot track how many U.S. citizens have gone to a specific country," the spokesperson added.
Go deeper:
Go deeper