How Israel's Iron Dome missile defense system works
Since the start of fighting between Hamas and Israel, the country's Iron Dome missile defense system has likely intercepted thousands of rockets and missiles launched from Gaza.
Why it matters: For over a decade, the multibillion-dollar system has been crucial in defending Israeli cities and preventing numerous casualties.
Background: The latest fighting erupted after Hamas launched an assault on Israel, killing and kidnapping soldiers and civilians, and launching scores of rocket and missile barrages.
Israel has responded with heavy bombardment on the densely populated Gaza Strip, the Hamas-run enclave that's home to 2 million Palestinians. It also cut electricity and blocked the entry of food, fuel and supplies to Gaza.
The Israel Defense Forces said this week that more than 7,000 rockets have been fired from Gaza since the start of the attack. The exact number of projectiles that have been intercepted is unknown, but a few have made it past the Iron Dome.
How does the Iron Dome work?
The all-weather mobile system was designed to destroy short-ranged projectiles — like rockets, missiles and artillery — launched primarily from Hamas and other militant groups in Gaza and Hezbollah in Lebanon.
It works through a combination of radar to detect incoming threats, batteries that launch interceptor missiles carrying proximity warheads and communication systems to relay guidance data.
The batteries can neutralize threats launched from up to 43 miles away, while at the same time ignoring projectiles that are projected to strike unpopulated areas.
Israel has at least 10 batteries placed around the country to protect civilians and critical infrastructure, with each battery able to defend up to nearly 60 square miles of land.
The Iron Dome is just one layer of Israel's missile defense network, as it also has systems for low to mid-range, upper-atmospheric and exo-atmospheric projectiles.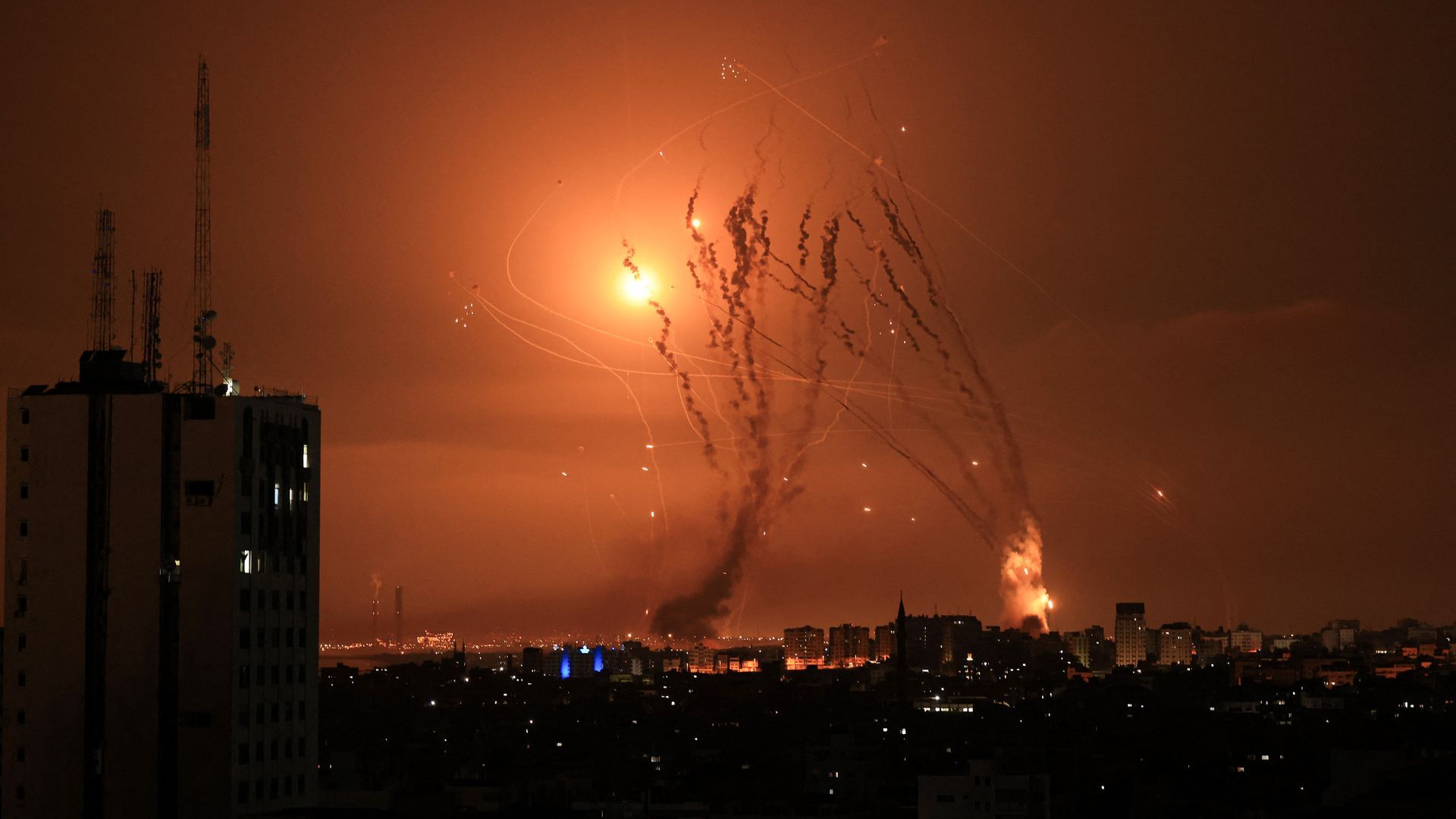 How effective is it?
Iron Dome's effectiveness has steadily improved since it first successfully took out a hostile projectile in April 2011, eventually achieving a success rate of around 90%, according to by Rafael Advanced Defense Systems, one of the Israeli firms that developed it.
It's proven to be been highly effective in recent years. Militant groups in Gaza fired at least 4,000 rockets during the 11-day May 2021 war and killed some 13 Israelis.
At least 248 Palestinians were killed in Israeli airstrikes during that war.
How much does it cost?
The total cost of developing, manufacturing, deploying and maintaining the system isn't known, but it's likely in the several billions.
A complete battery costs an estimated $100 million to produce, while each interceptor costs up to around $50,000, according to a Center for Strategic and International Studies analysis.
By contrast, the launchers and projectiles produced by or provided to Hamas likely cost a fraction of that but have the potential to inflict widespread damage to civilians and infrastructure.
The U.S. since 1946 has allocated almost $10 billion to Israeli missile defense systems, including nearly $3 billion for the Iron Dome, according to the Congressional Research Service.
The Biden administration is expected to ask Congress for more missile defense funding for Israel in response to Hamas' attack, Axios' Barak Ravid reports.
The big picture:
Last year, Ukraine asked Israel for an Iron Dome system and other air defense equipment to defend against Iranian ballistic missiles and attack drones used by Russia in its ongoing invasion.
Prime Minister Benjamin Netanyahu earlier this year said supports Ukraine but ruled out sending Kyiv an Iron Dome system over concerns that it could be obtained by Iran, which would greatly jeopardize Israel's security.
Go deeper:
Go deeper