What we know about the Trump civil fraud trial in New York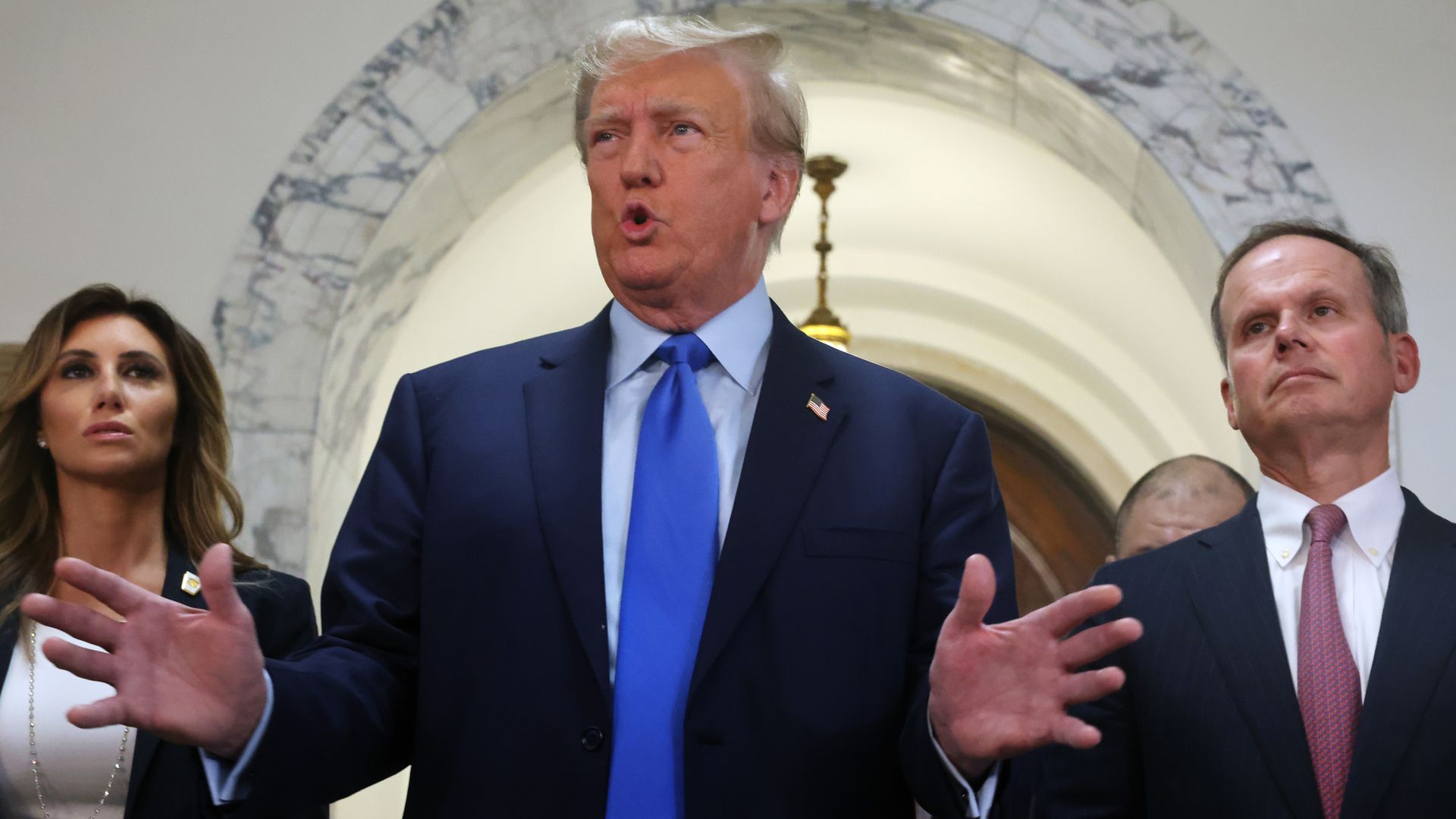 Former President Trump is entrenched in a civil fraud trial over allegations of falsified business records that could damage his ability to conduct business in New York.
Why it matters: The trial is one of several the GOP presidential frontrunner is expected to face before the 2024 election, and could lead Trump to lose control over some of his flagship real estate properties.
Arthur Engoron, the judge overseeing the no-jury trial, already ruled that Trump committed years of fraud by inflating his wealth and assets — narrowing the scope of the trial. Engoron also removed business certificates from the Trump Organization, Trump himself and two of his sons.
Trump's two eldest sons are also listed as defendants in the case, and all three of them deny wrongdoing.
While Trump is now a Florida resident, losing the ability to do business in his former home state would severely limit his overall portfolio.
Of note: Unlike with the four criminal cases Trump is entangled in, he does not face risk of prison time as a result of the civil trial. It will determine his liability for damages.
What does the lawsuit allege?
The lawsuit, filed last fall by New York Attorney General Letitia James, alleges net worth inflation, misleading valuations of assets and misleading financial statements.
James has alleged that Trump and people working for him made false entries in business records, falsified financial statements and committed insurance fraud.
His financial statements violated generally accepted accounting principles, James said. One example was using different methods to value different properties.
Who else is involved?
The lawsuit names other defendants, including:
Two of the former president's sons, Donald Trump Jr. and Eric Trump.
Allen Weisselberg, the Trump Organization's ex-CFO, who was sentenced for a years-long tax fraud scheme within the former president's business.
Jeffrey McConney, a former controller of the Trump Organization.
Flashback: The Trump Organization previously received a maximum fine of $1.6 million after it was convicted of running a 15-year tax fraud scheme.
What are prosecutors seeking?
James is seeking to fine Trump up to $250 million.
The attorney general also wants to bar him and members of his family from serving as officers or directors of a business registered in New York. Trump could lose control of key properties like Trump Tower, 4-6 East 57th St., Trump Park Avenue as a result.
Who could testify?
Trump and his three eldest children — Donald Trump Jr., Eric Trump and Ivanka Trump — are listed as witnesses and are expected to testify.
Donald Trump Jr. and Eric Trump are named in the suit. Ivanka Trump's case was dismissed by a New York appeals court in June.
What he's saying: Before entering the courtroom in Manhattan on Oct. 2, the first day of the trial, Trump said the lawsuit was intended to damage his prospects in the presidential primary.
"There was no crime," he said on Monday, adding, "the crime is against me."
Who is presiding over the trial?
Engoron, a justice on the State Supreme Court in Manhattan, will preside over the non-jury trial.
He has served on the state's high court for two decades, the AP reports.
On Sept. 26, he ruled that Trump committed fraud by exaggerating his net worth and ordered sanctions of $7,500 each for attorneys who represented Trump and other defendants.
Who is Attorney General Letitia James?
James took office in 2019 and has filed lawsuits against Trump, Google and the National Rifle Association.
Her office investigated sexual harassment accusations against former New York Gov. Andrew Cuomo, which saw him resign in 2021.
"No matter how rich or powerful you are, there are not two sets of laws for people in this country," James said in a statement on Monday. "The rule of law must apply equally to everyone, and it is my responsibility to make sure that it does."
Of note: Trump filed a lawsuit against James in Florida, claiming that she has abused her position.
How long will the trial last?
The bottom line: Trump faces trials in four criminal indictments in addition to civil probes, and he has capitalized on the court proceedings — including this one —  to garner support for his 2024 GOP presidential bid.
Go deeper: Trump arrives at New York court for civil fraud trial over his business practices
Go deeper