Student loan payments resume after 3-year pause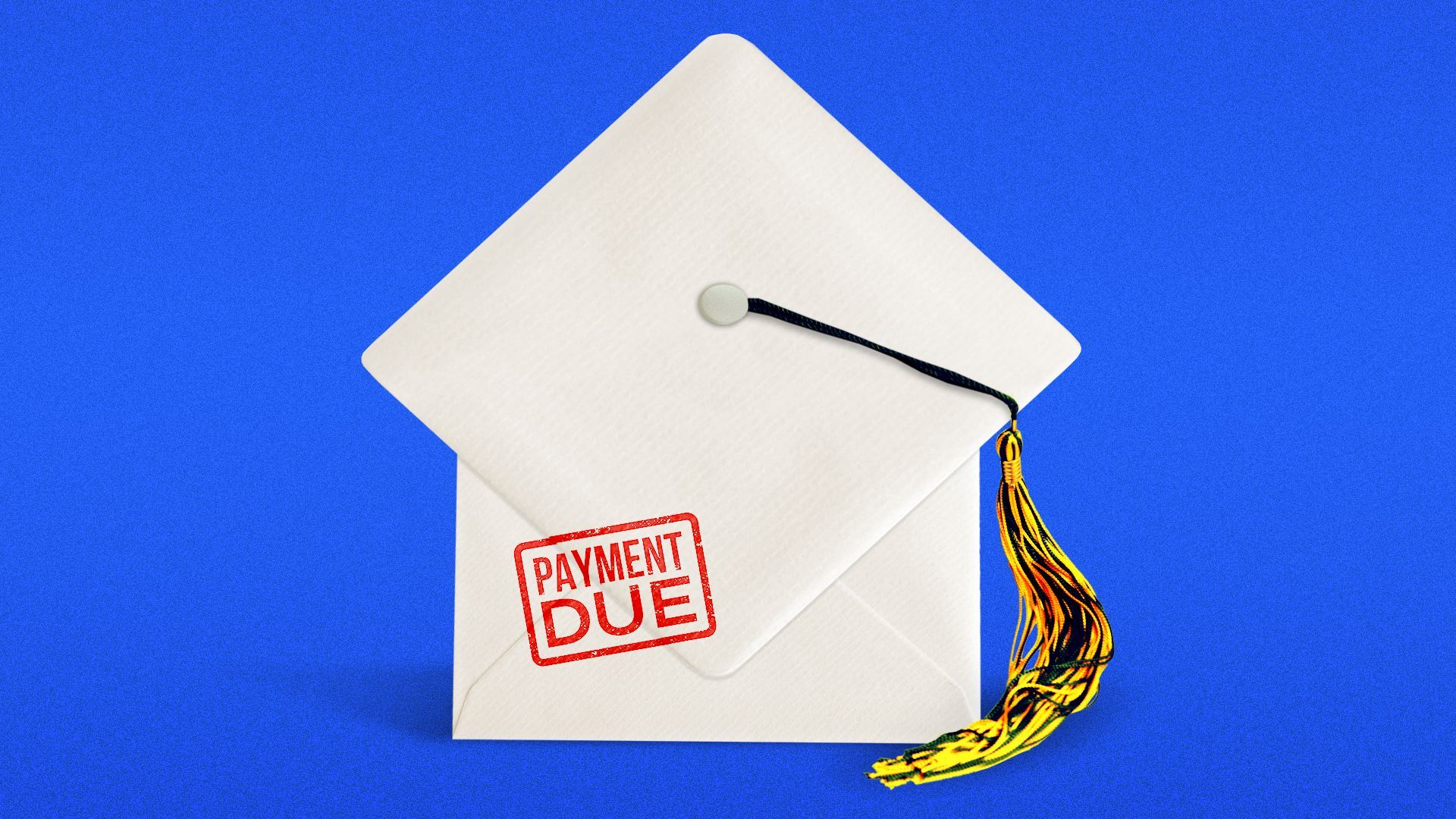 Federal student loan payments return this month for more than 40 million Americans with the end of the pandemic pause.
Why it matters: After a more than three-year break from payments, experts warn of a messy return to debt repayment for borrowers who collectively owe more than $1 trillion in student loans.
The return of another monthly payment will hurt Americans with student loan debt who tend to be younger, have lower incomes and already spend a higher share of their income.
Flashback: Student loan repayments were paused in March 2020, when former President Trump issued the first of many pauses during the pandemic.
Student loan repayment due dates
First payments are due in October 2023 and dates vary.
The Department of Education says borrowers will get a bill, with payment amount and due date, at least 21 days before the due date.
Be smart: For most borrowers, auto-debit payments will not restart automatically and most will need to opt-in to confirm their auto-debit enrollment before payments restart.
To avoid missing billing statements or due dates, borrowers should log into the Education Department's website to make sure their contact information is up to date and update contact information with loan servicers.
Federal loan interest resumed Sept. 1
Interest on student loans started accruing on outstanding balances Sept. 1, after Congress passed a law preventing further extensions of the payment pause.
Interest rates vary by loan type and the year a loan was disbursed.
Unless you refinanced during the payment pause, the interest on your loans will accrue at the same rate as before the pandemic.
Student loan "on ramp" period for missed payments
A 12-month "on ramp" for loan repayments means borrowers who miss payments won't be reported to credit bureaus, placed in default, or referred to debt collection agencies.
Details: The on-ramp transition period runs from Oct. 1, 2023, to Sept. 30, 2024 and borrowers don't have to sign up, according to a White House fact sheet.
It goes into effect automatically with a missed payment.
Interest will accrue during the period.
Of note: Student loan deferment or forbearance can temporarily stop your student loan payments or reduce the monthly amount you owe.
Biden SAVE plan
This summer, President Biden launched an income-driven repayment plan, Saving on a Valuable Education or SAVE, that calculates payments based on income and family size.
The new debt relief option came after the Supreme Court ruled in June that Biden's historic loan forgiveness program was unconstitutional.
How it works: The new plan replaces an older version known as REPAYE, or the Revised Pay as You Earn program, and is considered more generous.
The new version cuts payments on undergraduate loans from 10% of discretionary income to 5%.
Some borrowers who make less than $15 an hour will not have to make any payments. Balances are forgiven after a certain number of years.
The Department of Education said they have "reached out directly to nearly 30 million borrowers" to invite them to apply for the plan.
More from Axios:
Go deeper