End of student loan freedom could spell "a lot of bounced checks"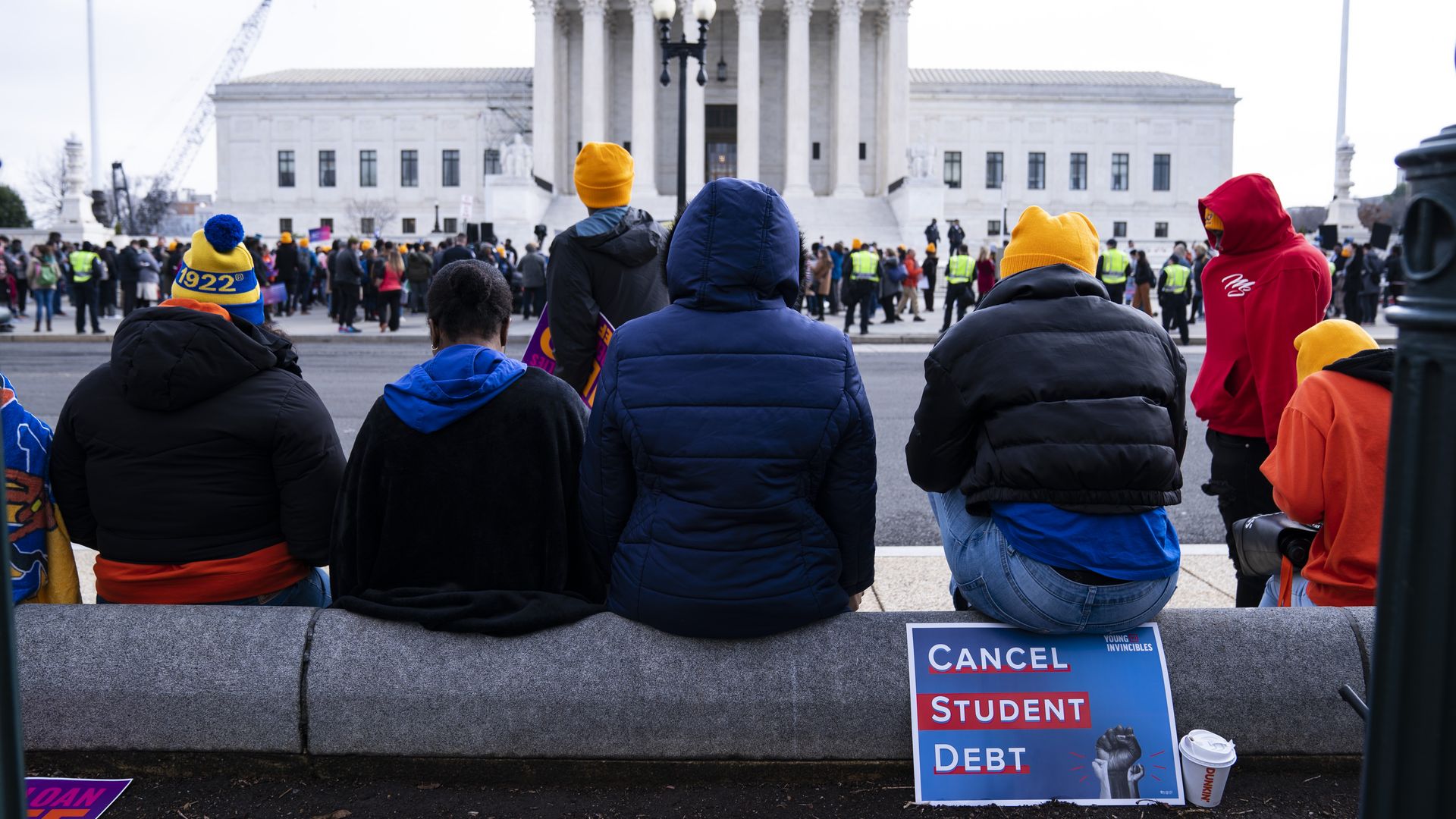 The student loan debt cliff is looming over the potential downfall of President Biden's historic forgiveness program — and borrowers must prepare for the resumption of monthly payments.
Why it matters: Experts warn of a messy return to debt repayment for the millions of Americans who collectively owe more than $1 trillion in student loans and are bracing for the end of a significant pandemic-era break.
Some 30 million borrowers could have to pay approximately $200–$400 monthly once the pause ends, Bank of America wrote in a note in May, per Markets Insider.
More than 1 in 13 borrowers are behind on other payment obligations, per Consumer Financial Protection Bureau data published last week. That's an uptick in delinquencies compared to before the pandemic.
About 1 in 5 borrowers have "risk factors" setting them up to likely struggle after payments resume, the CFPB found.
Driving the news: Student loan payments are expected to resume in October, with interest resuming in September, a Department of Education spokesperson clarified Monday in a statement to Axios.
"From the student perspective, it's going to be chaotic," Adam Looney, a nonresident senior fellow at Brookings and executive director of the Marriner S. Eccles Institute at the University of Utah, told Axios.
"I think there's gonna be a lot of people who are confused and upset and there's gonna be a lot of bounced checks."
The big picture: Biden's sweeping student debt relief plan announced last summer was nearly immediately met with political opposition and legal challenges, leaving millions of Americans in financial limbo and putting one of his key campaign promises at risk.
Those challenges have only intensified on the cusp of the Supreme Court decision on the far-reaching program expected later this month.
Biden's plan would slash up to $10,000 for individual borrowers who make under $125,000 per year and up to $20,000 in student debt for Pell Grant recipients.
Biden signed into law a debt relief bill earlier this month that includes a provision ending the pause on student-loan repayments and prevents the administration from implementing future extensions.
The Senate recently delivered another public blow to Biden's plan, passing GOP-led legislation to kill it in a largely symbolic move. Biden vetoed the bill Wednesday.
Flashback: Student loan repayments have been on pause since March 2020, when former President Trump issued the first pause of many during the pandemic.
State of play: As payments are set to resume soon, Bank of America warned of the potential for delinquencies in other areas, like credit card debts and personal loans.
"The resumption of a monthly obligation that has been suspended for three plus years could pressure consumer finances and weaken credit performance on other loans," Bank of America wrote in its note in May, per Insider.
Natalia Abrams, president of the Student Debt Crisis Center, criticized the restart of payments, saying in a statement that it is ripe for a "financial disaster" for borrowers.
"Whether it is the long-term economic harm caused by the pandemic, or the failure of student loan servicing companies to inform borrowers of their rights, borrowers face a number of obstacles that will make the end of the payment pause a financial disaster," Abrams said in a statement.
The bottom line: Student loans are the second-largest consumer debt obligation, and "the historical record is that the delinquency rates of student debt are pretty high," Looney said.
"I think the fact that it's become so politicized has made some borrowers feel like this is an especially odious form of debt."
Go deeper: Debt relief limbo leaves borrowers on edge over financial future
Go deeper