Debt relief limbo leaves borrowers on edge over financial future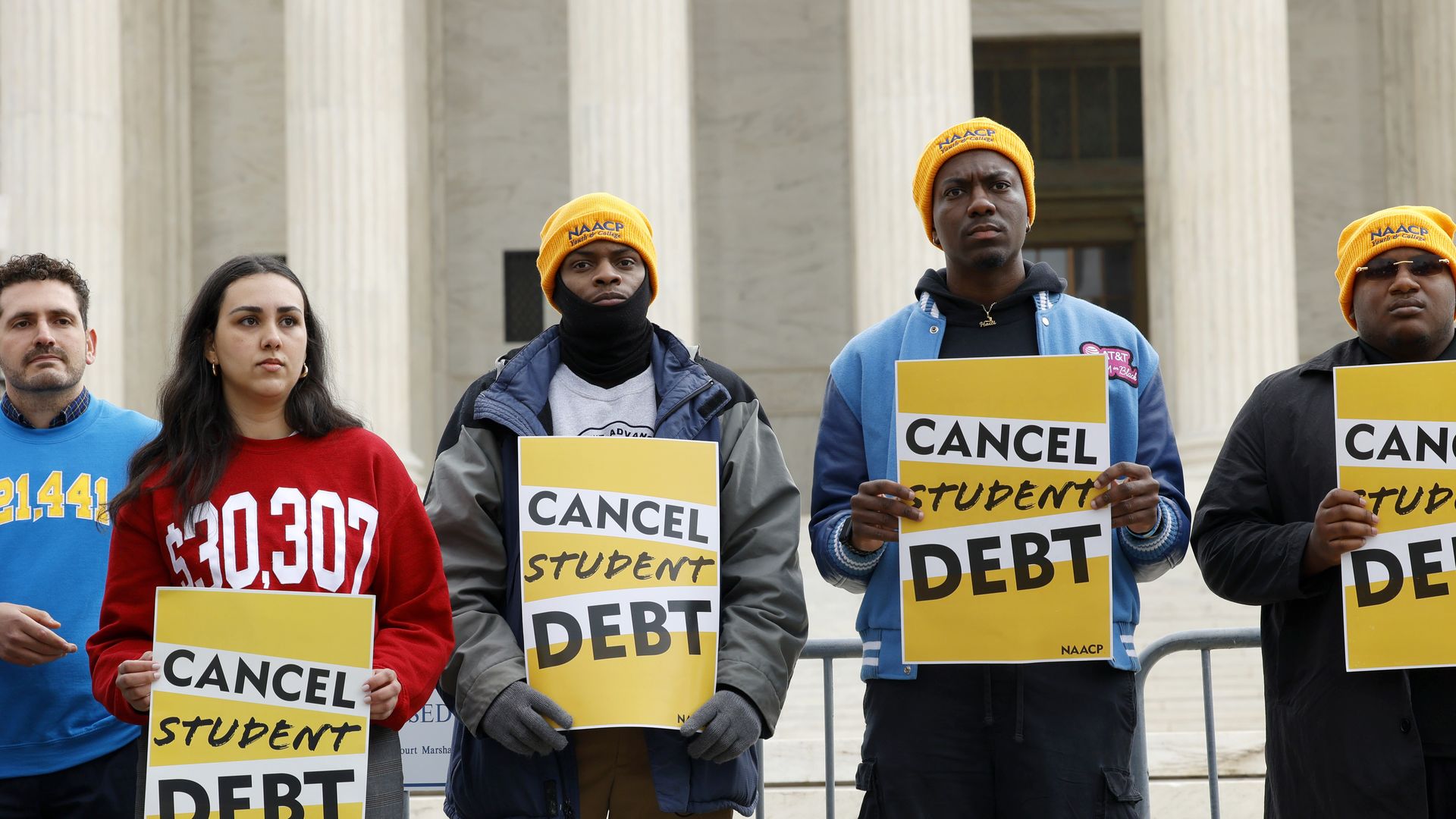 Americans who had expected sizable chunks of their student debt to be wiped out under President Biden's student debt relief plan are now recalculating what their futures may look like.
Driving the news: Borrowers who would be eligible for relief through Biden's plan won't know for at least a few months whether as much as $20,000 in their student debt will be forgiven — or still owed — as the Supreme Court decides on its constitutionality.
"I feel a bit anxious ... because depending on which way the pendulum swings, [it] could mean being able to pay off my debt in five years or maybe even paying it off in 10," Ryan Rudolph, 29, a Pell Grant recipient and a Duke University master's student based in Chapel Hill, North Carolina, told Axios.
He added that he's "saving as much as possible" so he can "weather the storm if the plan is struck down."
Borrowers who would qualify for relief say the plan would give them the leeway to make big financial moves they've been putting off, like buying a house or starting a family.
Shanna Hayes, 34, who is currently unemployed and based in Alexandria, Virginia, said that if Biden's plan went through, she likely could co-own a home with her wife in coming years.
The first home they bought, which has been since sold, was only in Hayes's wife's name because of her student loan balance, she said.
"It's not fun understanding your financial future, ... hanging in the balance and not knowing, having to deal with that uncertainty," said Rudolph.
"I'm looking to be able to fully participate in this economy, I want to be financially solvent, so it just puts a further pause on the life plans that I'm looking to do," he added.
The court's conservative justices seemed deeply skeptical of the plan during oral arguments last week.
"We're kind of expecting the worst and kind of hoping for the best in terms of what can potentially come out of that decision," said Hayes.
The conservative justices, with a 6-3 majority in the court, during arguments on two legal challenges to the plan cast doubt on Biden's legal authority to offer the relief without congressional authorization.
The program, announced in August, would cancel up to $20,000 in student debt for Pell Grant recipients and up to $10,000 for individual borrowers who make under $125,000 per year.
Biden's program has been on hold since November, when a Texas judge struck it down.
State of play: In addition to the uncertain legal future of the plan, it has become a political flashpoint since Biden first announced it, with Republicans characterizing it as a "bailout for the wealthy."
"While hardworking families struggle with soaring costs, Biden is giving a handout to the rich, and voters see right through this desperate vote grab," RNC chair Ronna McDaniel said in a statement.
Two borrowers, backed by the conservative Job Creators Network, sued over the plan, accusing the administration of not seeking public input on the program.
One of the borrowers in the suit, Myra Brown, who is not eligible for relief under Biden's plan, believes it is "irrational, arbitrary and unfair to exclude her from the program because her federal student loans are commercially held and not in default," per the complaint.
The other borrower, Alexander Taylor, believes it is "irrational, arbitrary, and unfair to calculate the amount of debt forgiveness he receives based on the financial circumstances of his parents many years ago."
The bottom line: While millions of eligible borrowers have been in limbo since the fall, the pendulum is still swinging — and the stakes can be consequential.
Go deeper... Where Biden's student loan forgiveness got the most interest
Go deeper