Biden's student debt relief plan in jeopardy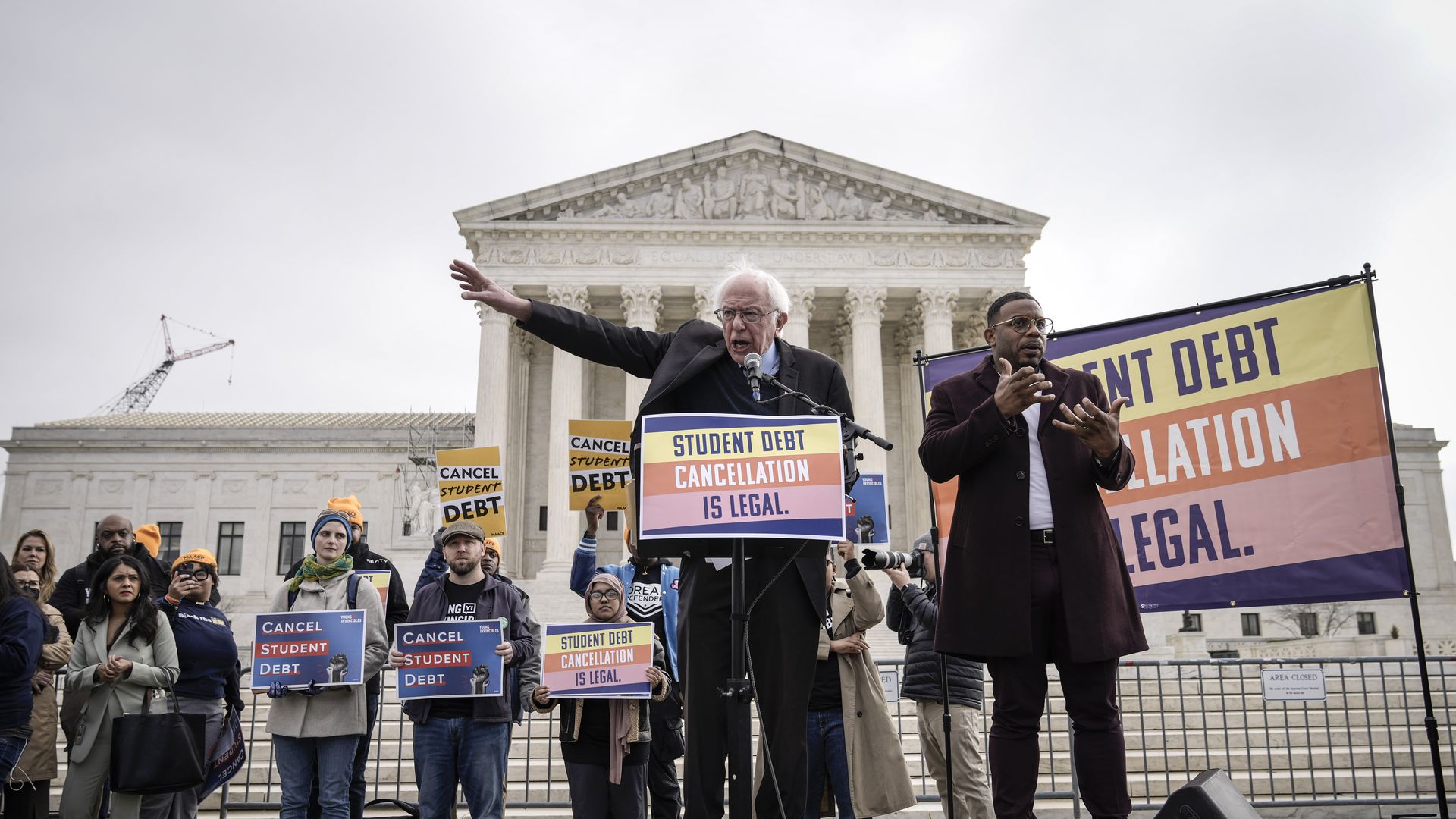 The Supreme Court seems inclined to kill President Biden's plan to forgive billions of dollars of student debt.
Why it matters: During oral arguments on Tuesday, the conservative justices questioned Biden's legal authority to offer the debt relief, signaling that the fate of the far-reaching plan may be endangered.
Driving the news: The conservative justices, with a 6-3 majority in the court, invoked the "major questions doctrine," which holds that the executive branch needs explicit congressional approval to act on the biggest issues.
The court has used that doctrine lately to strike down several Democratic priorities, including environmental regulations and COVID vaccine mandates.
"If you're talking about this in the abstract, I think most casual observers would say if you're going to give up that much amount of money, if you're going to affect the obligations of that many Americans on a subject that's of great controversy, they would think that's something for Congress to act on," Chief Justice John Roberts said.
U.S. Solicitor General Elizabeth Prelogar defended the Biden administration's plan to the high court.
Prelogar said the plan's legality falls under the HEROES Act of 2003, a statute invoked by both former President Trump and Biden used to pause student loan payments since the outset of the COVID pandemic.
Prelogar in her rebuttal emphasized that borrowers "benefited from the critical relief of the forbearance policy."
"That's an unprecedented form of relief, but it was very much needed in this circumstance to ensure we did not see a deluge of default and delinquency on student loan debt," Prelogar said.
The court's liberal justices appeared to back the Biden administration's arguments for the plan and expressed skepticism over whether the challengers have the legal standing to block it.
The big picture: The high court on Tuesday weighed two challenges to the student loan plan, including one brought by a group of Republican-led states and the other on behalf of two students.
Since Biden announced the plan last August, some 26 million people applied for student loan debt relief, and more than 16 million of those borrowers' applications were fully approved, the White House said.
But the program — which would cancel up to $20,000 in student debt for Pell Grant recipients and up to $10,000 for individual borrowers who make under $125,000 per year — has been on hold since November after a Texas judge struck it down.
Go deeper