Biden joins UAW strikers at picket line, showing solidarity in historic moment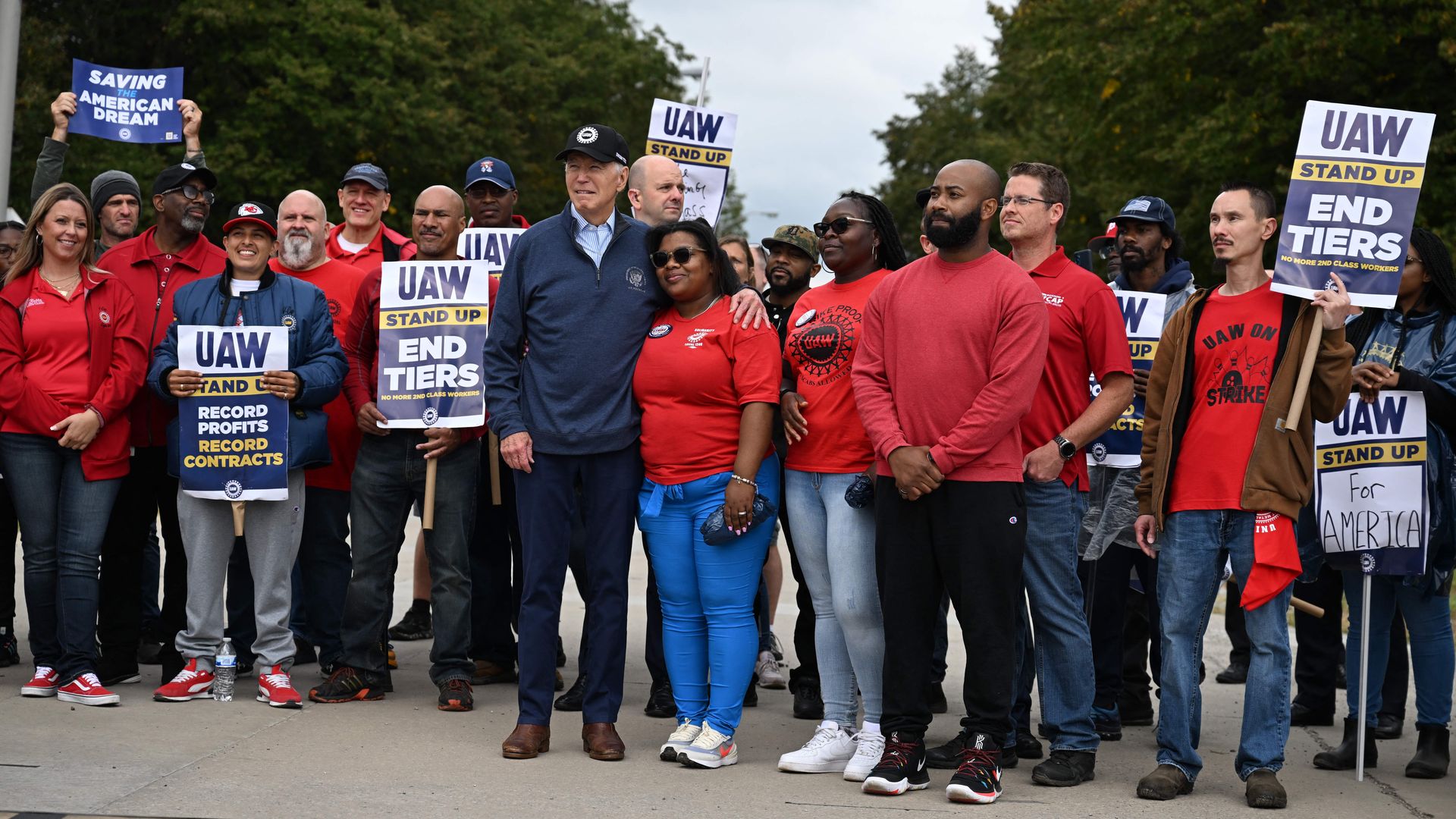 President Biden joined striking autoworkers in Detroit on Tuesday, marking what appeared to be the first time a sitting president has ever visited a picket line.
Why it matters: The pro-union Democrat's appearance showed solidarity with thousands of autoworkers who have been leading an unprecedented strike of the Detroit Three automakers.
Driving the news: Biden spoke briefly before picketing workers, flanked by UAW President Shawn Fain, who called it "a historic moment."
"You guys, the UAW, you saved the automobile industry back in 2008 and before," Biden said on Tuesday. "Made a lot of sacrifices, gave up a lot."
"And the companies were in trouble, but now they're doing incredibly well. And guess what, you should be doing incredibly well, too."
Biden told workers they deserve more pay than they are receiving, along with other benefits being advocated for by union negotiators.
"Wall Street didn't build the country," Biden said. "The middle class built the country."
Biden visited with workers for about 15 minutes after the speeches, the New York Times reported, until his motorcade returned to Air Force One.
Between the lines: Biden has expressed full support for the United Auto Workers, as he vies for political support from unionized labor.
After landing in Detroit, the president was asked about the UAW's endorsement in the 2024 presidential election, according to a White House pool report. He said he wasn't worried.
In May, the union's president said the organization was not endorsing Biden yet, citing the growth of electric vehicles as a risk for the industry.
Meanwhile, former President Trump plans to speak Wednesday in Michigan to current and former union members.
However, Fain told CNN on Tuesday evening that he would not meet with Trump, whom he accused of serving "the billionaire class" and not caring about UAW workers.
Of note: Biden picketed with workers near General Motors' parts center on the Willow Run site — a property that's a shell of its former self, having previously housed a 5 million-square-foot plant that built transmissions for GM vehicles.
The transmission factory was shuttered in 2010 in the wake of GM's bankruptcy and later razed, leaving the parts distribution facility as a much smaller surviving operation.
The old Willow Run factory was widely considered the heartbeat of the Arsenal of Democracy — the manufacturing powerhouse that built planes and weapons for the Allies during World War II — after Henry Ford built it to make B-24 bombers.
GM acquired the facility years later and had some 14,000 workers there at its height in the 1970s.
Catch up quick: Thousands of auto workers are striking at 38 plants and distribution centers across 20 states, under the leadership of UAW president Shawn Fain, who invited Biden to their picket line.
The automakers must "come to their senses," Fain has said, and pay workers what they deserve, calling for a 36% wage increase, a return to traditional pensions, retiree health care and a 32-hour workweek.
The Detroit Three automakers — General Motors, Ford and Stellantis — have lost production of more than 16,000 vehicles, according to a Deutsche Bank analysis cited by the AP.
Go deeper: UAW strike scrambles political allegiances
Editor's note: This story has been updated with details throughout. Axios' Nathan Bomey contributed.
Go deeper