What to know about UAW president Shawn Fain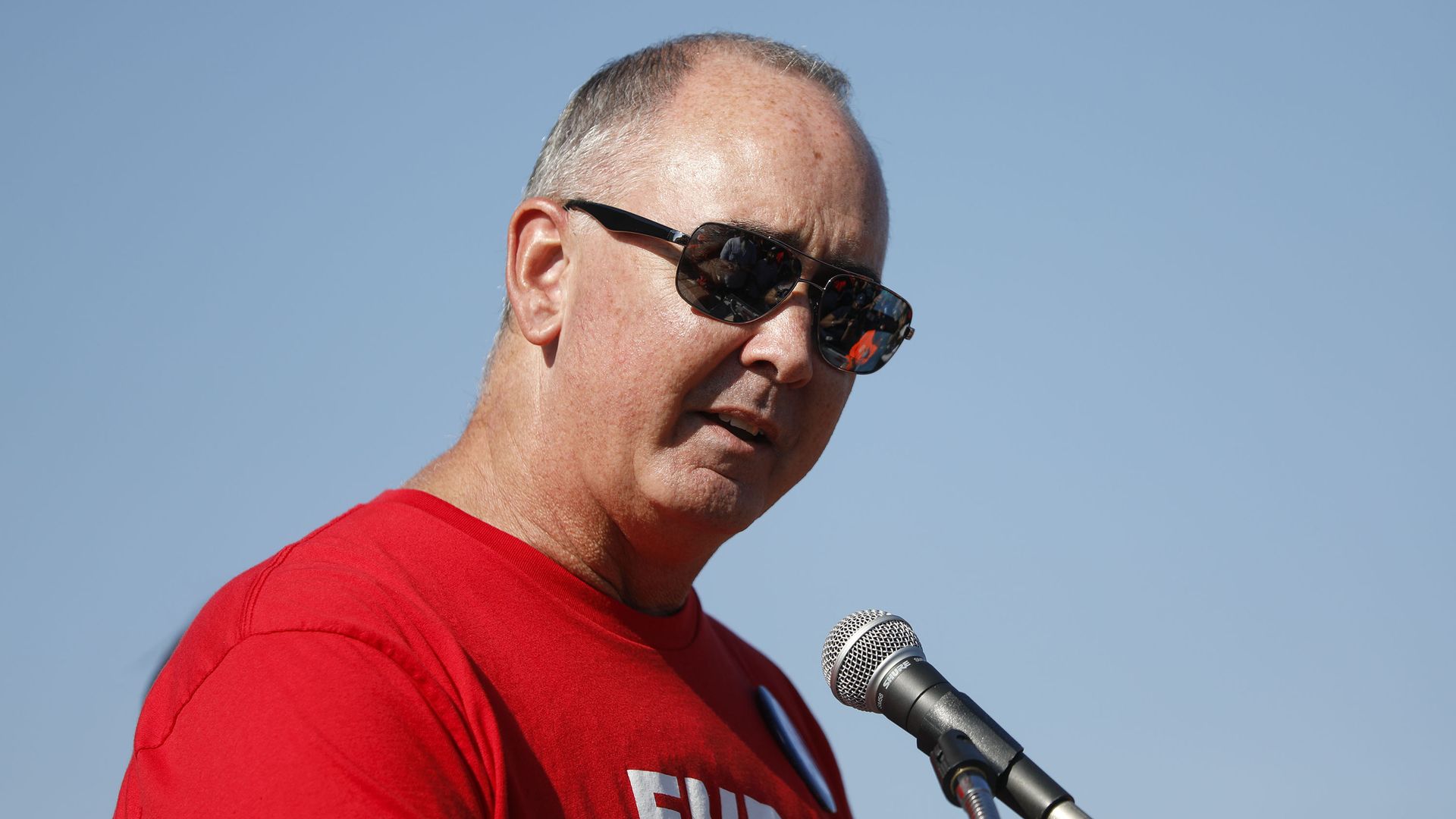 With fervent anti-corporate rhetoric and aggressive bargaining strategies, Shawn Fain is surging into the national spotlight as he leads a historic auto strike.
Why it matters: As president of the United Auto Workers union, Fain is pursuing "record contracts" from General Motors, Ford and Stellantis while pledging to restore stability to a union fresh off recent scandals.
The automakers must "come to their senses," Fain says, and pay workers what they deserve, calling for a 36% wage increase, a return to traditional pensions, retiree health care and a 32-hour workweek.
Fain, whose family was also involved with UAW, joined the union in 1994 as an electrician for Chrysler at Kokomo Casting Plant in Kokomo, Ind., his hometown, according to a UAW biography.
The big picture: Fain was elected earlier this year as the president of the UAW by a razor-thin margin — 50.2% to 49.8% — by only 14% of the UAW's about 1 million active and retired members.
Fain must show the members who didn't vote for him — or didn't vote at all — that he's fighting for them, says Harry Katz, a collective bargaining professor at Cornell University.
The election came after a tumultuous period for the union. Fain's opponent was incumbent Ray Curry, who was part of the caucus that had been reigning for decades. Curry conceded his loss after initially filing a protest alleging election irregularities and campaign finance violations, according to NPR.
Fain has promised to restore integrity to the office after a devastating scandal in which two previous presidents went to prison for embezzling member dues and the union ended up with federal oversight.
"No more corruption, no more coverups," Fain's campaign website said.
Flashback: Fain's union roots are familial, dating back to when Chrysler workers joined the union in 1937.
Two of his grandparents were UAW retirees. He regularly carries one of his grandfather's paystubs with him as a reminder of his roots.
The intrigue: In 2007, Fain was a local UAW leader who opposed a two-tier pay system agreed to by Chrysler and the union — which the UAW now wants to undo.
Fain's defiance was rare, Politico reports, and it became an inflection point in his career.
Worth noting: In the 2023 labor dispute, Fain has been negotiating in public — deviating from traditional, behind-closed-doors tactics — and using strikingly religious rhetoric along the way. President Biden will join the picket line with auto workers on Tuesday, following an invitation from Fain.
Fain's fervent Christianity is evident in his public remarks, calling on the world to embrace the UAW's "righteous" cause, quoting the Bible and referencing biblical heroes like Moses and Peter. He's also drawn inspiration from Malcolm X, a one-time member of the Nation of Islam.
His repeated bashing of the automakers inspires "members screaming 'I LOVE YOU' to our folksy gen x class struggle christian white dude from Indiana who quotes Malcolm X," UAW communications director Jonah Furman said in a recent batch of leaked messages.
Catch up quick: In an unprecedented move, the UAW shut down certain plants at all three Detroit automakers — General Motors, Ford and Stellantis — after its labor deals expired Sept. 14, calling for "record contracts" to match the companies' "record profits."
Nearly 19,000 UAW workers were on strike as of Sept. 22, idling plants that make vehicles such as the Jeep Wrangler, Ford Ranger and Chevrolet Colorado — as well as the 38 parts distribution facilities at GM and Stellantis.
Fain has threatened to further expand the strike to include all unionized facilities at the three companies if they don't deliver concessions.
The bottom line: Shawn Fain is leading with deeply rooted passion and rhetoric.
Go deeper