How the UAW's Shawn Fain is using Christian rhetoric during the strike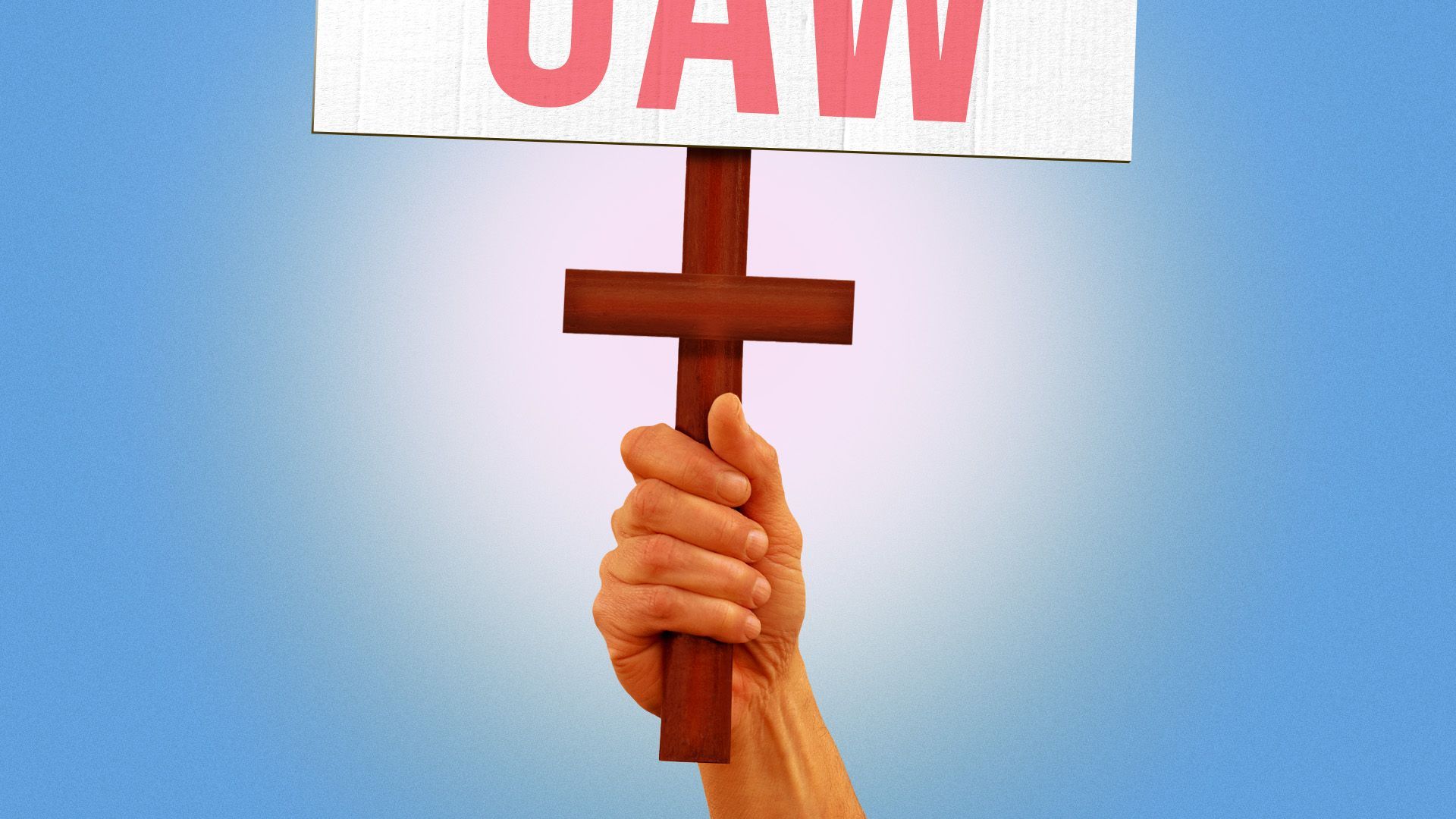 The United Auto Workers president is deploying strikingly Christian rhetoric as he leads the union through an unprecedented strike.
Why it matters: It's something of an American tradition for leaders to use religious rhetoric to justify their actions — but it's been jarring for some to see the leader of what has historically been considered a secular, progressive organization using religious terms, stories and scriptural references to rally his members.
Catch up fast: The UAW has launched a strike against three factories — one each for General Motors, Ford and Stellantis — and is threatening to expand the labor stoppage on Friday if negotiations don't yield substantial progress.
Zoom in: As the recently elected president of the UAW, Shawn Fain has brought his fervent Christian faith to a new sort of pulpit, using his platform to broadcast messages on Facebook Live videos, YouTube streams, picket-line speeches and media interviews.
Fain speaks with the cadence and tone of an old-school preacher, calling on the world to embrace the UAW's "righteous" cause, referencing biblical heroes like Moses, and telling people to "stand up" for justice.
He recently told members about how his daily Christian devotional reading on "fear and faith" seemed to apply to the UAW's cause.
And last week in a broadcast message, he quoted Bible verse Matthew 17 as he described the need to believe in the UAW's mission: "It says, 'For truly I tell you, if you have faith the size of a mustard seed, you will say to this mountain, 'Move from here to there,' and it will move — and nothing will be impossible for you."
What they're saying: "I'm looking at that scripture — have faith and move that mountain," Jeff Ringer, an expert on religious rhetoric at the University of Tennessee Knoxville, tells Axios. "From an American protestant, evangelical perspective, you hear that invoked all the time in evangelical circles."
Strange bedfellows
"The trade union movement in the United States has a long and sometimes complicated relationship with organized religion," New York University historian Tom Sugrue tells Axios, noting that the UAW historically had a mix of Catholics, Black protestant and white protestant members. "All of them have different but overlapping pro-labor elements."
The intrigue: But with the rise of evangelical Christianity, biblical rhetoric has become closely identified with right-wing politics — which is what makes Fain's language almost countercultural.
"He's working to broaden the constituency of the UAW and support for the UAW by using language and appealing to folks who might not otherwise associate themselves with the labor movement," Sugrue says.
Faith, and moral high ground
It's not clear whether Fain considers himself evangelical — the UAW declined to comment — but faith is clearly core to his identity. He often travels with a black, tattered Bible given to his grandmother for Christmas in 1933 when she was living in an orphanage.
"Like my grandfather's pay stub that I carry with me every day, I'm proud to have inherited my grandma's Bible and her faith," Fain said last week on a video address, revealing the red edges of the book's worn pages.
He also told UAW members that he realized that "great acts of faith are seldom borne out of calm calculation," making a comparison to one of Jesus' disciples:
"It wasn't a confident committee that prayed in a small room in Jerusalem for Peter's release from prison. It was a fearful, desperate band of believers that were backed into a corner."
Keep in mind: Fain also faces the delicate task of reclaiming the moral authority that the UAW lost in recent years during a sweeping corruption scandal punctuated by the imprisonment of two UAW presidents convicted of embezzling dues from members.
Ringer, the expert on religious language, sees elements of "prophetic rhetoric" in Fain's words as the union seeks to move past the scandal.
"Not prophetic insofar as we're going to prophesy the future, but prophetic insofar as let's call us back to who we really are and what we really should be doing here," Ringer says.
Worth noting: Regardless of how he identifies religiously, Fain does not fit into a neat box politically.
Last week he said in a statement that the Biden "White House is afraid" of the UAW's movement, while this week he said "people like Donald Trump" shouldn't be in office.
The bottom line: Fain is carving out a new path using an old playbook.
Go deeper: UAW's targeted strike strategy bleeds to other plants
Go deeper