UAW boss Shawn Fain's union tactics, explained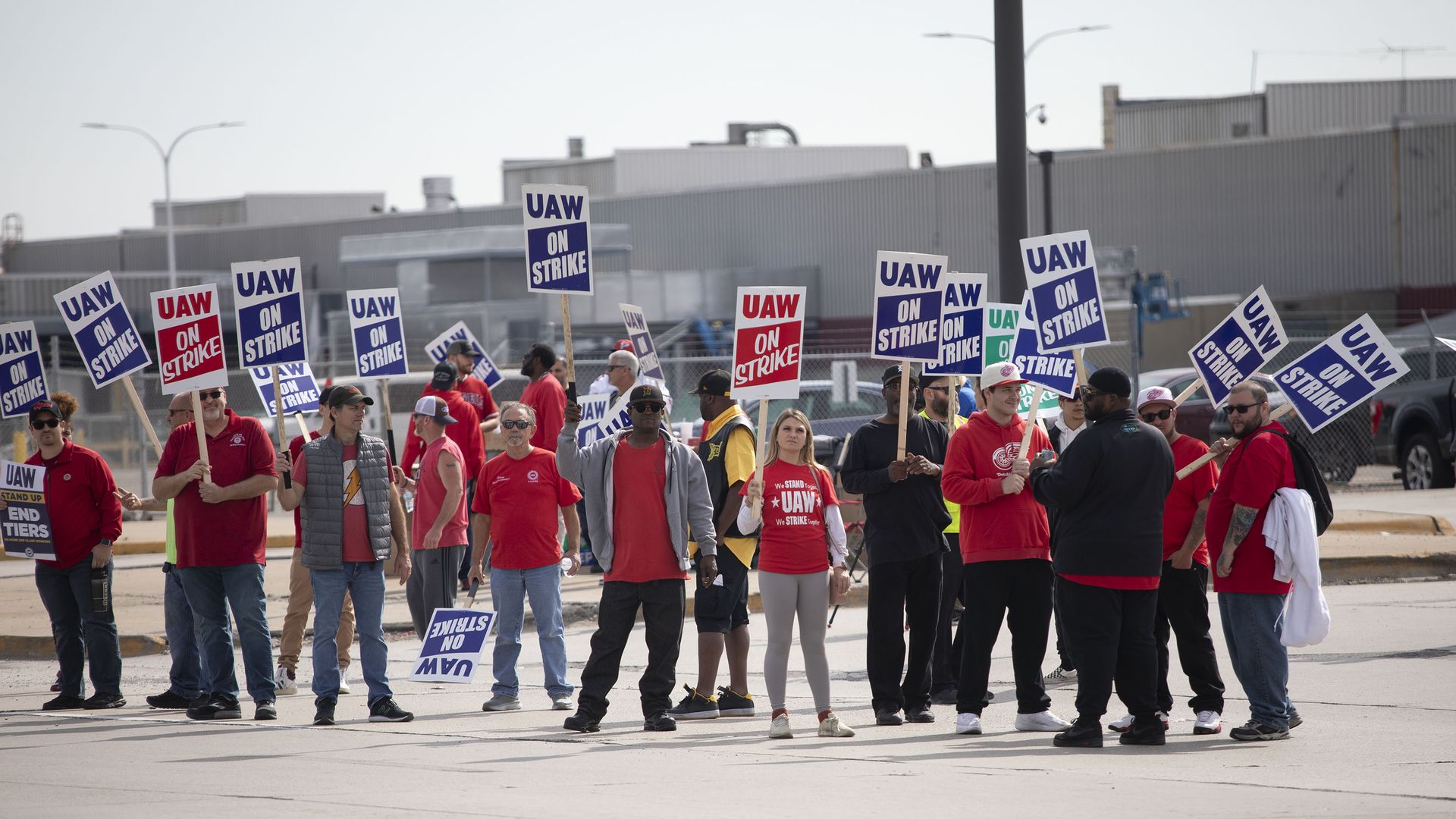 Leaked private messages from a UAW official that surfaced late Thursday could further undermine trust at the bargaining table — making a contract deal even more elusive as the union prepares to expand its strike against the Detroit automakers.
Why it matters: The leak ordeal is one of the first major blowups for UAW president Shawn Fain's team and could test the union's new strategy — and its new staffers.
Catch up quick: Screenshots of the leaked messages from UAW communications director Jonah Furman, first reported by the Detroit News and also obtained by Axios, elicited outrage and accusations of bad-faith bargaining from the automakers.
In one of the messages, Furman said the UAW is inflicting "reputations damage and operational chaos" on GM, Ford and Stellantis.
State of play: After being sworn into office in March, Fain, who ran as a reformer, appointed a new leadership team — including Furman.
Fain elevated like-minded UAW members and hired outsiders who could help with important roles like organizing, communications and strategy, sources familiar with the union's structure tell Axios.
The new staffers are among roughly a dozen outsiders who have joined Fain's inner circle and are pushing, alongside reformers within the UAW ranks, for more of a grassroots culture at the union, the sources said.
They're providing media training, for example, to rank-and-file members — while also encouraging members to organize activities that aren't stage-managed by union bosses.
The big picture: UAW strategy under Fain looks very different from the old days when union negotiations happened behind closed doors and neither side talked publicly about the play-by-play.
But Fain is negotiating in public, making his case in the news media and directly to UAW members on social media.
In interviews and long Facebook Live streams, Fain outlines the specifics of the bargaining process — not only his union's demands but the companies' counteroffers too.
Meanwhile: Highly polished, political-style videos feature Fain using fiery, progressive language about "corporate greed" and "the billionaire economy."
The rhetoric has echoes of Bernie Sanders — and indeed a couple of Fain's communications staffers, like Furman, once worked for the Vermont senator.
The other side: Automakers are frustrated not just by the tactics, but by what they say is misinformation being spread by the union.
In an unprecedented response, GM president Mark Reuss even penned an opinion column in the Detroit Free Press calling the UAW's demands "untenable" and refuting claims made by Fain that workers make poverty-level wages.
The backstory: Fain is the first democratically elected UAW president in its 88-year history, meaning the rank and file voted directly for a leader, rather than letting delegates choose.
The new voting system was established by the Department of Justice after a corruption scandal that resulted in 16 convictions, including prison time for two former UAW presidents. (The union is still overseen by an independent, court-appointed monitor through 2026.)
Fain just squeaked by in a runoff to win the top spot, and almost immediately had to start bargaining with the Detroit Three. Thus, part of the strategy is solidifying more support from rank-and-file members.
The bottom line: He's operating more like a politician — rallying the constituents — than a backroom union boss, and some industry observers wonder whether he is overpromising what he can deliver.
Go deeper