UAW strike scrambles political allegiances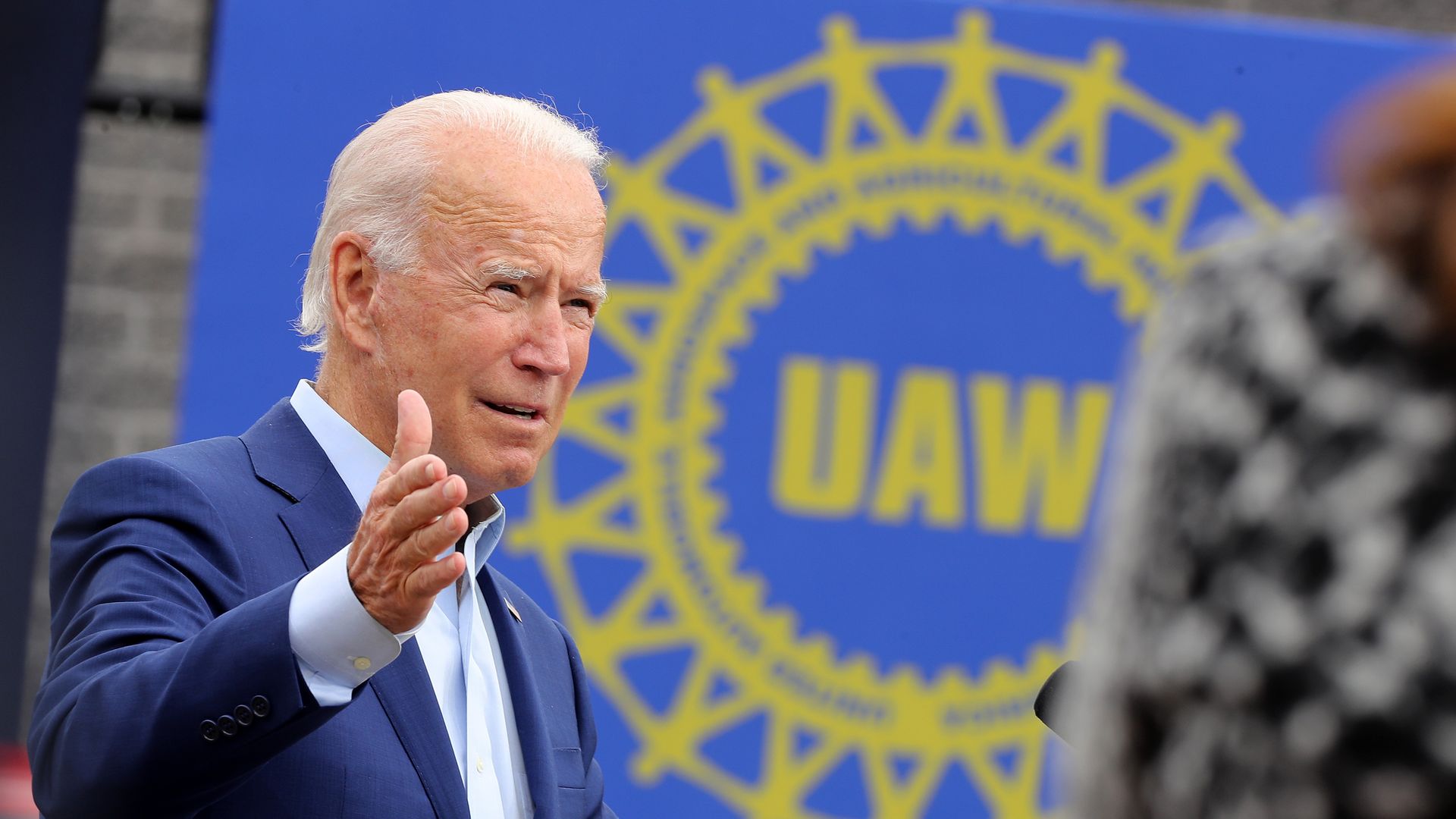 The United Auto Workers strike against the Big Three domestic automakers comes at a volatile time in American politics, with blue-collar union workers set to be a pivotal constituency for both parties in next year's election.
Why it matters: Democrats have historically been the party of labor unions, while Republicans have maintained close ties to big business. But as Democrats have become increasingly reliant on college-educated voters, their close alliance with blue-collar unions has frayed.
UAW president Shawn Fain has withheld an endorsement for President Biden — even as Biden has positioned himself as the most pro-union president in U.S. history.
Meanwhile, as more blue-collar voters migrate toward the GOP (typically over cultural issues), the party has faced pressure to accommodate their more populist views on the economy.
Driving the news: Biden announced last week he would be joining the picket line Tuesday, days after former President Trump made plans to meet with striking autoworkers.
One Democratic strategist said Biden's lockstep alliance with the UAW is risky if there's a protracted strike and the economy takes a downturn. "If this situation goes south, it sends a real blow to his economic narrative," the operative told Axios.
Trump, meanwhile, is scheduled to give a prime-time speech in Detroit on Wednesday in a room filled with autoworkers, plumbers and electricians — counterprogramming the GOP presidential debate — and separately meet with striking autoworkers.
It's a sign of how the Republican Party has changed under Trump. Making a direct appeal to striking workers would have been unthinkable for Republicans in the Bush era. (In 2008, now-Sen. Mitt Romney (R-Utah) wrote a New York Times op-ed headlined: "Let Detroit Go Bankrupt.")
Zoom in: Trump-friendly senators J.D. Vance (R-Ohio) and Josh Hawley (R-Mo.) have expressed support for the striking autoworkers.
But several leading GOP presidential candidates — like Sen. Tim Scott (R-S.C.) and former South Carolina Gov. Nikki Haley — have criticized union influence, a reflection of the predominant Republican view.
What they're saying: Republicans "can't just be on the side of the companies anymore," said Republican strategist Mike Shields, a former RNC chief of staff. "You can be on the side of industry against the government, but you can't just automatically be against the unions."
"It's not a surprise to anyone in the blue-collar labor world that there's a lot of union voters that are getting more challenging for Democrats to get," said Democratic strategist Dan Sena.
Between the lines: The one labor-related issue in which UAW leaders hew closer to Republicans is their skepticism over the government-directed push toward electric vehicles.
Electric vehicles require less labor to produce, and the jobs are predominantly non-union. Ford is already expected to lose billions in their EV business this year. Cox Automotive reported in July that EV inventory swelled to 103 days of supply in the U.S., about double that of gas-powered cars.
"The backdrop of this strike is over electric vehicles," Republican strategist Brad Todd said. "Republican voters and Republican business owners are not on the side of car company managers teaming up with government for electric vehicle mandates and regulations."
By the numbers: Trump only lost union households by eight points (51%-43%) in 2016, a result that helped him tip traditionally Democratic Rust Belt states Michigan, Pennsylvania and Wisconsin into the GOP column.
But Biden reclaimed those states in 2020 while winning union households by 16 points (56%-40%), according to exit polling.
A near majority (43%) of Americans want unions to "have more influence than they have today" — the highest share recorded in at least a quarter-century, according to an August Gallup survey.
What to watch: Several of the biggest Senate races are taking place in states with a robust blue-collar union presence — including Michigan, Ohio, Pennsylvania and West Virginia.
Democratic senators representing states with a sizable manufacturing presence have underscored their pro-union bona fides since the UAW strike began. Sen. Sherrod Brown (D-Ohio) joined the UAW picket line on the day of the strike, and has a long record of labor advocacy.
Many of the GOP's Senate challengers hail from the business world. Some are more traditionally conservative candidates without a history of populist rhetoric — like former hedge fund executive Dave McCormick, who just announced his Senate candidacy in Pennsylvania.
The bottom line: For both parties, the political incentives going forward run against their instincts.
It's in Biden's interest, for example, to urge his UAW allies to reach a compromise with management to prevent any economic slowdown that could result from a prolonged strike.
Meanwhile, Republicans are confident they can more closely sympathize with the strikers without suffering any political consequences, given that Biden is president.
Go deeper