UAW strike plays out like slow-motion car wreck for Detroit automakers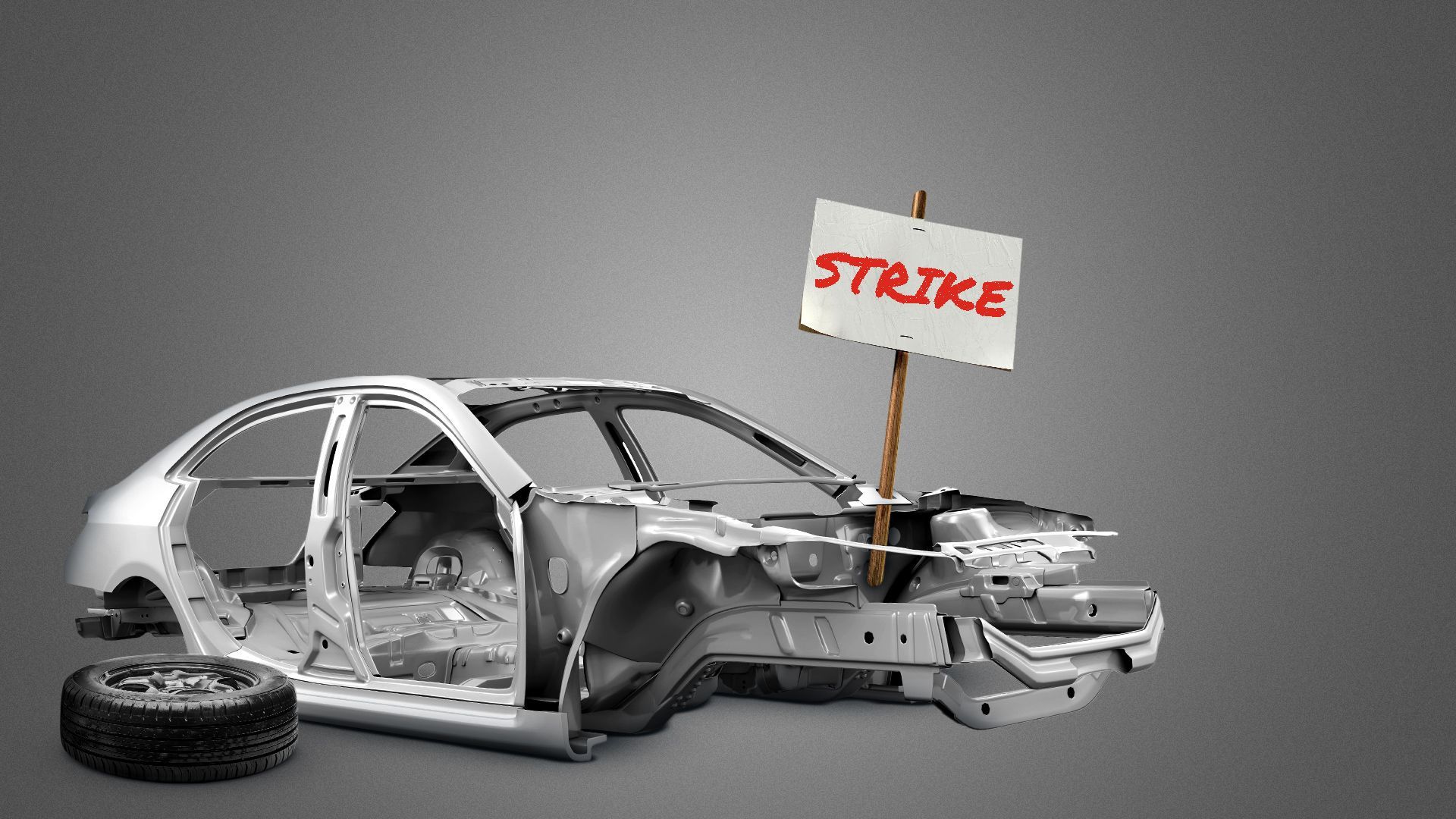 There's zero chance that the automakers will reach a labor deal with the UAW before Friday at noon, sources close to the bargaining tell Axios. That's the time at which the union says it plans to kick off strikes at additional factories.
Why it matters: With both sides dug in, a prolonged strike is looking more likely. The question is how much pain UAW president Shawn Fain is prepared to exert on the companies — and how swiftly.
The union could continue the selective strike strategy that began Sept. 15 by ordering targeted walkouts at engine or transmission plants, slowly starving other factories of critical components.
Or it could go straight for the jugular by striking factories that build the companies' most profitable vehicles — full-size pickup trucks.
Between the lines: A slow squeeze appears most likely, based on the union's rhetoric to date.
"We're going to keep hitting the company where we need to, when we need to, and we're not going to keep waiting around forever while they drag this out," Fain said in a video message to members.
The other side: GM president Mark Reuss, in an op-ed in the Detroit Free Press, clapped back at what he called UAW "misinformation," saying the company has made a record offer and that "often in these situations, the clouds of rhetoric can obscure reality."
Where it stands: About 13,000 UAW workers — less than 10% of the union's 146,000 workers employed at GM, Ford and Stellantis — are on strike at factories that build small pickup trucks and SUVs in Missouri, Michigan and Ohio.
The remainder are still working under expired contracts, although several thousand people at non-striking facilities in Kansas, Michigan, Ohio and Indiana have been laid off because of strike-related parts shortages, the companies said.
The UAW is seeking a 40% wage hike along with cost of living adjustments and new pension benefits, to recoup concessions made a decade ago when financial distress led two of the carmakers into bankruptcy.
The companies say they're offering the richest contracts in their history. GM, for example, is offering a 20% wage hike over four years that would bring most of its hourly workers to a base rate of $82,000 per year.
Threat level: So far in the labor dispute, the UAW has been holding back its most powerful weapon — shutting down pickup truck production. Striking these plants would have a devastating impact on the companies.
Large pickups built in North America are the "profit engines" for Detroit automakers, accounting for "substantially all of the profit at GM and Ford," according to a recent Barclays note.
With an average selling price of $65,500, the Ford F-series, Chevrolet Silverado/GMC Sierra and Ram truck model lines generate an estimated $15,000 profit per vehicle, per Barclays.
In response to this vulnerability, the companies have built up extra inventories in recent months, notes Cox Automotive.
The norm is 50-60 days' supply — but at the end of August, the Ram 1500 has a 107 days' supply, per Cox. The Ford F-150 had 98 days' supply, and the Chevrolet Silverado and GMC Sierra had a supply of 81 and 79 days, respectively.
What to watch: The auto companies produce trucks at multiple factories across the U.S. Even if the UAW decides to target pickup truck production, it may not strike all of them at once, keeping a few chips for further leverage down the road.
"We want to keep the companies guessing," Fain told members.
Go deeper