DeSantis policies prompt 2 major Black groups to move events out of Florida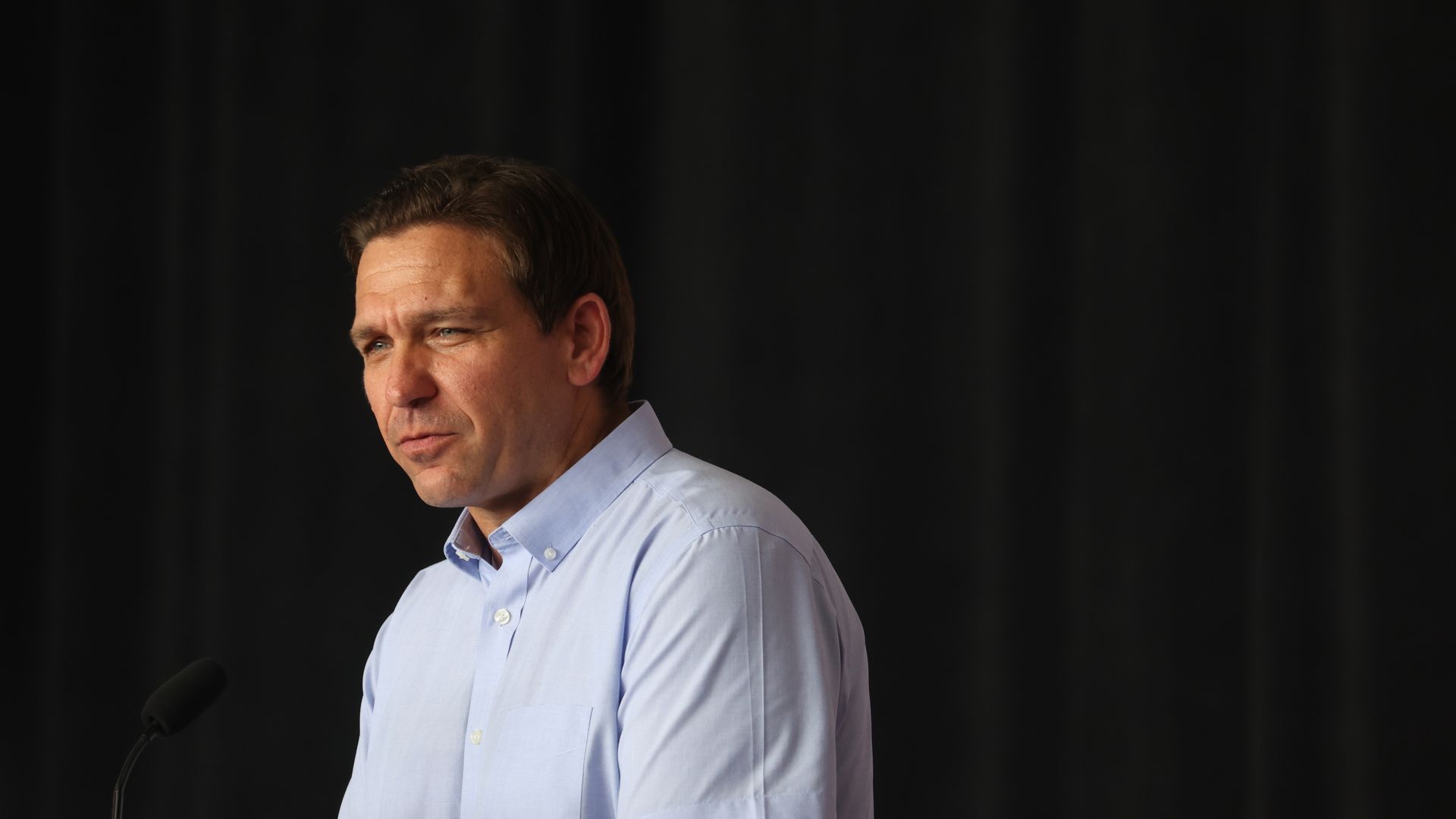 The policies of Florida Gov. Ron DeSantis' (R) administration have led two major Black organizations to move their annual conferences to other states — with both citing the threat of "hostile" conditions, per Yahoo News.
The big picture: The moves by Alpha Phi Alpha, the oldest Black fraternity in the U.S., and the National Society of Black Engineers, one of the nation's biggest student-governed organizations, come two months after the NAACP issued a travel advisory for Florida, calling the state "openly hostile toward African Americans, people of color and LGBTQ+ individuals."
The conventions represent millions of dollars in revenue. Alpha Phi Alpha president Willis Lonzer told NBC News Wednesday representatives from other organizations, including the eight other Black fraternities and sororities, said they planned to avoid holding events in Florida, too.
DeSantis' press secretary Jeremy Redfern called the action "nothing more than a media-driven stunt" and touted Florida's economic credentials in an emailed statement Wednesday.
Driving the news: Lonzer told NBC News the group's action marked "a multi-pronged armamentarium that we have to provide to attack racial prejudice and policies that are white supremacist in nature" amid a "situation where Jim Crow has morphed from what it was 40, 50 years ago."
Lonzer added that the final straw was the state's new Black history standards suggesting "that slavery was somehow beneficial to those enslaved."
National Society of Black Engineers national chair Avery Layne said in an emailed statement Tuesday that the decision to move its 50th annual convention was reached "after much deliberation that the environment in Florida would not be conducive to an ideal membership experience nor an ideal setting for such a milestone event."
NSBE CEO Janeen Uzzell added that relocating the event to Atlanta, Georgia, in March was "an example of what a revolution looks like in modern-day terms."
State of play: DeSantis has become a champion for conservative cultural issues, as he aims to challenge Republican primary front-runner former President Trump.
The NCAAP said its travel advisory was a "direct response" to DeSantis' "aggressive attempts to erase Black history and to restrict diversity, equity, and inclusion programs in Florida schools."
DeSantis has defended the Florida State Board of Education's new standards as being taken out of context in the face of widespread criticism, including from his Republican presidential rival Sen. Tim Scott (R-S.C.) and Vice President Kamala Harris.
For the record: The curriculum includes an instruction on "how slaves developed skills which, in some instances, could be applied for their personal benefit."
What they're saying: "As Governor DeSantis announced in May, Florida is experiencing record tourism, with the Q1 2023 having the largest volume of visitors during a single quarter in recorded history," said Redfern, who did not address the reasons the organizations gave for relocating their conferences.
Go deeper