Trump indictment alleges 5-part plot to overturn election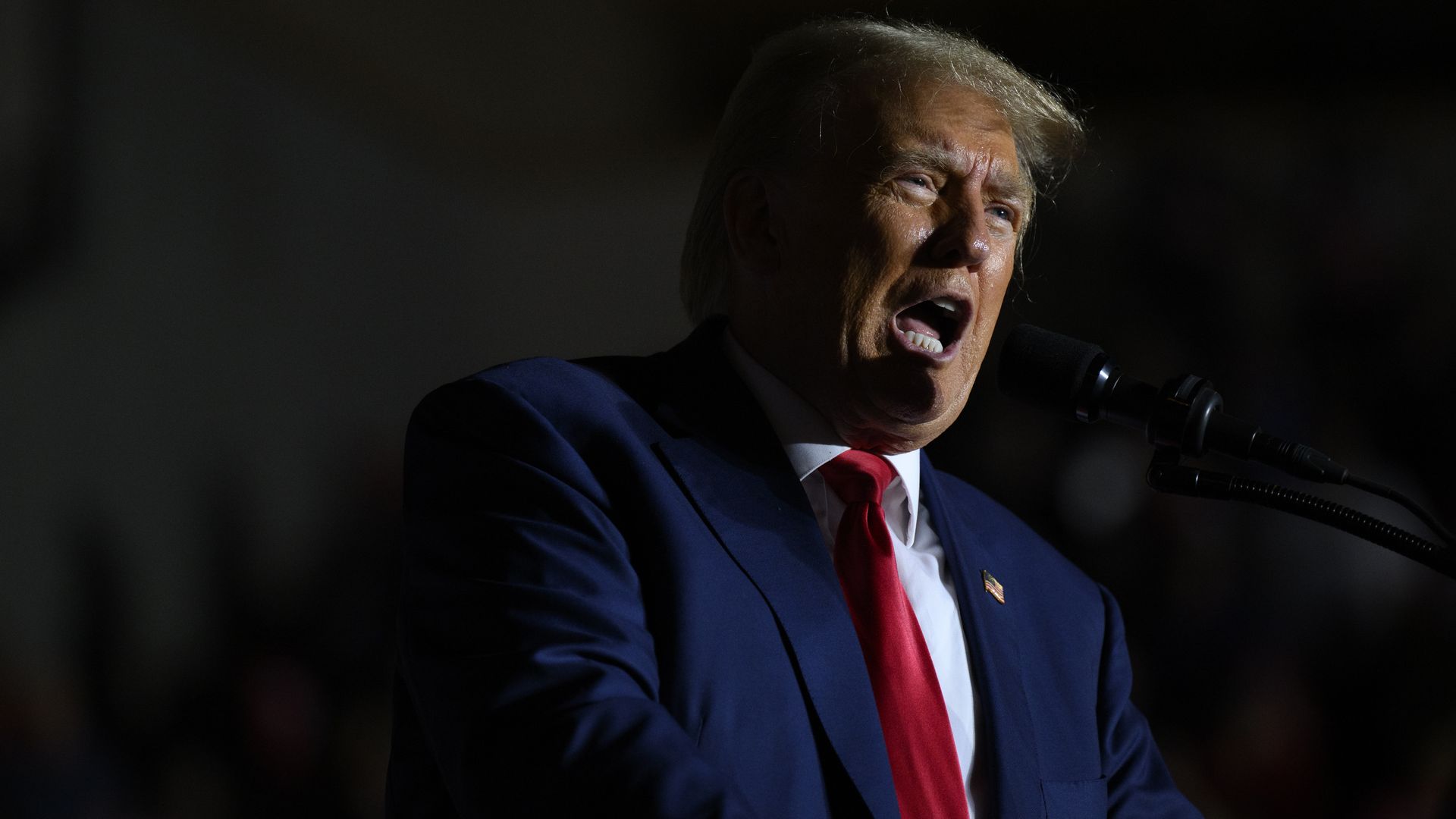 Former President Trump and six unnamed co-conspirators followed a five-part plan to cling to power after losing the 2020 presidential election, special counsel Jack Smith alleged in a criminal indictment unsealed Tuesday.
Why it matters: The indictment alleges that Trump conspired to "impair, obstruct, and defeat the federal government," including by "knowingly" using false claims of election fraud "to subvert the legitimate election results."
None of the alleged co-conspirators were charged in the indictment.
Driving the news: Trump, the frontrunner in the Republican primary, was charged Tuesday with conspiracy to defraud the U.S., conspiracy to obstruct an official proceeding, obstruction of and attempt to obstruct an official proceeding and conspiracy against rights.
Trump has called himself innocent of allegations about his efforts to undermine the 2020 election results.
His lawyer, John Lauro, said on Fox News on Tuesday after the indictment was unsealed that it is "a terribly tragic day that we find ourselves in, where political speech now has been criminalized."
Zoom out: The 45-page indictment alleges Trump and his co-conspirators sought to overturn 2020 election results through the following means.
1. Knowingly making false claims of election fraud to get state legislators and election officials to subvert the legitimate election results.
"On the pretext of baseless fraud claims, [Trump] pushed officials in certain states to ignore the popular vote; disenfranchise millions of voters; dismiss legitimate electors; and ultimately, cause the ascertainment of and voting by illegitimate electors in favor of the Defendant," per the indictment.
2. Organizing a fraudulent slate of electors in "seven targeted states," which include Arizona, Georgia, Michigan, Nevada, New Mexico, Pennsylvania and Wisconsin.
"Some fraudulent electors were tricked into participating based on the understanding that their votes would be used only if the Defendant succeeded in outcome-determinative lawsuits within their state, which the Defendant never did."
3. Trying to use the power of the Department of Justice to "conduct sham election crime investigations."
The indictment alleges that Trump and the co-conspirators sent a "letter to the targeted states that falsely claimed that the Justice Department had identified significant concerns that may have impacted the election outcome."
4. Trying to get former Vice President Mike Pence to "fraudulently alter the election results."
When efforts to convince Pence to unilaterally reject election results before Jan. 6 failed, Trump and the co-conspirators "falsely told" protestors that Pence "had the authority to and might alter the election results."
Trump and the co-conspirators "directed them to the Capitol to obstruct the certification proceeding and exert pressure on the Vice President to take the fraudulent actions he had previously refused."
5. Exploiting Jan. 6 violence to get members of Congress to delay certification.
"As violence ensued, the Defendant and co-conspirators exploited the disruption by redoubling efforts to levy false claims of election fraud and convince Members of Congress to further delay the certification based on those claims."
More from Axios:
Go deeper