Indictment describes a cast of six Trump helpers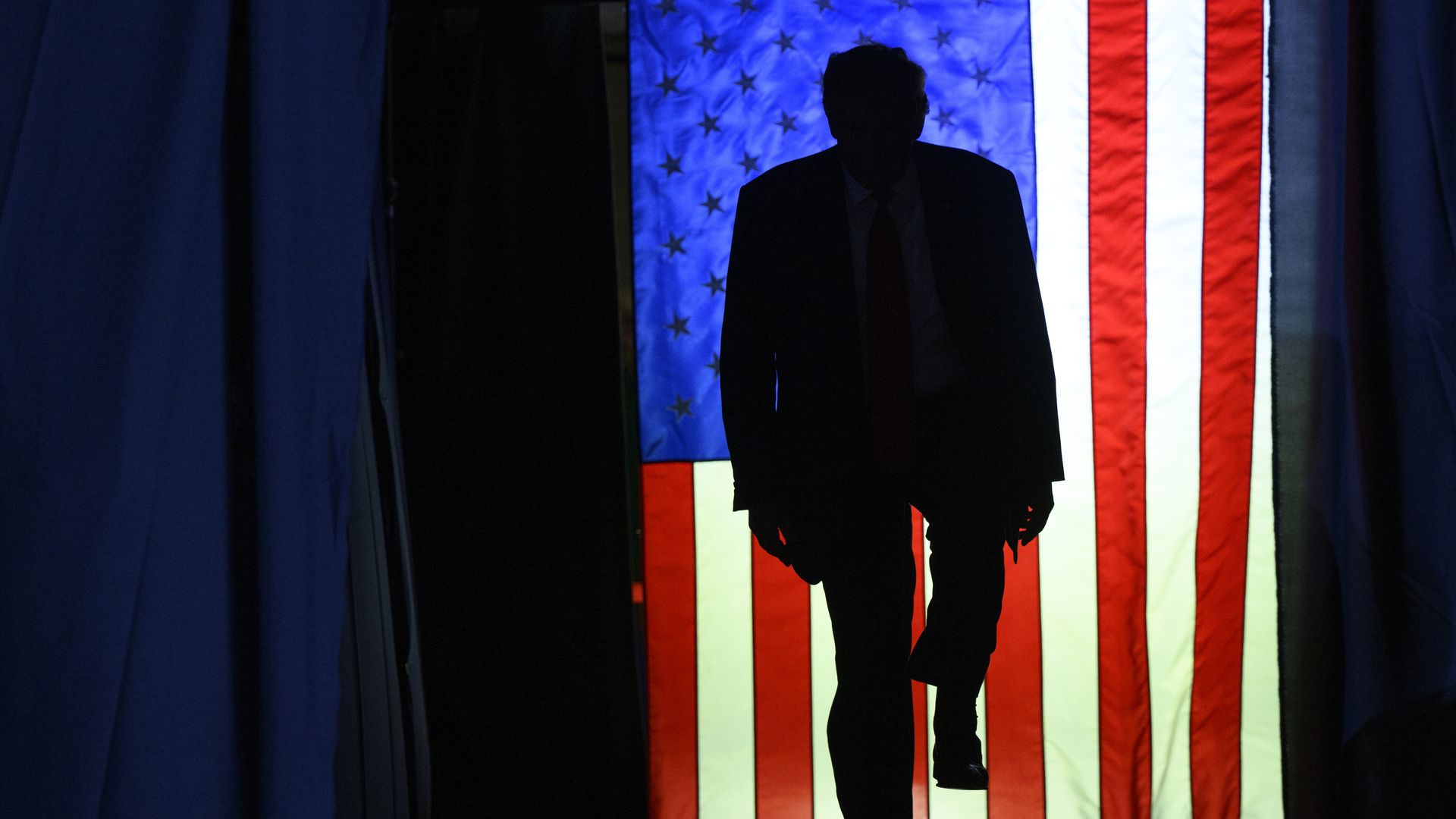 Former President Trump's indictment alleges that six unidentified co-conspirators helped him carry out his plot to overturn the 2020 election — and multiple media outlets quickly zeroed in on five of Trump's close advisers and lawyers whose roles matched prosecutors' very detailed descriptions.
Why it matters: None of the six has been indicted by special counsel Jack Smith, but they are all on notice that they face potential criminal liability.
By not identifying or charging them, Smith left open the possibility that they could decide to testify against Trump in exchange for lenient treatment for any legal jeopardy they could face. Trump has long expressed his disdain for "flippers"; now he has reason to fear them.
There could be another reason for Smith only indicting Trump: Speed. Separate indictments would complicate and likely slow down Trump's trial, as the Wall Street Journal notes,
Driving the news: The indictment describes four lawyers, a former Justice Department official and a political consultant as key players who helped Trump in his criminal efforts to overturn the legitimate results of the 2020 presidential election and retain power."
Former New York City Mayor Rudy Giuliani was identified by multiple media outlets as matching prosecutors' description of "Co- conspirator 1," who is accused of spreading "knowingly false claims." He pursued legal strategies that official Trump campaign lawyers would not.
A Guiliani spokesman told The Washington Post that the indictment criminalizes that act of asking "questions about the 2020 election results."
Robert J. Costello, a lawyer for Giuliani, told the New York Times that it "appears that Mayor Giuliani is alleged to be co-conspirator No. 1."
The indictment's description of "co-conspirator 2" appears to match that of John Eastman, an attorney and former law school dean who wanted to leverage Vice President Mike Pence's ceremonial role in certifying the Electoral College vote into obstructing the actual certification.
Between Jan. 4 and Jan. 7, 2021, he sent a total of 101 emails in which he discussed various methods to bar Congress from certifying the 2020 election results, according to federal court documents filed in April 2022, Axios has reported.
In testimony to the California Bar last month over whether he should lose his law license for his role in Jan. 6, Eastman stood by his claim that state legislatures had the power to reverse President Biden's victory in 2020.
"Co-conspirator 3's" description appears to match Sidney Powell, a lawyer who "publicly amplified" unfounded claims of election fraud while privately acknowledging they sounded "crazy," according to the indictment.
Powell's role in the election challenge was described by Axios reported its Off The Rails series. Publicly she has stood by her work for Trump, telling the Jan. 6 congressional committee that she believed there was widespread voter fraud.
The indictment's description of "co-conspirator 4" lines up with Jeffrey Clark, a former assistant attorney general at the Justice Department. He wanted to "influence state legislatures with knowingly false claims of election fraud," according to the indictment.
At the Jan. 6 congressional panel's hearing, Trump officials testified that Clark wanted to investigate election fraud and have Trump install him as attorney general after acting Attorney General Jeff Rosen refuted the fraud claims. Clark has rejected the claim that he was involved in a plan to oust Rosen.
The fifth "co-conspirator" was widely identified in media reports as Kenneth Chesebro, an attorney who helped devise the plan to "submit fraudulent slates of presidential electors" to Congress, according to the indictment.
Chesebro is credited with being the first lawyer to suggest that slates of pro-Trump electors could try to get recognized by Congress on Jan. 6. He has argued that his discussions with Trump were protected by attorney-client privilege.
Between the lines: "Co-conspirator 6" is still a mystery, but is described as a "political consultant," who worked to "confirm phone numbers for six United States Senators" for "co-conspirator 1" to call to urge them to delay certifying the election results.
Go deeper