Storms threaten to disrupt July 4 travel as southern U.S. and West swelter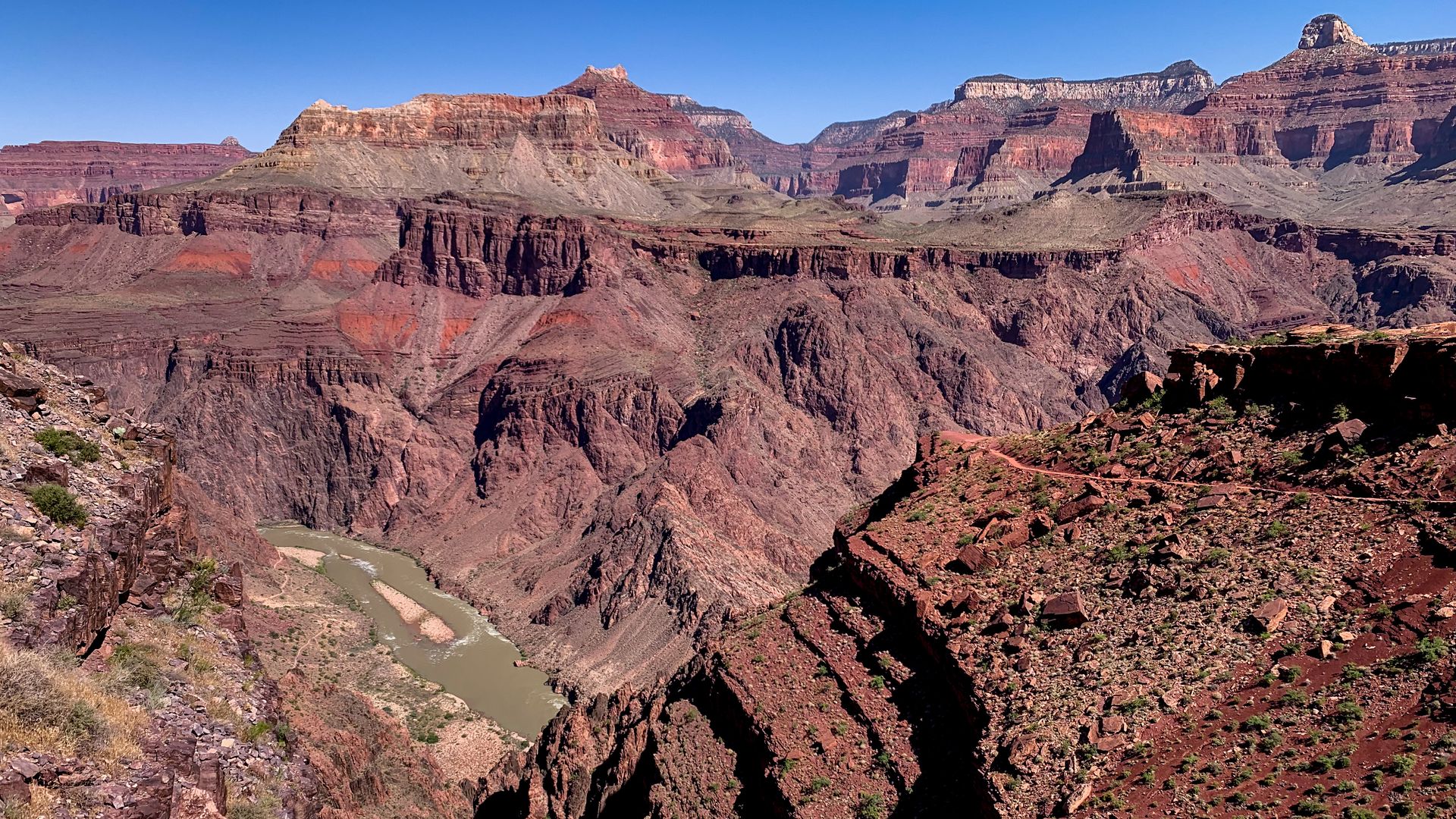 Extreme weather was threatening to upend July 4 holiday travel plans, with severe thunderstorms and heavy rains set to hit the Plains and Eastern states and searing heat affecting the U.S. Southeast, Southwest and Pacific Northwest.
The big picture: Tens of millions of people were under severe thunderstorm watches or affected by heat warnings and advisories Monday, as Grand Canyon National Park officials said a woman died while hiking in temperatures "well over 100°F" near Tuweep, Arizona. Excessive heat warnings were in place for the canyon and across the Southwest.
State of play: Temperatures were expected to remain above normal along much of the West Coast into the southwestern U.S., with heat advisories amidst record-breaking temperatures forecast for parts of western Oregon Tuesday, per the National Weather Service.
With temperatures likely to climb to their highest of the season so far, heat advisories were also in effect in the interior counties of far northern California.
The NWS said excessive heat warnings would remain in effect across the lower deserts of Arizona and southeastern California through Tuesday, with "another day of temperatures climbing well in excess of 110°F."
It was particularly hot on Monday in Sacramento, where a record high temperature for July 3 was tied as the Californian city hit 109 degrees Fahrenheit.
Meanwhile, strong to severe storms were set to develop near a cold front forecast to push south and east across the northern Plains and Upper Midwest — with the NWS noting "damaging wind and large hail" was possible Monday evening, "especially for areas east of the Big Horn Mountains through South Dakota."
The focus for these severe storms is set to shift farther south and east, extending from the upper Mississippi Valley to the central High Plains on Tuesday.
Separately, parts of the southern Plains and much of the eastern U.S. were expected to continue to see above-average temperatures — with showers and storms developing ahead of a slow-moving front extending from the Northeast and into the southern Plains set to continue into Monday evening.
"Some of these storms are expected to become strong to severe, with damaging winds likely across parts of the Mid Atlantic States through the early evening hours," per the NWS.
"Showers and thunderstorms are forecast to develop once again along the front as it drifts slowly across the region on Tuesday."
Context: Climate change is causing both heat waves and extreme precipitation events to be more intense and frequent.
Go deeper