Fourth of July travel expected to reach record-high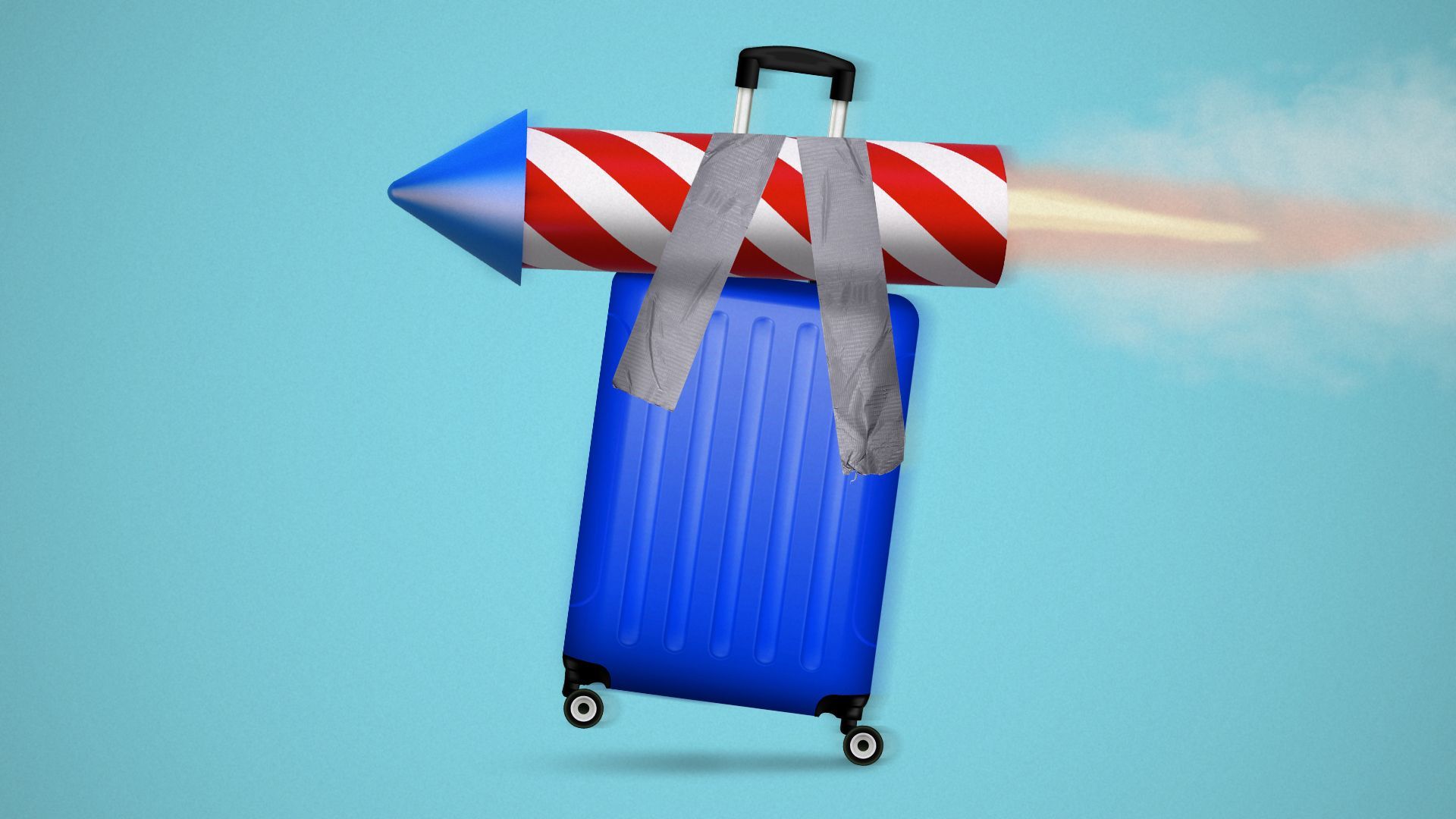 Nearly 51 million people in the United States are projected to travel over Fourth of July weekend, according to AAA.
Why it matters: That's the highest number on record for Americans traveling by car and air over the Independence Day holiday.
This year's projection surpasses the previous July 4th weekend record set in 2019 of 49 million travelers.
What they're saying: "We've never projected travel numbers this high for Independence Day weekend," said Paula Twidale, senior vice president of AAA Travel.
"What this tells us is that despite inventory being limited and some prices 50% higher, consumers are not cutting back on travel this summer," she added.
Travel by car
Some 43.2 million people are expected to drive to their destinations — an increase of 2.4% from 2022 and 4% higher than 2019, according to AAA.
Gas prices this summer are down about 30% from the same time last year.
The national average for a gallon of regular gas last July 4th was $4.80. The national average this June has hovered around $3.50 to $3.60 a gallon.
Best and worst driving times
Friday, June 30 is expected to be the busiest day on the roads during the holiday weekend, with average travel times up nearly 30% of normal, per INRIX, which provides transportation data and insight.
Major metros like Boston, Seattle and Washington, D.C. are expected to see the worst traffic.
The best times to travel by car are in the morning or after 6 p.m., per INRIX.
To minimize holiday traffic frustrations, travelers can utilize traffic apps, local Department of Transportation notifications and 511 services, per INRIX transportation analyst Bob Pishue.
Travel by plane
Around 4.17 million Americans are expected to fly to their destinations this Independence Day weekend.
That's an increase of 11.2% over 2022 and 6.6% over 2019.
The share of air travelers in this year's overall holiday forecast is about 8.2% – the highest percentage in nearly two decades, per AAA.
Domestic airfare has dropped more than 27% since last year, to an average of about $300 per round trip ticket, according to travel app Hopper.
Meanwhile, international travelers this July 4th weekend aren't as lucky, with fares to Europe the highest in at least 5 years.
Busiest airport times
With July 4th falling on a Tuesday this year, many travelers are extending their trips for an extra-long weekend.
Airports are expected to be the most crowded on Thursday and Friday before the holiday weekend.
Some 3.7 million passengers expected to depart from U.S. airports, according to Hopper.
Return flights will be busiest on July 5, with 3.5 million passengers expected to depart.
Atlanta, Dallas, Denver and Los Angeles will be the busiest airports, all expecting more than a million passengers, per Hopper.
Late morning (8am - 12pm) and early evening (4pm - 8pm) are projected to be the busiest times to depart from those airports.
Buses, ships and trains
Other modes of transportation are also on the rise this year.
About 3.4 million people are projected to travel by bus, cruise or train over the long weekend, per AAA.
That's an increase of 24% over last year.
Go deeper: Cities in the U.S. with the cheapest and most expensive gas
Go deeper