Texas' scorching heat wave to expand, intensify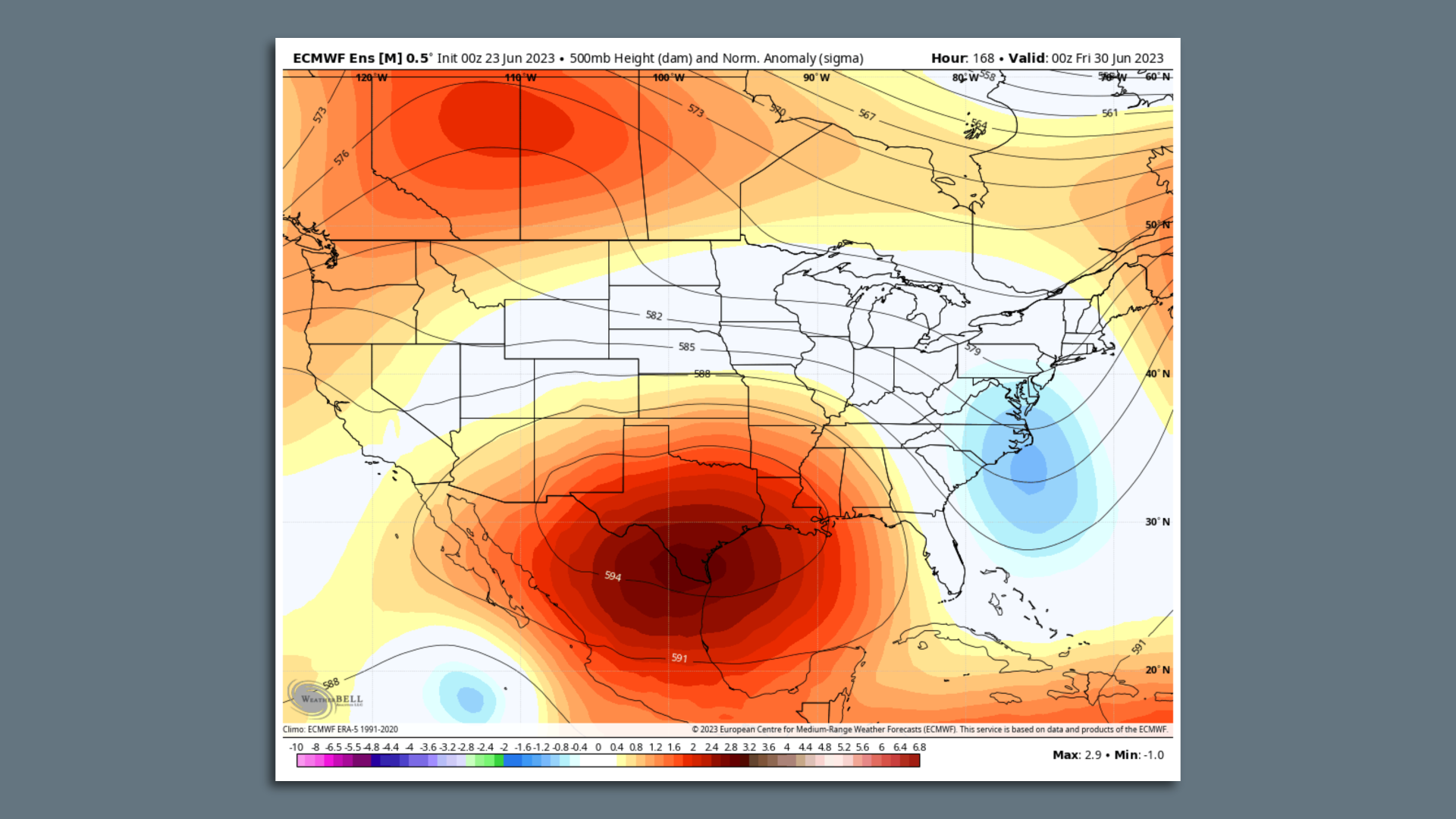 Editor's note: See Axios' latest coverage on the heat wave.
The heat wave scorching much of Mexico, Texas and parts of New Mexico is forecast to worsen and last into the week of July 4, weather forecast models and National Weather Service (NWS) guidance show.
Why it matters: Extreme heat is the top weather-related killer in the U.S., and long-duration heat with little overnight relief makes this event particularly hazardous.
Zoom in: Rio Grande Village, Texas, already has seen its high temperature reach 118°F, 2 degrees away from the all-time state record.
It is likely that the state record will be threatened, if not tied or broken, before the heat wave ends in early July.
So far, the Texas power grid has held up. However, the combination of a forecast expansion of the heat wave to include the Texas Panhandle, where many of the state's wind turbines are located, and likelihood of even higher temperatures could prove more problematic.
Context: Human-caused climate change is making such extreme heat events more likely, intense and longer-lasting.
What's next: In southern and south-central Texas, the NWS warned Thursday, many spots "[h]ave already experienced a yearly record number of hours of dangerously high heat index readings," with the heat set to continue.
Other parts of the South and Central states, including Louisiana, Arkansas and Oklahoma, Kansas and Missouri, are forecast to see oppressive heat as well.
By the middle of next week into the first week of July, in excess of 40 million people may be under heat alerts. About 20 million are subject to such alerts on Friday.
"There is really no end in sight for the excessive heat that has plagued particularly Texas/southeastern New Mexico in recent days," the NWS stated Friday in an online forecast discussion.
"Temperatures over 100°F and heat indices much higher will continue expanding east into the Lower Mississippi Valley and north toward the central Plains next week," forecasters wrote.
By the numbers: High temperatures in Dallas next week are forecast to be close to 105°F, with heat indices reaching near or above 110°F.
Closer to the Gulf Coast, the NWS forecast office in Corpus Christi is warning of the risks from prolonged periods of extreme heat and high humidity, with heat indices of "at least 110°F every day.
"Some locations may experience heat indices from 115-120°F each afternoon," the NWS stated.
The NWS found that the 13 days since June 9 have each featured the highest heat index for that day dating back to 1947.
On Thursday, the NWS noted that locations from Houston to Dallas to San Antonio, east to New Orleans and north to Little Rock and Oklahoma City are poised to set temperature records during the next week.
Meanwhile, the ties between extreme heat events and climate change may have legal repercussions.
Of note: The heat in Texas does not represent the full ferocity of this particular heat dome, which has been sitting over Mexico. Temperatures there have neared 120°F.
But this weather feature is forecast to build further to the north and encompass much of Texas by next week, intensifying the heat.
Go deeper