Nearly 200 million under extreme weather alerts as heat and smoke pummel U.S.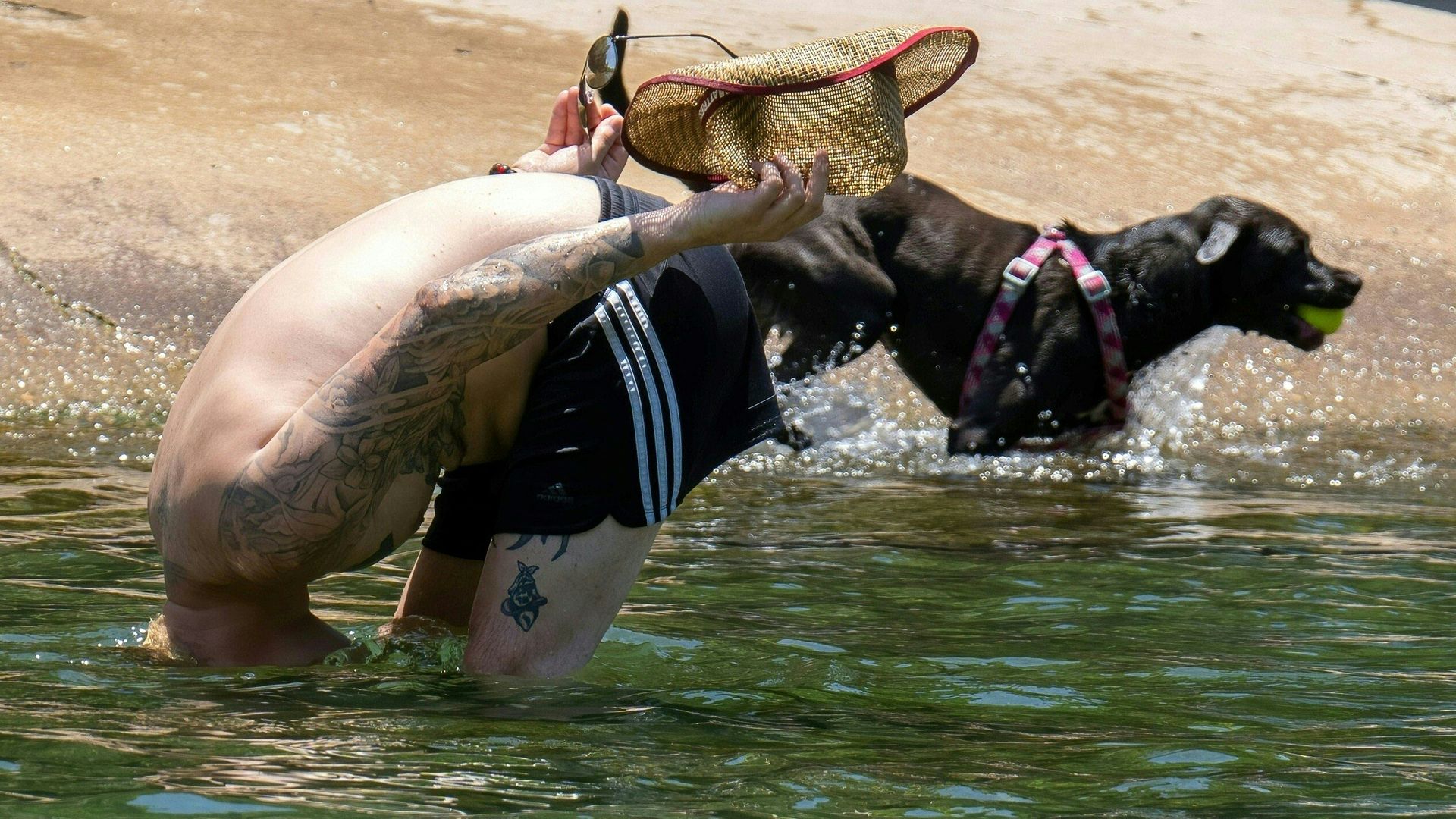 Much of the U.S. is under siege from extreme weather.
The big picture: Heat warnings and watches are in effect for over 100 million people as a record-breaking heat wave sweeping the southern U.S. continues to expand. Meanwhile, air quality alerts have been issued for an estimated 80 million others as wildfire smoke from Canada chokes much of the Mid-Atlantic, Midwest, Ohio Valley and even the Southeast.
Air quality has deteriorated Thursday all the way south to Georgia, with Code Yellow and Red conditions widespread.
State of play: The heat dome, a high-pressure area aloft that's lingered over Texas for some three weeks, has expanded across the U.S. South and over to Florida as smoke from Canada's worst-ever fire season threatens the Midwest and mid-Atlantic — with a rare Code Red air quality alert declared for D.C. Thursday.
Separately, excessive heat watches were in effect for much of the Sacramento and San Joaquin valleys — triple-digit temperatures were expected later this week, as Californians braced for their first major heat wave of 2023.
Threat level: "Dangerous heat will continue expanding east through the Lower Mississippi Valley and Mid-South and into the Southeast through Friday," per the National Weather Service's Weather Prediction Center.
"Heat-related danger is increased this week due to the longevity of this ongoing heat wave with record high nighttime lows and elevated heat index readings during the day."
Thought bubble: The appearance of multiple heat domes at the same time is not by itself rare. However, the intensity of the heat dome over Mexico and now into the U.S. has been historic at times, and the persistence of the overall weather pattern notable.
Between the lines: Much of June has been dominated by a heat dome over parts of Canada, which has led to raging wildfires there, and two upper-level low-pressure areas.
One has kept the Northeast cooler than average for much of the month, while occasionally dragging wildfire smoke south. In May, another heat dome, this time centered over western Canada, jump-started the wildfire season there.
Stuck weather patterns like this one, including stronger heat domes, may be becoming more common with human-caused climate change.
The long-lasting event in Texas has been hotter than it otherwise would have been without global warming. Some studies have even found that certain heat waves would have been virtually impossible in a preindustrial world.
What's next: "Slight relief is expected this weekend for parts of Texas, the Lower Mississippi Valley and Mid South as temperatures trend down, but hazardous conditions will continue through Independence Day near the Gulf and Southeast Coasts where humidity his high," per the NWS WPC.
Meanwhile, the NWS forecasts heat will build over the interior valley of California late this week as a heat dome, also known as a high pressure ridge aloft, strengthens over the state and the Great Basin.
Editor's note: This article has been updated with new details throughout.
Go deeper