Heat wave affects 45 million people from Southwest to Miss. Valley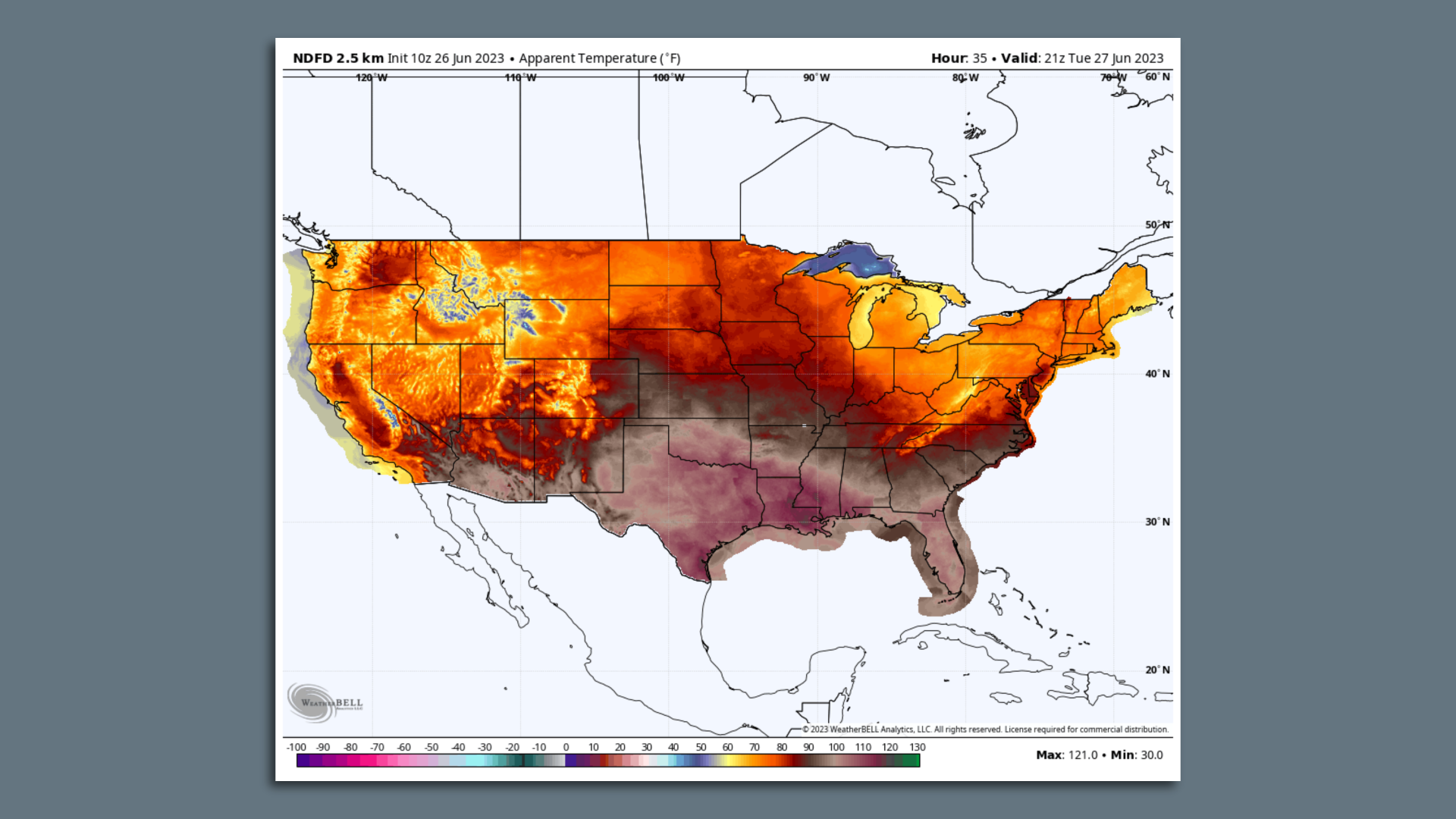 At least 45 million people across seven states are under threat from extreme temperatures on Monday, as Texas' brutal heat wave expands.
The big picture: The high-pressure area aloft, or heat dome, responsible for this event is moving out of Mexico, parking itself over Texas this week.
This is causing the spread of dangerously hot and humid conditions to the Southwest all the way to the Mississippi Valley.
Records are likely to be broken again in Texas, in particular, where daytime high temperatures will soar well into the triple digits.
Heat indices could once again top 120°F in Texas on Monday, NWS forecasts show.
Threat level: The prospect of Texas' largest cities seeing near or record highs temperatures on consecutive days could mean an even bigger test of the state's electrical grid than has occurred so far during this heat wave.
The Electric Reliability Council of Texas (ERCOT), which manages the grid, issued another weather watch for this week, indicating a heightened awareness of energy demand and supply issues.
ERCOT is forecasting the possibility of setting a new peak in electricity demand record this week, only days after a record was set on June 19th.
Already during this heat wave, more than 30 monthly and all-time temperature records have been set or tied in Texas; it is possible that the state record high of 120°F will be threatened.
Del Rio, Texas has seen 8-straight record days through June 25, the NWS stated.
Between the lines: Extreme heat is the top weather-related killer in the U.S. during a typical year, and the long duration of this event is increasing the risks since many areas continue to see overnight lows failing to drop below the low 80s.
This prevents people from getting overnight relief, and can be a big factor in causing heat-related illnesses.
The NWS warned in a forecast discussion Monday morning that heat indices could exceed 120°F at times in South Texas this week.
"Temperature records are in danger of being broken during this significant heat wave," forecasters wrote.
Context: Climate change is causing heat waves to be more intense, longer-lasting and more likely to occur.
Studies in recent years have shown that some extreme heat events would not have occurred in the absence of human-caused climate change.
Scientists have estimated that the extreme heat in Texas is at least five times more likely to occur now than in a preindustrial climate.
What they're saying: "With oppressive heat across the Southern U.S. not going anywhere soon, it's CRUCIAL to practice heat safety no matter where you are," the NWS said Sunday afternoon.
Go deeper