Texas sets new power use record as dangerous heat sweeps southern U.S.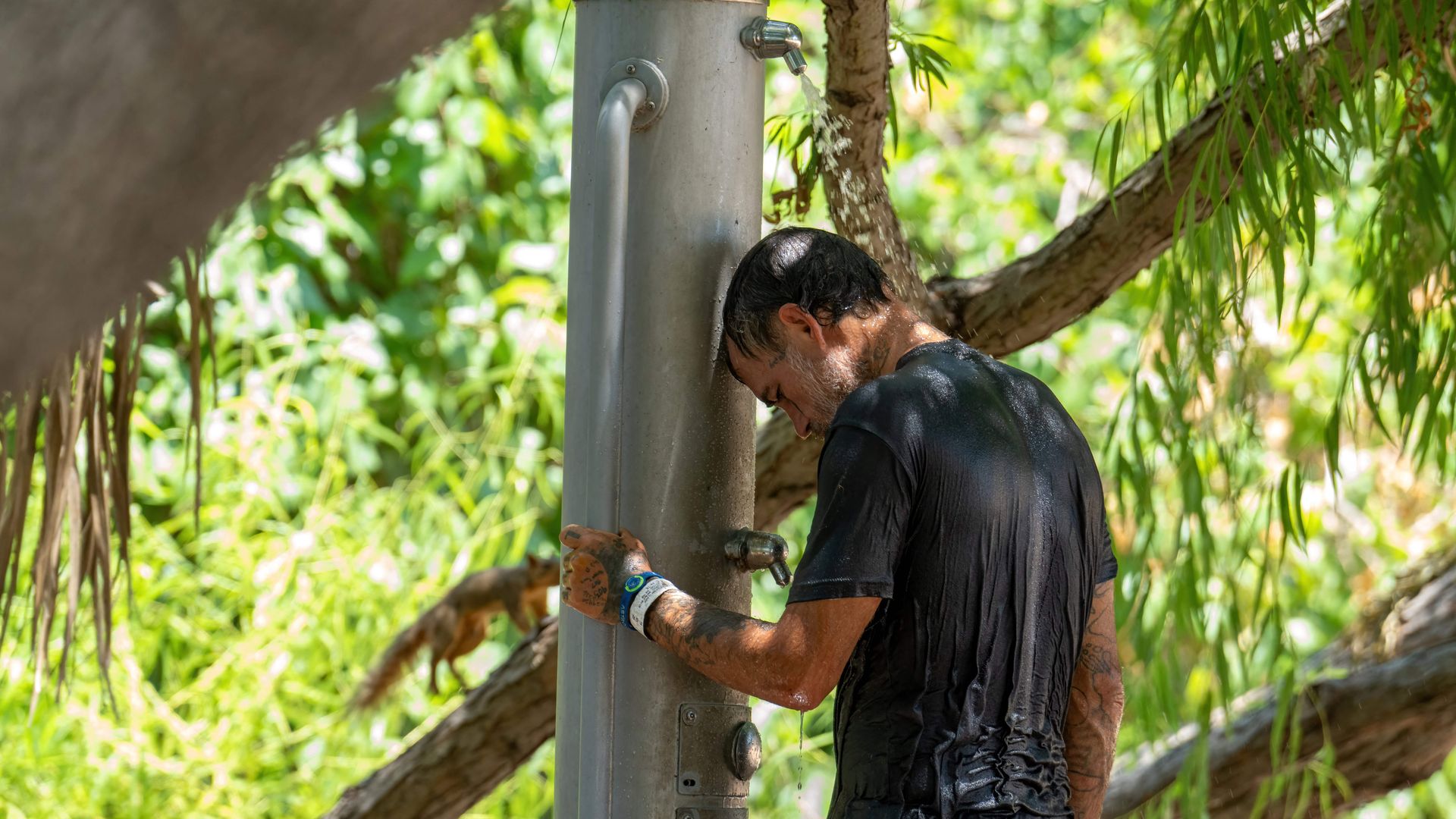 Heat-related emergency room visits are spiking in Texas, as forecasters warn the dangerously high temperatures will continue to expand into the Lower Mississippi Valley and Mid-South through Thursday.
State of play: Texas saw an average of 837 heat-related emergency department visits per 100,000 from June 18-24 amid ongoing triple-digit temperatures in the record heat wave that's now in its third week — up from 639 visits per 100,000 ER visits for the same period last year, per the CDC.
Monday saw 832 heat-related visits per 100,000 and 827 heat-related visits per 100,000 were recorded on Sunday, according to the CDC.
Multiple heat-related deaths have been reported across the state, including nine in eight days in the southern border region of Webb County, southwest of San Antonio.
Meanwhile, grid operator the Electric Reliability Council of Texas reported preliminary data indicated a historic power use of 80,828 megawatts (MW) at 6pm local time.
ERCOT warned the record would likely be broken again on Wednesday as surging demand for air conditioners puts a strain on the grid.
Threat level: Heat warnings and watches are in effect for more than 100 million people — one-third of the U.S. population — from Midland, Texas, to Nashville, Tennessee.
Texas' searing temperatures show no signs of abating this week, and the threat is particularly grave for southern and southwestern parts of the state, where the duration of the heat is extremely rare.
Del Rio, in the state's southwest, has set a new record maximum daily temperature for 10 consecutive days, according to Victor Murphy, a meteorologist at the National Weather Service, in an email Tuesday.
"Going back to 1905, the all-time record max temp at Del Rio was 109°F. Until June 18th, when it hit 111," he said. "Since then, the 120-year-old record has been broken five times."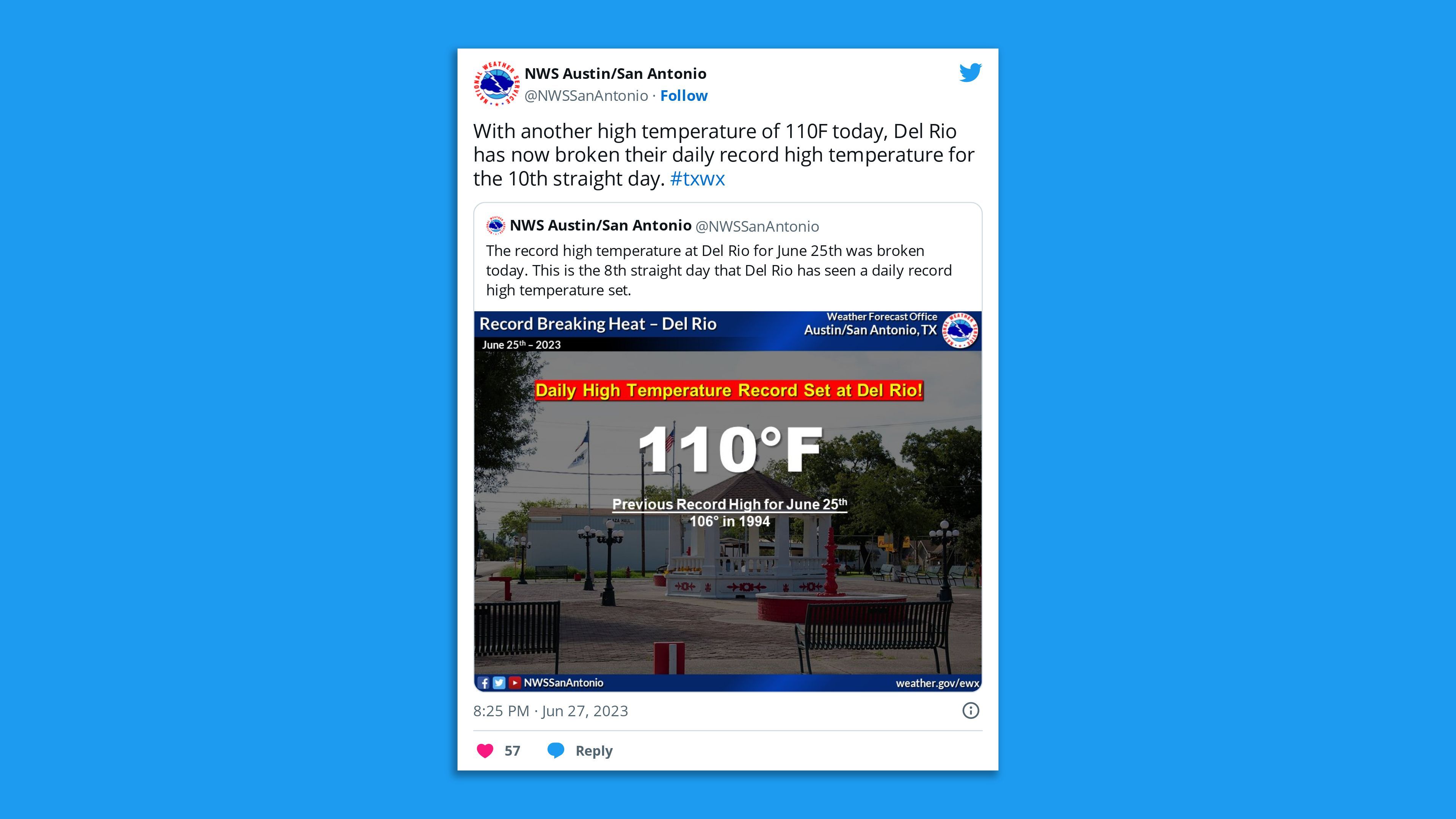 Zoom out: Heat advisories and warnings were in effect for parts of Florida, New Mexico, Mississippi, Alabama and Louisiana, in addition to Florida.
What we're watching: "Excessive heat will build over much of Texas to the northern Gulf Coast and into the mid-Mississippi River Valley, and Southeast U.S. as well as the Central Valley of California into the weekend," per the National Weather Service.
The NWS' Storm Prediction Center forecasts temperatures will trend down to near-normal levels for this time of year next week, but it warns heat indexes will remain "hazardous," especially near the Gulf of Mexico and Southeast coasts, where humidity is high.
"Increased heat-related danger persists this week due to the longevity of this ongoing heat wave with record high nighttime lows and elevated heat index readings during the day," it said.
Context: Climate change is making heat waves more likely to occur, longer lasting and more intense.
Go deeper: Texas heat wave a matter of life and death
Editor's note: This article has been updated with more details of the extreme weather event in Texas and across the southern U.S.
Go deeper