Two-thirds of California voters say Feinstein no longer fit for office: Poll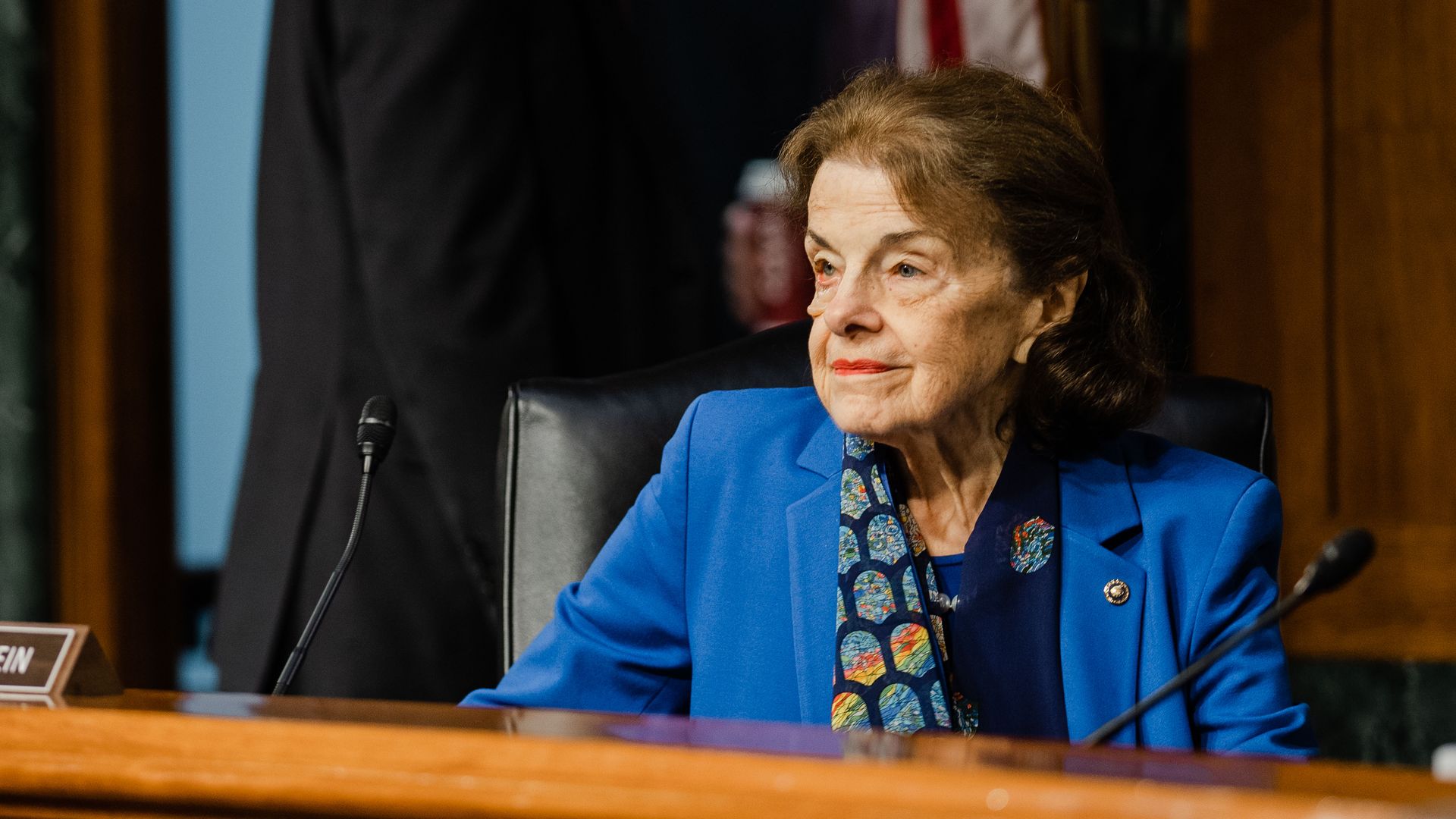 More than two-thirds of Californians surveyed said they believe Sen. Dianne Feinstein (D) is no longer fit to serve and view her "current health situation as increasingly problematic," according to a new poll by the UC Berkeley Institute of Governmental Studies that was co-sponsored by the Los Angeles Times.
Why it matters: Feinstein, 89, faced calls to resign from fellow Democrats during her more than two-month absence following her hospitalization for shingles in March.
Earlier this year, Feinstein announced that she would not seek re-election in 2024.
She also bowed out of leadership roles in recent years, including the Senate Judiciary Committee chair and Senate president pro tempore.
Even before her announcement, several California Democrats announced their campaigns for Senate, including Reps. Katie Porter and Adam Schiff.
By the numbers: Though she returned to Congress to work a "lighter schedule" earlier this month, 52% of polled Democrats said Feinstein should resign to allow California Gov. Gavin Newsom (D) to appoint a replacement to serve out the remainder of her term, which ends in January 2025.
A plurality (42%) of all registered voters said they agreed with that scenario, though they did not say who they believe should replace Feinstein.
No clear leader emerged when likely voters were asked about their preferences in next year's March primary election to fill Feinstein's seat.
Among Democratic voters, 27% supported Porter, 22% supported Schiff and 15% said they would vote for Rep. Barbara Lee (D-Calif.)
"Strongly liberal" voters were more likely to say they support Porter and Lee, while "moderate" voters were more likely to back Schiff.
Among Republicans, 49% said they would support attorney Eric Early — the only major Republican to have entered the race so far — 19% said they'd support someone else and 30% said they were undecided.
The big picture: Newsome has previously said he would nominate a Black woman for Feinstein's seat should she resign.
Currently, Rep. Lee is the only Black woman to have entered the Senate race.
Go deeper: Top Dems push Rep. Lisa Blunt Rochester to run for Senate
Methodology: Between May 17 and 22, 2023, this survey polled 7,465 California registered voters, of whom 5,236 were considered likely to vote in the March 2024 primary election. Its estimated margin of error for all registered voters was +/-2 percentage points, while its estimated margin of error for likely voters was +/-2.5 percentage points.
Go deeper