Trump-DeSantis rivalry heats up after Florida governor's campaign launch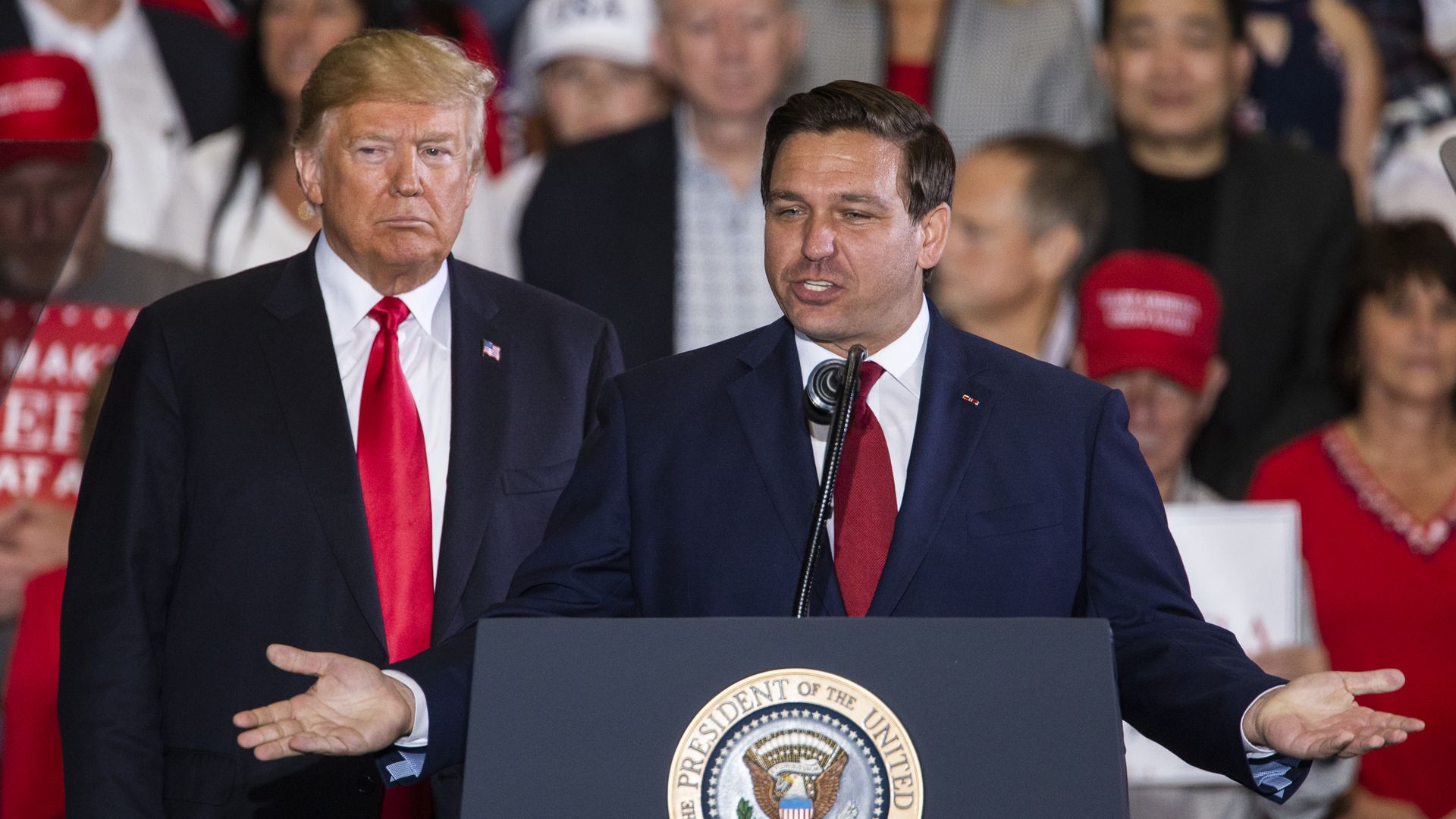 Former President Trump's campaign released a new ad Wednesday targeting his Republican presidential rival Ron DeSantis soon after the Florida governor joined the 2024 race.
Driving the news: In a sign that the race is heating up, Trump spent much of Wednesday night attacking DeSantis in a series of online posts and fund-raising emails.
The big picture: DeSantis released a campaign ad in 2018 expressing admiration for Trump, but the former president has taken to hammering at the governor since it became apparent DeSantis would be running against him.
DeSantis, too, has taken direct shots at Trump, questioning his competence and character.
Driving the news: On his Truth Social platform, Trump called DeSantis names and labeled the governor's glitchy campaign launch on Twitter Spaces a "DISASTER!"
Meanwhile, the new Trump campaign video ad features an image of DeSantis seated next to President Biden as commentary plays about "Washington-established politicians" and says "Why would we ever settle for Trump imposters?"
It also features a clip of DeSantis from his 2018 ad reading aloud the Trump campaign sign "Make America Great Again" to a child.
The other side: DeSantis told Fox News Wednesday night he doesn't mind "being called different things" and he expects "slings and arrows," but added that he can take it.
"You can call me whatever you want. Just make sure you call me a winner, because that's what we have done in the state of Florida, and that's exactly what we would do nationally, not only in the election, but actually bringing all these great policies to bear," he told Fox News' Trey Gowdy.
While he didn't mention Trump by name during the interview, DeSantis addressed the issue of attending Republican primary debates, which the former president has threatened to boycott, saying: "Nobody's entitled to anything in this world, Trey. You have got to earn it. ... And I think the debates are a big part of the process."
Separately, DeSantis said he was "really excited with the enthusiasm" from his Twitter Spaces campaign launch announcement.
"We had a huge audience," he told Gowdy. "It was the biggest they'd ever had. It did break the Twitter Spaces."
DeSantis' press secretary Bryan Griffin tweeted that since the campaign launch the governor had raised $1 million "in one hour... and counting!"
Of note: Fellow Republican presidential candidate and former South Carolina governor Nikki Haley released her own ad that looked to draw similarities between Trump and DeSantis.
Representatives for DeSantis did not immediately respond to Axios' request for comment.
More from Axios:
Editor's note: This article has been updated with details of Republican presidential candidate Ron DeSantis' Fox News appearance and further context.
Go deeper: Listen to the Axios Today podcast, where Emily Peck, filling in for host Niala Boodhoo, and Alex Thompson share the biggest challenge that DeSantis faces with competing for attention with former President Trump.
Go deeper