Tim Scott files paperwork for 2024 presidential campaign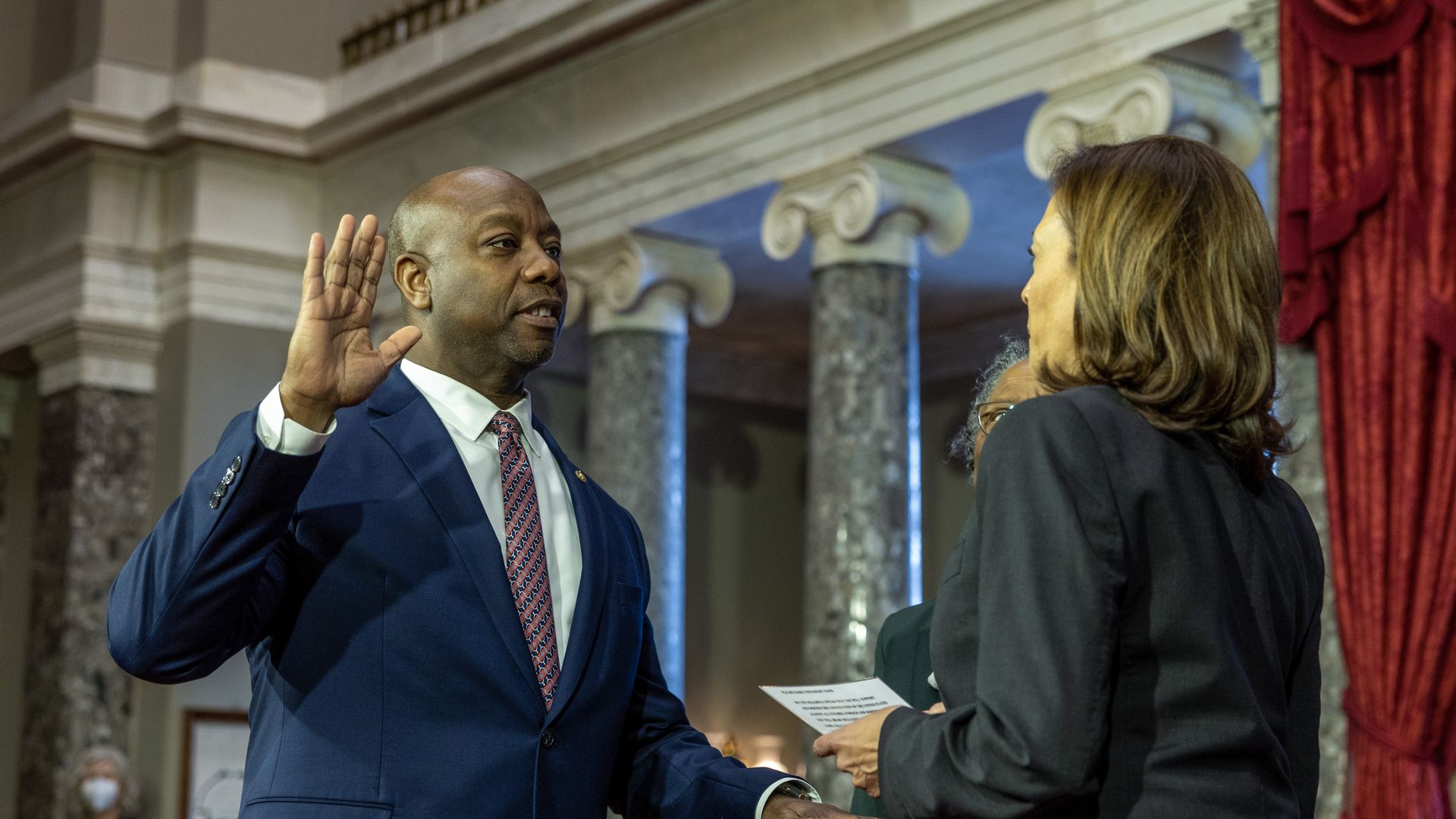 Sen. Tim Scott (R-S.C.) officially filed paperwork Friday to seek the Republican nomination in the 2024 presidential election.
Why it matters: Scott, the most prominent Black figure in the Republican Party and one of the Senate's most formidable fundraisers, enters a crowded GOP field that includes former South Carolina Gov. Nikki Haley and former President Trump.
Since launching his exploratory committee, Scott has been making repeated trips to Iowa, New Hampshire and his home state of South Carolina as a part of his listening tour, "Faith in America."
Former Arkansas Gov. Asa Hutchinson and entrepreneur Vivek Ramaswamy are also declared candidates in the GOP primary.
Florida Gov. Ron DeSantis is expected to announce his presidential bid soon.
What we're watching: Scott will argue that he is the most consistently conservative candidate and that his personal story — growing up in a poor, single-parent household — will resonate as he advocates for various policy issues, according to a senior campaign official.
Scott aligns with much of Trump's policy agenda, including building a wall on the southern border, cutting taxes and spending, and holding China to account.
But he's positioning himself as a more hopeful alternative than Trump's grievance driven campaign or DeSantis' war on "woke."
Scott will frame the U.S. as a "land of opportunity, not oppression" and promises to call out what he and his advisers see as "a culture of victimhood," including when it exists on the right.
The big picture: Scott enters the race with $22 million in hand, a senior campaign official said. Much of that was left over from the 2022 cycle, when he raised $42 million.
His campaign will be led by longtime aide Jennifer DeCasper, who is the first woman of color to run a GOP presidential campaign. The campaign is also working with well-known GOP firms Targeted Victory and FP1 Strategies.
The Scott-aligned super PAC, Opportunity Matters Fund Action, has also been hiring in South Carolina and nationally ahead of his announcement.
During his time in the Senate, Scott delivered the GOP response to Biden's first address to the joint session of Congress in 2021, and helped craft the Tax Cuts and Jobs Act in 2017, including a provision that created tax incentives for businesses that invested in struggling communities.
He balanced the role of privately educating GOP colleagues on racism he's experienced and speaking on race relations, while trying to keep his relationships intact, the Washington Post reported in 2020.
Scott supported criminal justice and police reform in the wake of George Floyd's death, but he's voted "no" on the bipartisan infrastructure bill and protections for same-sex marriage.
Reality check: Scott faces an uphill battle, given that much of the GOP electorate is currently split between Trump and DeSantis.
Editor's note: This story is developing and will be updated.
Go deeper