Biden's 2024 re-election bid puts abortion front and center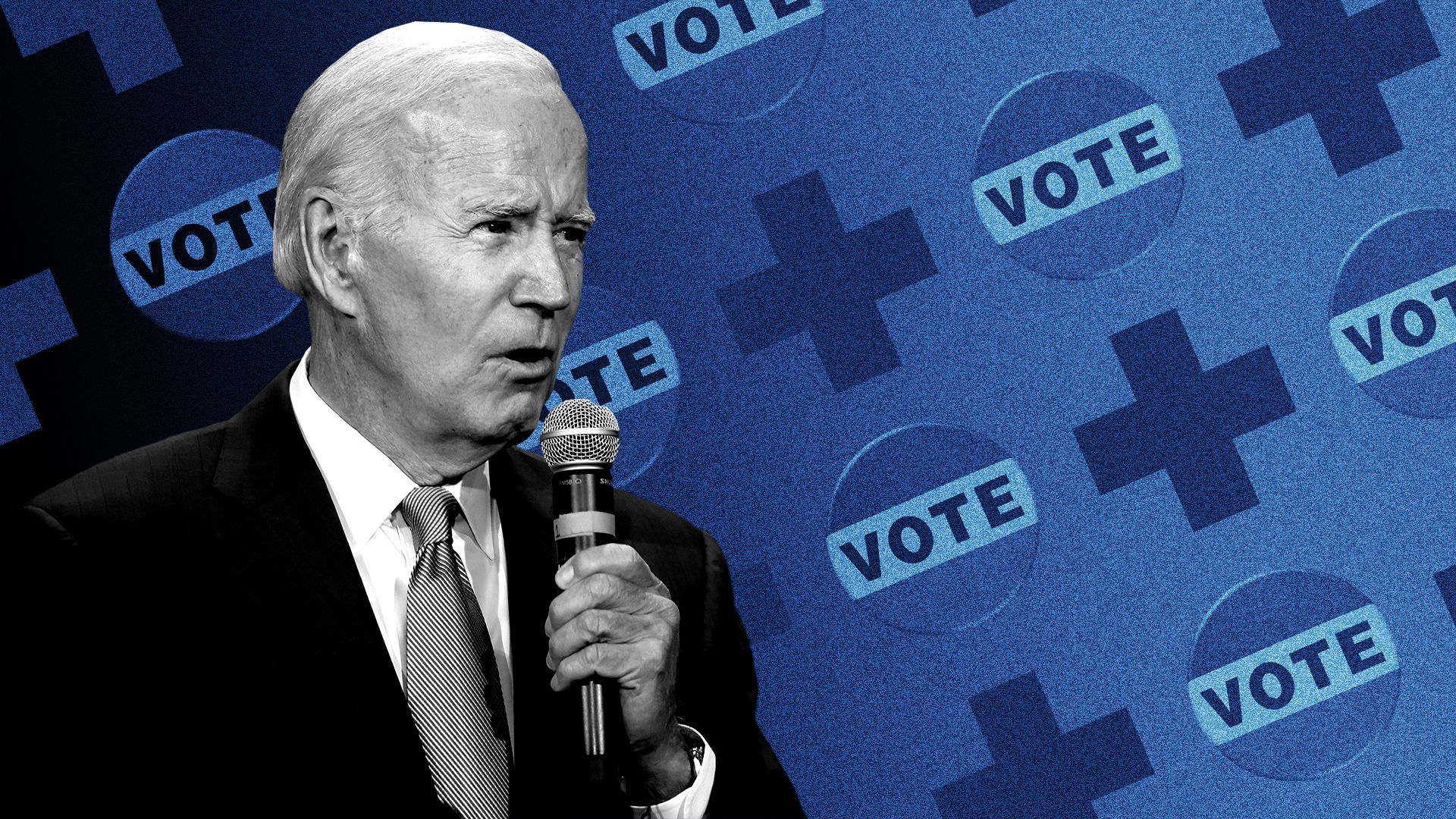 The Biden administration wasted little time making it clear that abortion access will be a cornerstone of President Biden's 2024 re-election bid as red states continue to enact bans and restrictions.
Why it matters: Last year's midterm elections showed voter sentiment breaking for new protections for abortion rights following the fall of Roe v. Wade. Biden is hoping he can replicate that.
Polls have shown that abortion is a key issue Americans consider when deciding how they'll vote.
Some anti-abortion groups have blamed the GOP's disappointing midterm results on the party's reticence around the issue, as well as its lack of consensus on national restrictions — although some presidential candidates are now looking to change that, as Axios' Zach Basu reports.
State of play: Biden's first campaign video released on Tuesday shows footage of abortion rights protests that took place around the time of the Dobbs Supreme Court decision.
Biden referred to "MAGA extremists" who are restricting Americans' rights, including "dictating what health care decisions women can make."
Driving the news: Last night, Vice President Kamala Harris — the White House's top abortion messenger — spoke at a rally at Howard University to highlight the administration's commitment to protect access.
"We are living, I do believe, in a moment in time, where so many of our hard-won freedoms are under attack and this is a moment for us to stand and fight," Harris said.
Republicans, Harris said, have a "national agenda" to take Americans' "freedoms" away, including "attacking a woman's right to make decisions about her own body."
"Not on our watch are we going to let this thing keep rolling like it is. Let us stand and fight," the vice president added.
What they're saying: "Anything that's politically volatile for the Republicans, the Democrats can see advantage in raising and keeping front and center," said Joshua Wilson, a political science professor at the University of Denver specializing in abortion politics.
Biden's polling numbers aren't strong with all Democratic voters, so abortion can offset some of the lack of enthusiasm, Wilson added.
Don't forget: The Supreme Court last week blocked a lower court ruling that struck down the Food and Drug Administration's approval of the abortion pill mifepristone, maintaining access to the drug while the case continues through the courts.
The justices sent the case back to the 5th U.S. Circuit Court of Appeals and any decision is likely to be appealed back to the Supreme Court, which would almost certainly take it next term, making abortion — and potentially the court itself — a top 2024 campaign issue.
What we're watching: We're still a year and a-half from the 2024 elections, but candidates, particularly Democrats, will ensure that abortion remains on top of voters' minds.
Go deeper