Beijing pushes Taiwan Strait claims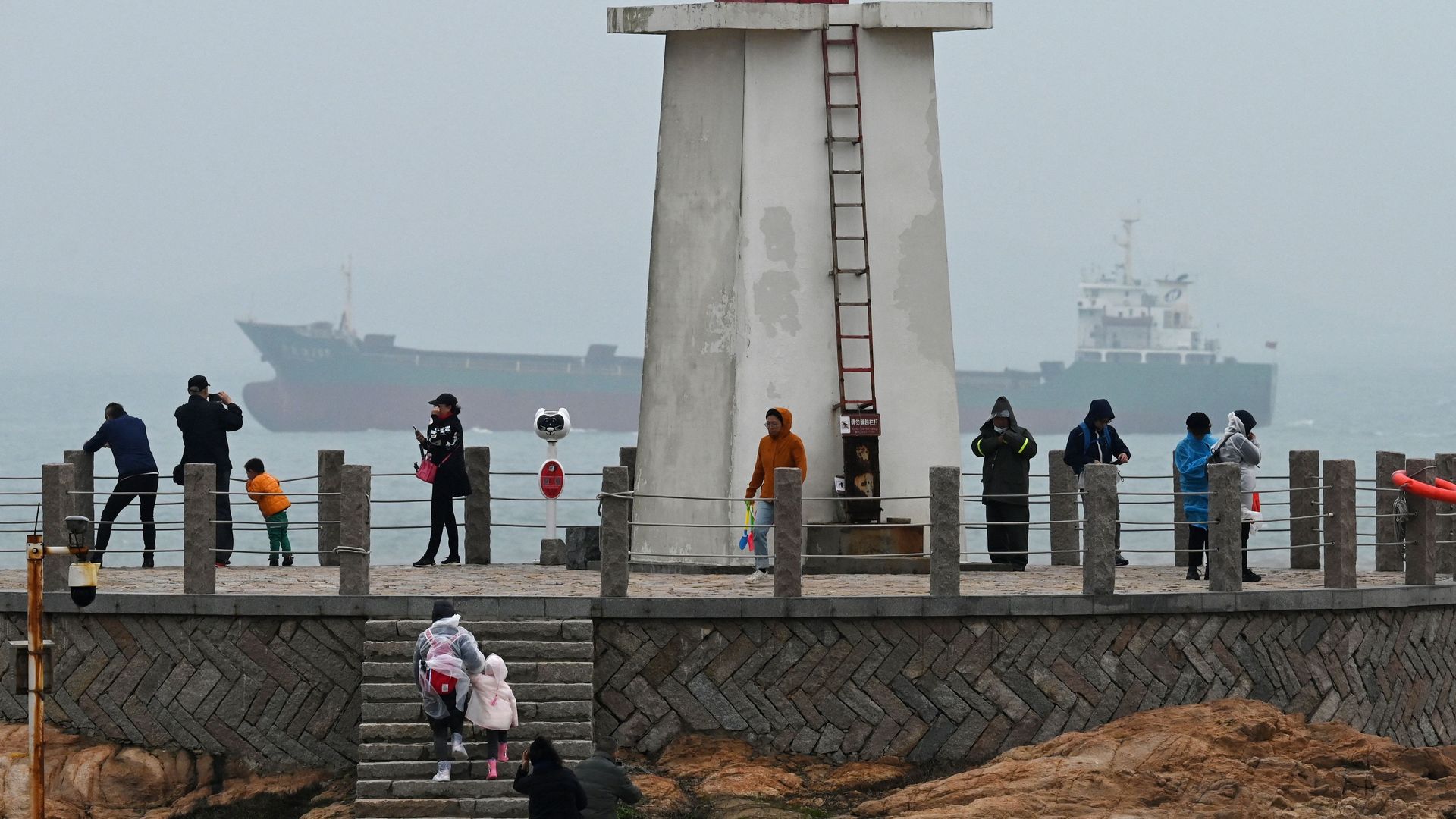 The U.S. State Department says it's "monitoring closely" a Chinese maritime operation in the Taiwan Strait this week that includes boarding and inspecting ships.
Why it matters: Officials in Taipei believe the unprecedented action in the Taiwan Strait is in reprisal for their president's D.C. meeting with U.S. House Speaker Kevin McCarthy.
Taiwan's Maritime and Port Bureau said it had told ship crews not to comply with Chinese maritime "boardings and inspections" requests and instead contact the island's coast guard for protection.
The big picture: Taiwanese authorities lodged an official complaint with Beijing after China's Maritime Safety Administration of Fujian Province announced the three-day operation on Wednesday, just before Taiwan President Tsai Ing-wen met with McCarthy.
There were no immediate reports of Chinese officials boarding Taiwanese vessels.
Beijing officials had repeatedly warned Congress members not to meet with Tsai and said the visit would "have a severe impact on China-U.S. relations."
The patrols came as a bipartisan U.S. delegation led by House Foreign Affairs Chair Michael McCaul (R-Texas) visited Taiwan.
Meanwhile, Taiwan's Defense Ministry reported three Chinese warships had sailed round the self-governing island and two military aircrafts had been detected in its Air Defense Identification Zone on Friday.
It was the second straight day Chinese warships and aircrafts had been detected in the area.
What they're saying: A State Department spokesperson told Axios in an email Thursday that U.S. officials "have been very clear that there is no reason for Beijing to turn this transit — which was consistent with longstanding U.S. policy — into something it is not or use it as pretext to overreact."
The spokesperson said U.S. communication channels with Chinese officials remain open "and we have consistently urged restraint" and for the status quo of peace in the Asia-Pacific region to remain.
"The risk of miscalculation and escalation would have direct impacts to global security and prosperity," the spokesperson added.
"The United States shares with other countries an abiding interest in peace and stability across the Taiwan Strait and in the broader Indo-Pacific region, which impact global security and prosperity."
Meanwhile, McCaul told Fox News the operation was "an act of aggression" and his delegation would not be intimidated.
Between the lines: The operation "is definitely an escalation — albeit in a boiling the frog sort-of-way," said John Hemmings, a senior director of U.S. research institute Pacific Forum, in an email Friday.
However, it "isn't as dramatic as the military action of the type that Russia took over Crimea in 2014 or more recently, but it's certainly a strategic use of legalistic-seeming measures to apply pressure on Taiwan."
As part of a long-term trend of Beijing's "coercive behavior ... it is disturbing," added Hemmings, pointing to the push to the erosion of rights in Hong Kong, the Asian financial hub that was once the only free Chinese city.
Hemmings told Axios in a phone interview Friday that the patrols were a "demonstration of jurisdiction" over a democratically run island that China's ruling Communist Party regards as a breakaway province.
Of note: Taiwanese officials have faced growing barriers abroad as Beijing becomes more aggressive in its attempts to marginalize an island it sees as its own sovereign territory.
The Chinese Communist Party has been steadily eroding Taiwan's ability to formally engage on the world stage and has used economic coercion to punish Taiwan for its informal outreach to other countries since Beijing-skeptical Tsai was elected in 2016.
The CCP has actively poached Taiwanese diplomatic partners and the number has declined since Tsai took office from 22 to 13.
The Chinese Communist Party said for the first time last year it had sovereignty over the Taiwan Strait — a claim roundly rejected by U.S. and other officials noting that it's an international waterway, where freedoms are guaranteed by international law.
What to watch: Expect to see more action in which Chinese officials conduct exercises they maintain are "normal sovereignty being exercised," per Hemmings.
Go deeper