Beijing's national security law takes a toll in Hong Kong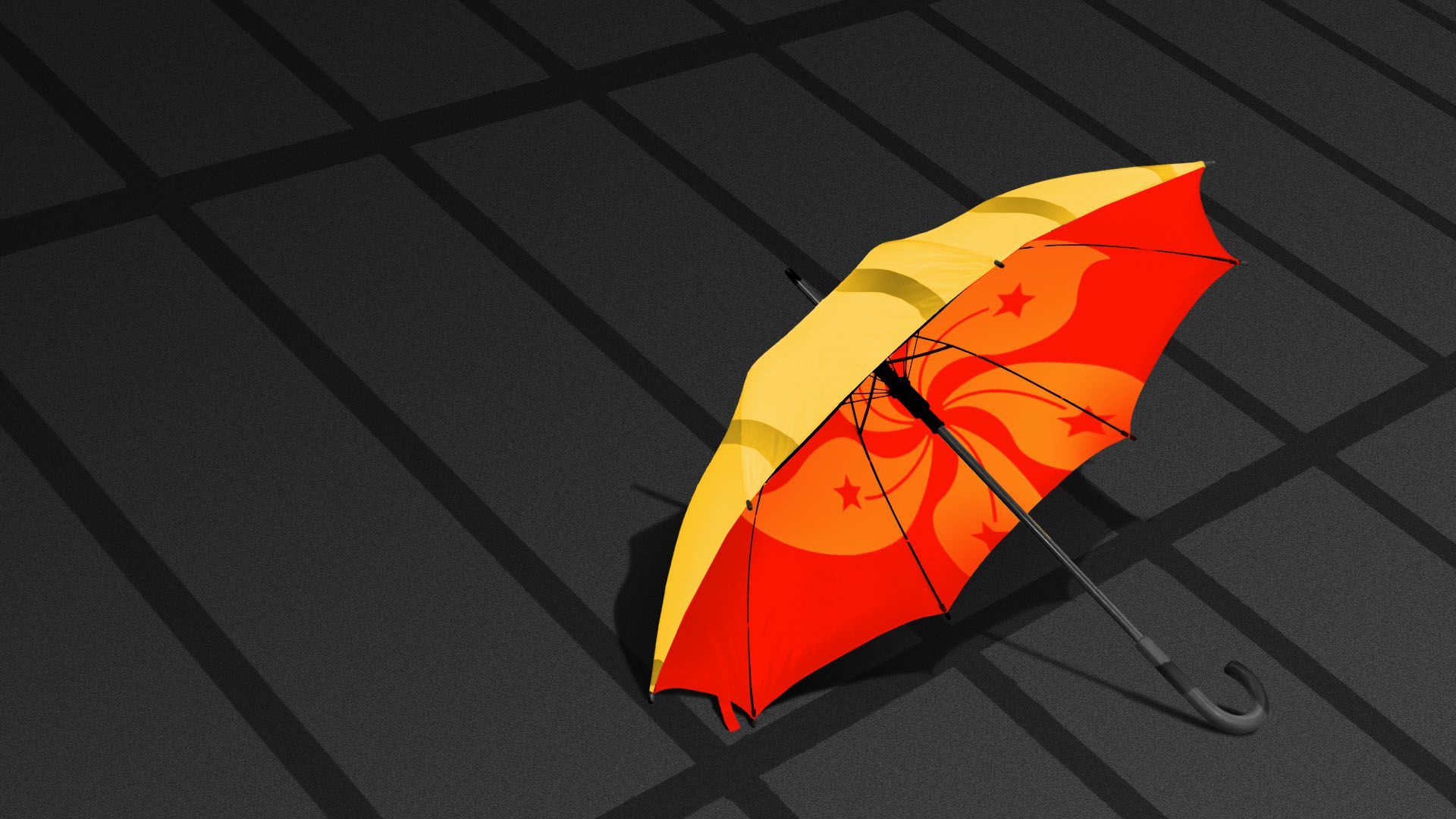 One year after Beijing imposed a sweeping national security law on Hong Kong, the city's once-lauded political freedoms have been dramatically curtailed, leaving residents to cope with their home's authoritarian transformation.
Why it matters: By asserting total political control over one of the world's top financial hubs, the Chinese Communist Party is trying to demonstrate that its model of authoritarianism can preserve the wealth of those who agree to toe the party line.
What's happening: In one year, the effects of the national security law and other measures have rippled through politics, industry, art and other facets of life on the island.
The political impact has been devastating, as the Chinese Communist Party has effectively shut the pro-democracy movement out of politics and cracked down on its leaders.
In March, China's parliament approved a law giving a pro-Beijing committee in Hong Kong the power to vet candidates for the Hong Kong legislature, making it virtually impossible for pro-democracy candidates to run for office.
For the second year in a row, Hong Kong authorities prohibited the city's annual Tiananmen vigil commemorating the June 4, 1989 massacre in Beijing.
Many pro-democracy leaders, including former lawmakers, now face charges or are currently serving time in jail, including Joshua Wong, Agnes Chow, Margaret Ng, Martin Lee, Lee Cheuk-yan, Albert Ho, and Leung Kwok-hung.
"The national security law imposes a sense of white terror and deters people from protesting," former Hong Kong lawmaker and pro-democracy activist Nathan Law, who has received asylum in the U.K., told Axios.
"Citizens with growing discontent can only express their opposition to the regime through more subtle and convoluted ways, for example, supporting businesses that stand with the movement and growing our Hongkonger identity," Law said.
The independence of the press has suffered, too. Press freedom in Hong Kong has "greatly deteriorated" over the past year and has reached an all-time low, according to the Hong Kong Press Freedom Index 2020, an annual index published in March by the Hong Kong Journalists Association.
Journalists face increased risk of prosecution and police searches, authorities have restricted press accreditation and denied visas for foreign journalists.
Pro-democracy newspaper Apple Daily was forced to shutter last week, and its founder Jimmy Lai has been charged with foreign collusion under the national security law.
The New York Times has moved part of its Asia operations from Hong Kong to Seoul.
The crackdown has had a chilling effect on Hong Kong's relationships around the world.
The U.S., Canada, Britain, Australia, New Zealand, Germany, France, the Netherlands, and other countries have suspended their extradition treaties with Hong Kong amid concerns the city's authorities would abuse those agreements to pursue political targets.
The U.S. revoked Hong Kong's special status, ending preferential trade privileges and prohibiting the export of sensitive technologies.
After Britain promised to provide a path to citizenship for what could amount to millions of Hong Kongers, China retaliated by saying it would stop recognizing the special U.K. passport several million Hong Konger residents hold.
Businesses have not fled Hong Kong, as some predicted they might. But financial institutions are struggling to comply with conflicting sanctions regimes.
The U.S. has sanctioned Hong Kong and Chinese government officials deemed complicit in eroding the city's political freedoms. In January, China issued a new regulation forbidding companies from complying with "unjustified" foreign sanctions.
Education hasn't been spared either. The city's schools are now required to include "national security" education in their curriculum.
Teachers have been fired for classroom content considered subversive, and strict new regulations have been implemented that forbid "disrespecting the country."
The censorship has extended to the arts, too. Exhibits and film screenings have come under pressure amid fears that showcasing certain topics might go against the national security law, which is vague and broad in its definitions of subversive speech.
What to watch: No one has yet been convicted under the national security law, though dozens have been charged so far.
The law carries harsh penalties of up to life in prison; the length of prison sentences doled out to peaceful pro-democracy activists such as Wong and Chow will provide a sense of just how far Beijing intends to go to stamp out pro-democracy sentiment in the formerly semi-autonomous city.
Go deeper: With new security law, China outlaws global activism
Go deeper